Ahead of the arrival of Edgar Wright's thriller Last Night in Soho, star Anya Taylor-Joy delivers a haunting cover of "Downtown (Downtempo)," which will appear on the film's soundtrack. In her version, Taylor-Joy takes Petula Clark's joyous track about the magic of city lights and transforms it into something a bit more foreboding.
In Last Night In Soho, starring Taylor-Joy, Thomasin Harcourt McKenzie, and Matt Smith follows a young, aspiring fashion designer (McKenzie), who moves to the neighborhood of Soho. Her dreams of Soho's heyday, filled with glitz and glamor, become a startling reality when she goes back in time to the '60s as the wannabe singer Sandie (Taylor-Joy).
Taylor-Joy performs "Downtown (Downtempo)" in the feature film, but composer Steven Price (Baby Driver, The World's End) produced two extended versions for the soundtrack—an uptempo version as well as downtempo.
"It's not every day you're asked to record several versions of an iconic song," Taylor-Joy wrote on Instagram. "The sounds of the '60s was what first made me fall in love with music so I was overjoyed when Edgar [Wright] asked me to give it a go."
The full soundtrack will feature a slate of '60s tracks from artists such as The Kinks, Sandie Shaw, The Who, and Siouxsie & the Banshees. For the original score, Taylor-Joy also sings a cover of Cilla Black's " You're My World (Soho Version)."
Writer and director Edgar Wright has also shared his personal "Soho Nights" playlist, featuring 60 songs from the '60s he says inspired him while creating the film.
G/O Media may get a commission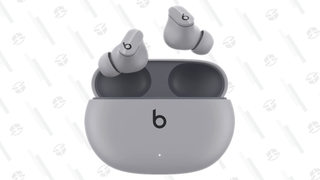 Tracklisting – Original Motion Picture Soundtrack

1) "A World Without Love" – Peter & Gordon

2) "Wishin' and Hopin'" – Dusty Springfield

3) "Don't Throw Your Love Away" – The Searchers

4) "Beat Girl" (1993 Remaster) – The John Barry Orchestra

5) "Starstruck" – The Kinks

6) "You're My World" – Cilla Black

7) "Wade in the Water" (Live at Klooks Kleek) – The Graham Bond Organisation

8) "I've Got My Mind Set on You" – James Ray

9) "(Love Is Like a) Heat Wave" – The Who

10) "Puppet on a String" – Sandie Shaw

11) "Land of 1000 Dances" – The Walker Brothers

12) "There's a Ghost in My House" – R. Dean Taylor

13) "Happy House" – Siouxsie & the Banshees

14) "(There's) Always Something There to Remind Me" – Sandie Shaw

15) "Eloise" – Barry Ryan

16) "Anyone Who Had a Heart" – Cilla Black

17) "Last Night In Soho" – Dave Dee, Dozy, Beaky, Mick & Tich

18) "Neon" (Soundtrack Edit) – Steven Price

19) "Downtown" (A Capella) – Anya Taylor-Joy

20) "Downtown" (Uptempo) – Anya Taylor-Joy
Last Night In Soho arrives in theaters on October 29.