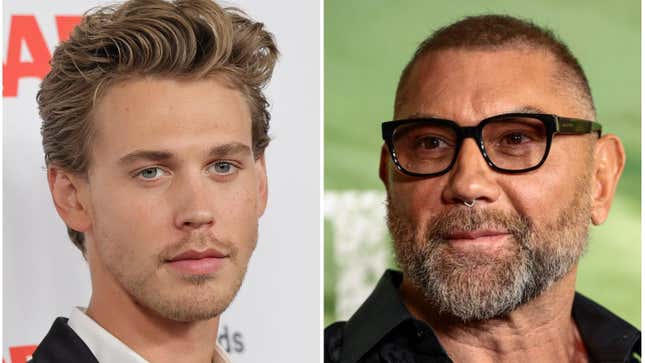 There may be five nominees in the Oscars' Best Actor category, but there's a sixth character taking up a lot of oxygen (literally): Austin Butler's Elvis accent. Ever since Butler started promoting the thing, much has been made about his voice changing to sound like The King. Butler has been forced to acknowledge it time and again, to sit through the jokes all in hopes of obtaining a shiny prize at the finish line. Luckily, though, he has a new character to sink his teeth (or his vocal chords?) into, and co-star Dave Bautista says there's not a hint of Elvis in there at all.
Christopher Walken joins "Dune: Part Two"
Butler plays Bautista's younger brother Feyd-Rautha in the upcoming Dune: Part Two, and the ex-wrestler says Butler is "just the sweetest guy you'll ever meet"—unlike his character. "I don't know who this guy was, but it's not Austin Butler. It's not Elvis," Bautista tells USA Today. "His voice is different, his look is different. Everything about his demeanor is terrifying."
It probably comes as some relief to Mr. Butler to throw himself into a new film, given how long he spent in Elvis' headspace. The unique nature of the COVID lockdown during shooting (remember when Tom Hanks contracted the virus while they were in Australia?) prolonged the experience, which was reportedly so intense that Butler was hospitalized when they wrapped.
This is also, his vocal coach theorizes, why Butler hasn't fully shaken the accent. "Because of COVID shutdowns, he was working on it all the time and it's difficult to switch off something you've spent so much focus [and] time on," Irene Bartlett told ABC's Gold Coast last month. "What you saw in that [2023] Golden Globes speech, that's him. It's genuine, it's not put on. I feel sorry people are saying that, you know, it's still acting [but] he's actually taken [the voice] on board. I don't know how long that will last, or if it's going to be there forever."
So, Butler may remain Elvis in his personal life, but all you Dune heads out there can rest easy knowing the singer hasn't snuck into that film, too. The man's a professional after all!