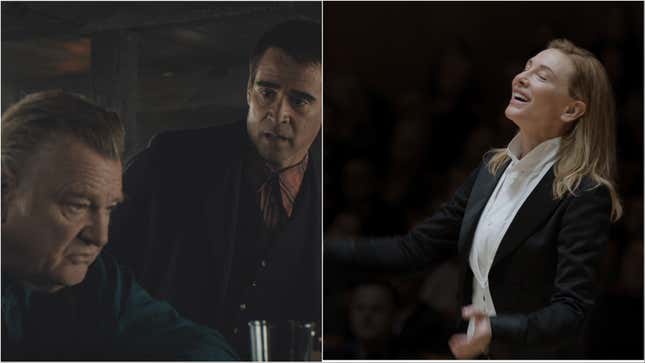 While Everything Everywhere All At Once took home nearly every major award at last night's Academy Awards, early award season frontrunners, including The Banshees Of Inisherin, TÁR, and The Fabelmans went home empty-handed.
Hollywood heavyweight Steven Spielberg's ode to his family and cinema failed to capture the hearts of Academy voters, with The Fabelmans losing out on all 7 of its nominations. Although, as Kimmel said last night, Spielberg is the first director to be nominated across six decades, which is quite the feat itself.
For the Best Actress category, the competition really came down to Michelle (EEAAO) Yeoh or Cate Blanchett (TÁR), with Yeoh taking home the historic win. This was Yeoh's first nomination and Blanchett's eighth, and although the latter put in a spectacular performance, Blanchett's career will continue just fine. We suffered an Oscars loss with Carol in 2016, and we will soldier on post-TÁR. TÁR did feel like a shoo-in for Best Writing (and it's the one EEAAO win that doesn't sit right with this writer), but hopefully, Todd Field won't make us wait another 15 years for his next film.
Even Austin Butler, who over recent weeks had become the Best Actor frontrunner for his performance in Elvis, lost to Brendan Fraser for The Whale, solidifying his Hollywood comeback. After Butler's BAFTA win in February, the race for Best Actor tightened, with Butler, Fraser, and Farrell all very much in the running. In light of Fraser's win, Farrell is always a good sport and just seemed happy to see a Jenny impersonator on stage last night. However, Butler's now tasked with finding another role he can obsess for years about and form his personality around. Good luck, friend.
Ultimately Elvis, The Banshees Of Inisherin, TÁR, and The Fabelmans had 30 nominations between them—with each receiving Best Picture nods—and went home with an impressive zero statues.
Overall, last night's history-making awards shifted the status quo for the Oscars in many ways, as many long-time actors became first-time winners after years of being shut out by the industry. With A24 adding another (re: 2016's Moonlight) Best Picture winner to its trophy case, the independent production company is taking its place as a titan in the modern filmmaking industry as its diverse and unafraid approach to storytelling continues to pay off.
Ultimately, this all kind of goes to show how silly the months of analysis and number-crunching ahead of the Oscars really is, as there's really no telling who the Academy will end up favoring when all is said and done (but, lately, betting on A24 isn't a bad idea). Nonetheless, it's already time to clear the slate and get the Oscar predictions rolling for next year!