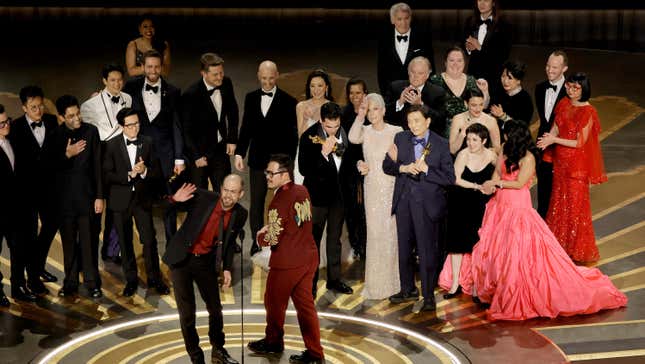 Everything Everywhere All At Once made good on all those Oscar predictions, winning seven awards out of 11 nominations Sunday night at the 95th Academy Awards. The multiverse-spanning epic won Best Picture, Best Director, Best Screenplay, and Best Editing, and its stars won Best Actress, Best Supporting Actress, and Best Supporting Actor.
The only other movie that even came close to winning as many awards was All Quiet On The Western Front, which broke up EEAAO's sweep with an hour of technical award wins and a Best International Picture trophy.
It was an incident-free night (if you ignore Jimmy Kimmel lying about the identity of a particular donkey), which meant the focus could be on history-making wins, like Michelle Yeoh taking home Best Actress, the first woman of color to do so in over 20 years, the first Southeast Asian woman to win the category, and the first Malaysian woman to win.

"For all the little boys and girls who look like me watching tonight," Yeoh said in her acceptance speech, "this is a beacon of hope and possibilities this is proof that dreams do come true and ladies don't let anyone tell you you're past your prime. Never give up."
G/O Media may get a commission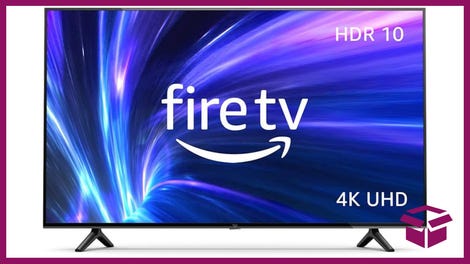 42% Off
Amazon Fire TV 50" 4K Smart TV
"I have to dedicate this to my mom, to all the moms in the world. They are really the superheroes without whom none of us would be here tonight."
Everything Everywhere's cast won in all nominated categories, picking up early wins for Ke Huy Quan for Best Supporting Actor and Jamie Lee Curtis for Best Supporting Actress.
Presenter and Oscar-winner Ariana Debose's voice broke as she read the winner of this year's Best Supporting Actor, "Ke Huy Quan," signaling to everyone watching that it was time to start crying for this wonderful guy. First, he got the role of a lifetime as Waymond Wang in Everything Everywhere All At Once. Now he's got the statue to top that cake.
"My mom is 84 years old and she's at home watching," Quan, America's newest sweetheart, said in his acceptance speech. "Mom, I just won an Oscar! My journey started on a boat, I spent a year in a refugee camp, and somehow, I ended up here, on Hollywood's biggest stage. They say, stories like this only happen in the movies. I cannot believe it's happening to me. This—this is the American dream!"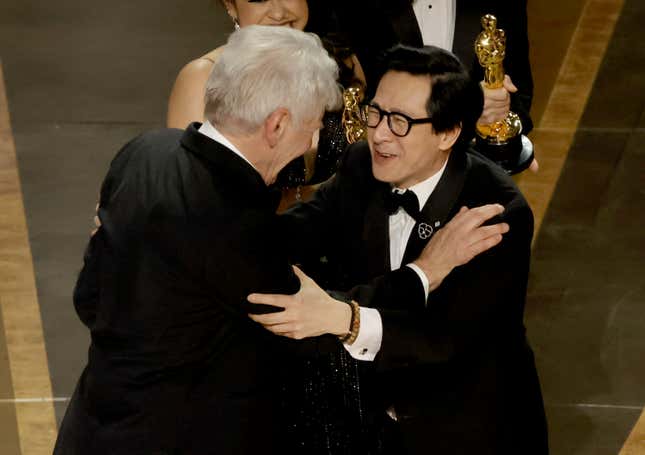 The Academy was plenty pleased with the support work in EEAAO, particularly Best Supporting Actress, nominating stars Jamie Lee Curtis and Stephanie Hsu. In a surprise win, if you can call an actor's overdue victory a surprise, Jamie Lee Curtis won the second award of the night, and the second for Everything Everywhere All At Once. Sorry, Stephanie Hsu. If there were another supporting Oscar to give out, you'd be a lock. This was Curtis' first nomination despite being a nepo baby of the highest order.
In addition, the Daniels picked up trophies for Best Screenplay and Best Director. "The world is opening up to the idea that genius stems from the collective," Daniel Kwan said as he accepted the award for Best Director. "I want to acknowledge my context, my immigrant parents."
The wins didn't stop there for EEAAO, which also won Best Editing. Editor Paul Rogers admitted that this was his second film, surely irritating everyone in the audience.
However, Everything Everywhere's dominance was interrupted in the middle of the show by All Quiet On The Western Front. James Friend won Best Cinematography for All Quiet On The Western Front, once again proving that a grimy World War I movie is a lock for the category.
All Quiet On The Western Front also overcame donkey bias by winning Best International film, shutting EO out, and denying audiences a chance to look at those cute mules. All Quiet also won Best Production Design and Best Score. Oscar voters really loved this thing.

Breaking the All Quiet winning streak up, Avatar: The Way Of Water picked up a well-deserved win for Visual Effects. As beautiful as it was to watch Lo'ak and Payakan come together, it was just nice to stop hearing that All Quiet theme. But, in classic Oscars fashion, Joe Letteri, Richard Baneham, Eric Saindon, and Daniel Barrett were among the only winners to get played off so that Jimmy Kimmel could make a "CGI Fridays" joke. Moments later, after talking to Malala Yousafzai, Kimmel said she won for "Malala land" and moved on to Colin Farrell. Yeah, it sucked. But shortly after, they brought out Rihanna to perform "Lift Me Up" from Wakanda Forever, so that's something.
Considering all the nominations for Elvis, Tár, and The Banshees Of Inisherin, the only other movie to win multiple awards was The Whale, which won Best Makeup and Best Actor. Those visual effects paid off because Brendan Fraser won for The Whale. Fraser gave a beautiful, emotional speech that likely pleased even the most ardent Whale detractors. It's just lovely to see the guy win. "So this is what the multiverse looks like," he said. "I'm grateful to Darren Aronofsky for throwing me a creative lifeline and hauling me aboard the good ship The Whale."
Adding to his trophy case, Guillermo Del Toro nabbed a win for Guillermo Del Toro's Pinocchio. He was the first history-maker of the evening, becoming the first person to win Best Animated Feature, Best Picture, and Best Director. "Animation is cinema," he said. "Animation is not a genre. Animation is ready to go to the next step."
Women Talking writer Sarah Polley won Best Adapted Screenplay for a movie that's definitely not called "Women Are Talking," no matter what Mark Wahlberg tells you. "I just want to thank the Academy for not being mortally offended by the words 'Women' and 'Talking' so close together like that," Polley said. "Miriam Toews wrote an essential novel about a radical act of democracy in which people who don't agree on every single issue manage to sit together in a room and carve out a way forward together free of violence. They do so not just by talking but also by listening."
Ruth E. Carter won her second Oscar for her second Black Panther movie, earning Wakanda Forever its only award of the night. Carter is the first Black woman to win two Oscars. And despite six nominations, Top Gun: Maverick only came home with one, Best Sound. That's a good win until you consider how good Batman's squishy boots sounded in The Batman.
RRR won the only award it was nominated for, Best Original Song, with "Naatu Naatu." Along with lyricist Chandrabose, composer M. M. Keeravani accepted the prize, giving big shouts to The Carpenters before singing his acceptance speech for the first Indian production ever to win an Oscar. As actor Deepika Padukone said, the song is a "total banger."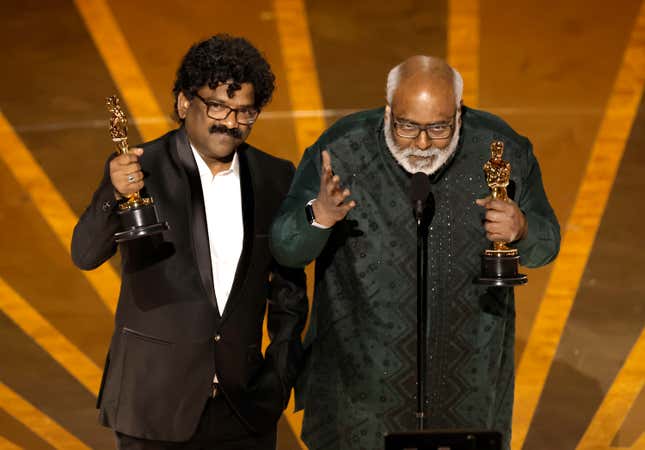 Navalny won Best Documentary, which should irritate one Oscar watcher: Vladimir Putin. Alexei Navalny, still in solitary confinement, could not accept the award, but Navalny's family was on hand, sending words of encouragement for the political prisoner. "My husband is in prison just for telling the truth," Yulia Navalnaya said on stage. "My husband is in prison just for defending democracy. Alexey, I'm dreaming of the day when you will be free, and our country will be free. Stay strong, my love."
An Irish Goodbye picked up a win for Best Documentary Short. Celebrating the birthday of the film's star James Martin, director Tom Berkely and Ross White led the audience in an unlicensed rendition of "Happy Birthday To You." The Oscars will be hearing from the Hill sisters' lawyers. Speaking of shorts, The Elephant Whisperers won Best Documentary Short, and The Boy, The Mole, The Fox And The Horse won Best Animated Short.

The night ran a little long but did not end in any misread envelopes or slaps across the face. Instead, a bunch of filmmakers won some awards, thanked their peers, and left the stage. If only every award show could be so simple.