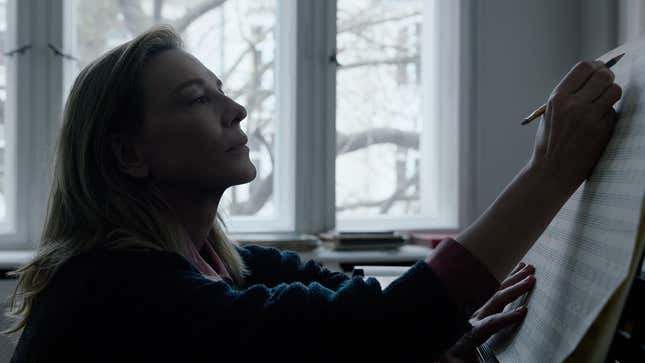 With her performance as Lydia Tár, Cate Blanchett has not just earned another Academy Award nomination; she's created a new person entirely. From the pages of Todd Field's script, Lydia transforms from a figment of the imagination to a tangible, towering artistic figure. When evaluating Tár ahead of the Oscars, I found it impossible to ignore the realness of Lydia and her lingering effect long after the final scene.
Meagan Good on Harlem, Shazam, and Helen Mirren
After viewing Field's masterpiece, many viewers looked to learn more about its intriguing subject only to discover that she's entirely fictional—a hyperrealist creation of Field's own making. When writing about the film's trailer last year, I went down a Google rabbit hole trying to conjure details about Lydia Tár, coming up empty. The film spurred a litany of explainer pieces delivering the news that she's not real (in the strictest sense). The first search result that pops up when typing Lydia Tár into Google is "Lydia Tár real," to which the big, bolded answer is no.
This hasn't stopped Lydia from taking on a life of her own, nor has it stopped me from writing that she's very much real. Upon its release, Tár spurred the creation of Lydia Tár twitter accounts, with fans of the film attesting to her existence in the real world. Even the estate of Leonard Bernstein—Lydia's oft-mentioned mentor—recently confirmed that she studied under the tutelage of the legendary American composer prior to his death in 1990.
Months after the release of Tár, its eponymous figure remains a standout this awards season, guided by Blanchett's commanding performance as the enigmatic yet problematic composer. As the film blurs the line between what's real and what's imaginary, Lydia herself blurs the same line between the world created by Field and our own. The result is an embattled conductor who feels astonishingly genuine, offering a captivating study on abuse of power pulled from our own society.
G/O Media may get a commission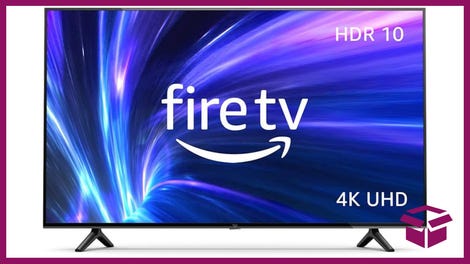 42% Off
Amazon Fire TV 50" 4K Smart TV
Can a fictional character win an actual EGOT?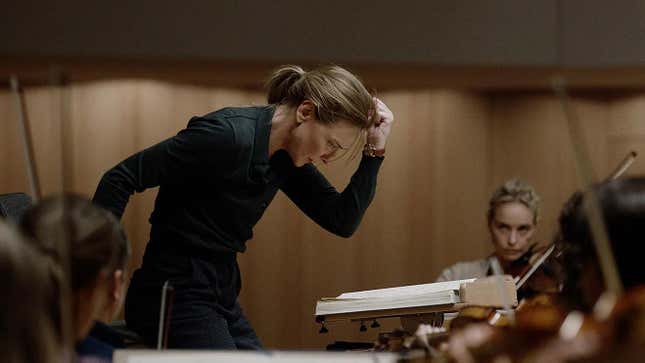 The trailer for Tár charts a familiar biopic story: A rise through the professional ranks leads to a triumphant career, followed by the inevitable fall from grace. Touting very real achievements throughout, such as earning an EGOT and becoming the first female conductor of the Berlin Philharmonic, the trailer had me wondering, "Why am I just now hearing of Lydia Tár?" only to subsequently learn that it's because she technically exists solely within the realm of the movie. Technically.
This sense of realism also permeates the film itself. With Tár, Field and Blanchett not only made a spellbinding film worthy of award season accolades, but they created an intricate person capable of leading a life of her own, with her own history and up-in-the-air future. With her performance, Blanchett becomes synonymous with Lydia—inevitably tying herself to the character for the rest of her career. In 2015, Blanchett gave us Carol, and now she's handed us Lydia Tár.
Lydia feels as real as she is flawed. Like any of us, she exists within the gray, making her downfall less easy to accept than those of stereotypical villains—ones so reprehensible and devoid of humanity that no deeper analysis is required. This is not to say Lydia's a saint, and her actions are not without their own grim, life-altering consequences. But it's Lydia's moral murkiness that ultimately makes her most interesting, and more reflective of the human condition. Also, like any real human being, she's an endless well of contradictions.
Lydia's issues make her real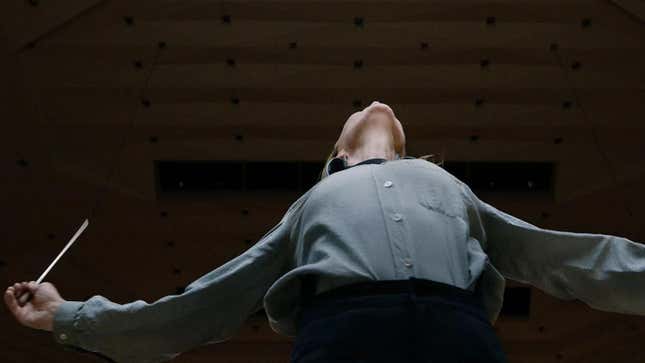 Although the story takes place in the high art realm of orchestra conducting, the issues at hand—aspiration, ego, power, control—feel close to any of us. So, while the inner mechanisms of composition and and conducting may be lost on many, watching Lydia fall apart in the overwhelming pursuit of achievement still strikes a chord. When it comes to the realness of Lydia, Field himself tells The A.V. Club, "She's been very real to me for 10 years. There's a big difference between, as the author of this material, her being real to me and her being real to others. Her being real to others is really a testament to ... the art of Cate Blanchett."
She'll be real to me for the next 10 years, too, Todd. While the proclamation of Lydia Tár's realness is ultimately done in jest, as Field says, Lydia's lifelikeness is a testament to the acting power of Blanchett. While realism is not the chief goal of Tár—with its haunting ghost story elements and alleged third act "dream" sequence—the character at the center of the story feels as nuanced as anyone walking the planet. The result is a work that can be read in a myriad ways about a person who can mean a lot of things to a lot of people, including yours truly.