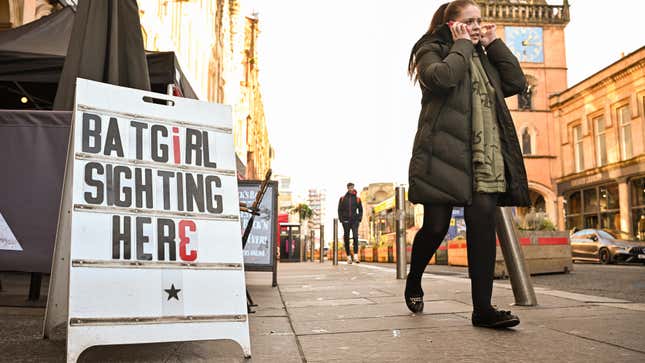 Roughly 13 months after Warner Bros. Discovery canceled the near-complete, $90 million Batgirl movie for a tax write-down, the decision remains baffling. Sure, Warners was trying to recoup some of the $2.1 billion it lost last year, but the decision to ax Batgirl and keep titles like Black Adam, Shazam: Fury Of The Gods, and The Flash on the schedule seems even more confusing after the critical and cultural beating nearly every DC movie took last year.

Promoting their new Syrian war drama Rebel, Batgirl directors Adil El Arbi and Bilall Fallah told Insider they don't understand why their film was sacrificed, especially after watching The Flash, which made them "sad." However, this wasn't the normal post-Flash depression where feelings of nausea and sorrow followed the sight of CGI Nicolas Cage fighting a giant spider. Rather, the directors thought there was room for their movie, too.
"We watched [The Flash] and we were sad," Adil said. "We love director Andy Muschietti and his sister Barbara, who produced the movie. But when we watched it, we felt we could have been part of the whole thing."
In addition to calling the cancelation the "worst experience of their careers," Adil said the audience didn't get the chance "to judge for themselves." The filmmakers consider the moviegoers their "ultimate boss and should be deciders if something is good or bad, or if something should be seen or not." As we know, the only people who were privy to Batgirl were those lucky enough to attend "funeral screenings" on the Warners lot.
Still, they offered some insights into the movie that we'll never see, which was nice. Adil said their film was "more grounded" than The Flash with its "big fantasy component." Their movie was "more like Tim Burton's Gotham City." That would've been nice, considering The Flash avoided Burton's gorgeous production design for a CGI slugfest in the middle of the desert. Nevertheless, these gluttons for punishment say they "could never say no" to returning to the DC Universe. "If we got another chance to be part of it, we'd do it," Adil said, presumably because no one told him he wasn't legally required to make superhero movies for Warner Bros.
Rebel opens in New York City Friday and in Los Angeles on September 22.