1. The Bangles, Gilmore Girls
When a TV character suddenly expresses extreme devotion to a singer or band he or she has never mentioned before, chances are good that abrupt fandom is rooted in a plot point or guest appearance rather than that character's established tastes. Given the unusual closeness between them, it's not that unbelievable that 16-year-old Rory Gilmore would share the affection her mother Lorelai has for '80s female pop group The Bangles in the first-season Gilmore Girls episode "Concert Interruptus." What is surprising is that the prospect of a Bangles concert in 2001—13 years after the group's last album—is apparently enticing enough to Rory's new classmates/potential friends at Chilton Prep that they jump at Lorelei's suggestion that they go to the concert with Rory instead of her best friend Lane, whose overbearing mother won't let her go to the concert (and whose omnivorous taste in music at least somewhat plausibly positions her as a Bangles fan). Then again, two of the Chilton girls quickly lose interest in the show when a couple of cute guys show up; but Rory, Paris, Lorelei, and Sookie remain to bask in the cross-generational appeal of "Hero Takes A Fall" and "Eternal Flame."
2. Davy Jones, The Brady Bunch 
No one would ever mistake The Brady Bunch as an authentic document of what kids and teens of the early '70s were really into. The Brady kids' fashions and interests could best be described as "Hollywood groovy," more like youth culture as filtered through what middle-aged writers and production designers thought teenagers liked. But for one 1971 episode, the show got specific. And like many of the entries on this list, that specificity was determined by what guest stars could make themselves available to the show. In the appropriately titled "Getting Davy Jones," the ex-Monkee makes an appearance when his No. 1 fan Marcia Brady promises her class she can get him to perform at the prom. Jones' career wasn't exactly riding high in 1971, several years out from the height of Monkeemania and one album into a non-starting post-Monkees solo career. But he's treated like a visiting deity throughout the episode. In the Bradyverse, he's a star forever—or at least until the next week when Marcia and everyone else seems to have forgotten all about him.
3. C+C Music Factory, Blossom
In another instance of a show lining up a guest and then worrying later if it made any sense in the context of the show, funky alterna-heroine Blossom and her best friend Six spend much of an episode camping out a store called Rockin Records to secure tickets to C+C Music Factory, a passion in no way keeping with the characters' outside-the-mainstream tastes. And just when it looks like their efforts won't pay off, who should pull up but C+C Music Factory in the flesh! "We know every song of yours! Every step!," Blossom exclaims. Then everyone dances to "Things That Make You Go Hmmm" until the credits roll, because somebody was able to book a fast-fading pop act for a reasonable price, consistent characterization of the protagonist be damned.
4. Spinal Tap, The Simpsons
Numerous bands and musicians have made guest appearances on The Simpsons over the series' unending run, but there are fewer instances of Springfieldians attending concerts for specific bands (outside of festivals like Hullabalooza). But "The Otto Show" begins with Homer taking Bart to his first-ever concert—with Milhouse along for the ride—to see metal gods Spinal Tap, who share a cast member with the show in Harry Shearer. Even though Bart has never seen the band live—or even mentioned it, for that matter—he still dons a Spinal Tap world-tour T-shirt and knows the rhythms of a Spinal Tap show, even appropriately saluting a half-inflated balloon of Satan. Still, this is Springfield, where mob mentality rules, and after shabby conditions at the arena cause the band to storm off, the crowd turns the proceedings into a full-blown riot, so it's no surprise Spinal Tap never made any return trips to town.
5. Buffalo Tom, My So-Called Life
Pittsburgh doesn't get a whole lot of big-name concerts, so apparently it was a big deal for all the students of My So-Called Life's Liberty High when Buffalo Tom blew through town. The band scored a pretty crucial episode in the show's short run, in which Angela Chase is brutally rebuffed by Jordan Catalano while trying to go public at the concert after weeks of secretly making out with him in the boiler room. Later, she lets him have it, and eventually he comes to his senses, taking her hand in the school's hallway as Buffalo Tom plays over the scene and teenage girls everywhere cry with joy.
6. The Doobie Brothers, What's Happening!!
Even though it had never been established that Raj, Dwayne, and Rerun were fans of The Doobie Brothers, the two-part What's Happening!! episode "Doobie Or Not Doobie" opens with the three of them talking about how they absolutely have to get tickets to a benefit show the band is playing at their high school. Why is one of the biggest bands on the planet playing a high-school gym in Watts? Apparently one of the band's members, Patrick Simmons, went to Jefferson High, and he wants to give back to the school that taught him how to be a rock star. (Never mind that Simmons' official bio says he went to high school in the San Francisco area; this is '70s TV, dammit! No plot contrivance is too silly to exploit!) Rerun is too busy eating to get tickets, so he scores some from a couple of thugs who ask him to record the show. After two episodes' worth of Doobie performances, including their huge hits "Black Water" and "Takin' It To The Streets," Rerun is discovered when his comically large (but '70s-appropriate) tape recorder falls from his waist. The band and the gang set up a sting to catch the bootleggers in the act of getting the tape, after which The Doobies ride off into the sunset, never to be heard from again.
7. U2, Saved By The Bell
Saved By The Bell frequently mixed references to real-life celebrities with fictional ones in the strange pop-cultural soup that is Bayside High. But the show's most prominent recognition of a real band occurs in the episode "All In The Mall," in which the gang deploys Screech to wait in line overnight at the mall for U2 tickets. (These were those dark, pre-online-sales days, after all.) After plans go awry, they find $5,000 in a shoebox and plot to use the money to buy up more U2 tickets the next day to resell at a profit. Unfortunately, two unknown men are after them, leading to an overnight chase full of hijinks that culminates in the reveal that they're actually part of a hidden-camera show. The gang's reward? Front-row tickets to the U2 show. The lengths Zack Morris and Co. go to for the tickets would be considered extreme by even the most obsessive fan; but propelled by the potential for profits and U2 tickets, the group stays committed to its objective rather than, say, remembering they never liked U2 before this episode and leaving the mall altogether.
8. Hootie And The Blowfish, Friends
In fairness to the writers of Friends, the sudden addiction Monica, Chandler, and Ross have for the mainstream jangle-pop stylings of the South Carolina band Hootie And The Blowfish was one suffered by 10.5 million other members of the music-buying public in 1995. In the season-two episode "The One With Five Steaks And An Eggplant," Chandler sets up a celebration of Ross' birthday that culminates in the three friends attending a Hootie show and ultimately partying with the band backstage afterward, although the birthday boy doesn't enjoy the occasion nearly as much as Monica, who identifies her newly received hickey as "the work of a Blowfish." Alas, the characters' fandom was short-lived, making Monica's encounter a one-off, but as to the identity of the guilty party, Hootie frontman Darius Rucker confidently assured Bullz-Eye.com, "It was Mark [Bryan, lead guitarist]. If it was me, they would've said, 'That would be the work of Hootie.' But if it was a Blowfish, then it was definitely Mark."
9. Polaris, The Adventures Of Pete & Pete
Everyone has a first favorite song and a first favorite band. The Adventures Of Pete & Pete's Little Pete Wrigley finds his favorites in the episode "Hard Day's Pete," when he happens across a garage band practicing while taking a shortcut to school. When he comes back later, the band is gone, along with all signs of who they were (Polaris) or what the song was that Pete loved so much ("Summerbaby"). Pete picks up a guitar and forms his own band, The Blowholes, to learn how to play the song before he forgets it. For a while, it looks as if all his musical hope is lost, but ultimately Pete recaptures the magic of that moment and lets his own riffs ring out into the night—if only for one episode.
[pagebreak]
10. The Grateful Dead, Freaks And Geeks
Musical obsessions abound in Freaks And Geeks. Befitting the show's retro setting, the characters latch onto various bands that, aptly enough, teenagers circa 1980 might have gravitated toward—including Nick Andopolis' love of Rush and Daniel Desario's Black Flag phase. But it's Freaks And Geeks' main character, Lindsay Weir, who goes through the deepest and most frequent band-crushes. At first it's The Who, whom Lindsay goes to see in concert; ultimately, though, it's the trippier sounds of The Grateful Dead that entrance her. Turned onto the band by her hippie burnout of a guidance counselor, Mr. Rosso, Lindsay winds up running away to join The Dead on tour in the show's final episode, "Discos And Dragons."
11. Violent Femmes, Sabrina, The Teenage Witch
For a fictional witch who lives in an alternate world of warlocks and talking cats, the title character of Sabrina, The Teenage Witch has surprisingly real-world tastes in music. A fan of Britney Spears and No Doubt, the decidedly paranormal Sabrina has pretty typical enthusiasms, especially for a post-adolescent in the late '90s and early '00s. That said, there's something a little suspect about Sabrina's fleeting fixation on Violent Femmes. In the 1997 episode "Hilda And Zelda: The Teenage Years," Sabrina becomes upset that she's not allowed to stay up past curfew for a Femmes show. Not that the band isn't great—but the group's appearance on the show is so forced, it's entirely possibly a little promotional witchcraft was involved.
12. The Beach Boys, Full House
It's hard to imagine a more suitable band for Full House than the squeaky-clean Beach Boys (never mind the group's infamous internecine craziness). In the 1988 episode "Beach Boy Bingo," the group—which was riding the wave of a mini-comeback at the time—comes to town and holds a radio contest for a free ticket, which winds up causing a crisis of loyalty within the Tanner clan. A breezy, sunny crisis, of course. Even the high lactose tolerance required for Full House fandom is inadequate to digest the episode's gratuitous, Tanner-participatory concert scene.
13. Mel Tormé, Seinfeld
Seinfeld seemed to make a point of namedropping half-obscure products and past-ther-prime celebrities: Junior Mints, Jujyfruits, Jon Voight, George Peppard, and so on. But with the possible exception of Keith Hernandez and Marisa Tomei, none received the spotlight quite like Mel Tormé. In the season-six episode "The Jimmy," Elaine has tickets to see the famous crooner, a.k.a. "The Velvet Fog," who's singing at a benefit for Able Mentally Challenged Adults. While Jerry, ever the poker-faced voice of reason, claims to have never heard of Tormé ("What the hell's a Velvet Fog?"), Elaine, Kramer, and even Anthony Starke's Jimmy seem genuinely, and confusingly, excited at the chance to hear Tormé light up a benefit show. (The show would call back to the Tormé pandemonium in a later episode when Jerry refers to a velvet-draped George as "The Velvet Fog.")
G/O Media may get a commission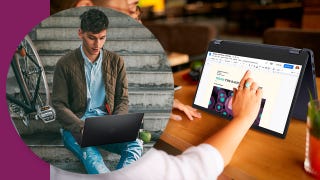 Ends August 15
Best Buy Anniversary Sale 2022
Ends August 15
Best Buy has a number of different promotions happening all for its Anniversary Sales Event. Laptops, tablets, TVs, you names it. Whether you're heading back to school or just trying to fill your home with some new tech, there is something here on sale that you've likely been waiting for.
14. Color Me Badd, Beverly Hills, 90210
Over the years, Donna Martin went through a lot of unfortunate but mercifully short-lived phases. (Remember when she was an animal-rights activist? Anyone?) But perhaps the most conspicuously fleeting adolescent whim of all was Donna's spontaneous obsession with the utterly forgettable R&B group Color Me Badd. Best known for sullying the minds of horny middle-schoolers everywhere with its early-'90s hit "I Wanna Sex You Up," Color Me Badd peaked right around the time the group guest-starred in "Things To Do On A Rainy Day," from the second season of Beverly Hills, 90210, in which Donna leads Brenda, David, and Kelly on a wild goose chase across the greater Los Angeles area in a bid to hang out with the intricately groomed boys of CMB. The night turns out to be a major bummer: Donna's attempted stalking proves unsuccessful, and, even worse, she accidentally discovers her mother in an adulterous embrace with a strange man. Kelly ultimately saves the day, bringing the band by the Peach Pit for an impromptu performance of its genuinely terrible No. 1 hit, "I Adore Mi Amor." And just like that, Donna forgets all about her family troubles. Her love for Color Me Badd soon followed.
15. James Ingram, Suburgatory
At first, it seems a little odd that Shirley Temple-doll-collecting mom Sheila Shay (Ana Gasteyer) would pick smooth soul musician James Ingram as her favorite recording artist. (She seems like more the Barry Manilow type). However, on the season-one finale "The Motherload," Gasteyer's husband (Chris Parnell) hires Ingram to sing his 1981 hit  "One Hundred Ways" for Sheila on Mother's Day, which in suburban Chatswin is celebrated as almost a cultish feast day for moms. The roots of Sheila's affection for Ingram are revealed, however, when she confesses that not only is Ingram one of her favorite singers, they were former lovers as well.
16. The Walkmen, The O.C.
Following a first-season appearance by the quickly forgotten (on the show and in the real world) Rooney, which resulted in a huge sales boost for the band, teen soap The O.C. introduced The Bait Shop, a strange all-ages club where real-world bands looking for a little extra exposure could cater to the mercurial musical tastes of the fictional teenage residents of Orange County. In the season-two episode "The New Kids On The Block," Seth suddenly remembers (after seeing the band's name in an ad) that his eternal crush Summer is a huge fan of The Walkmen, a band probably not widely beloved among high-school students in 2004. Being a classy guy, Seth decides to buy tickets for Summer and her new boyfriend, only to learn that The Walkmen concert is sold out. In order to score tickets, Seth takes a filthy job at the club, cleaning toilets and whatever else is needed, only to be rewarded with comically oversized "WALKMEN"-branded tickets after a couple of days. When Seth gives the tickets to Summer, she's not even excited—and when she enters the club, she barely notices the band: She spends half a song talking to Seth before getting upset and storming out. Maybe she wasn't such a big fan after all.
17. Dawes, Parenthood
It's unclear weather Parenthood's favorite son Adam Braverman is actually enamored of Dawes' sweet Laurel Canyon sound or just the money it'll bring to The Luncheonette, the struggling recording studio he opens with his brother, Crosby, in the show's third season. What is clear is that Adam spends much of the episode "Politics" pestering Crosby to "seduce" the band into recording with them, in the process saying "Dawes" so often it almost takes on some other meaning, like some kind of elaborate in-joke.