Here's what's up in the world of TV for Wednesday, February 17. All times are Eastern.
Top pick
Broad City (Comedy Central, 10 p.m.): Finally, the ladies of Broad City are back, on Comedy Central. (Please chant "BROADY" like wrestling fans chant "ROCKY" at The Rock.) And they are ready to get their "Two Chainz" on in the season three premiere. We don't think this is about the rapper, but knowing this show, never say never. We've missed you, Abbi. We've missed you, Ilana. We've actually missed Val the most, but we know we're not there again yet. So tell us something about "Two Chainz," TV Guide Dude! "In the Season 3 premiere, Abbi and Ilana search for a public bathroom; and have wardrobe malfunctions on the way to a gallery show for a friend." T-t-t-two Chainz! We hope you're sufficiently hyped now, Kayla Kumari Upadhyaya.
Also, just because it still makes us so happy, let's watch this Broad City promo again:
Turbo: A top pick No. 2
The Challenge: Battle Of The Bloodlines (MTV, 10/11 p.m.): Naturally, the finale of this Challenge season all about "bloodlines" is titled "Family Matters." Wocka wocka and all that jazz. Also, the synopsis is giving away absolutely nothing: "In the Season 27 finale, the competitors endure a series of demanding checkpoints while battling all day and all of the night for their share of the $350,000 prize." Then, it's time for the reunion, where we all wax nostalgic about the best reunions to happen to the show. In case you didn't know, those "best reunions" would be the original Rivals reunion and the Rivals II reunion, which as live and amazing.
G/O Media may get a commission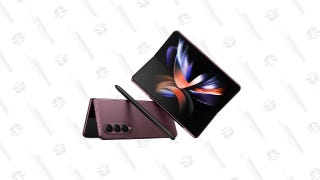 Save Up to $300
Galaxy Z Fold4
Also noted
The Middle/The Goldbergs (ABC, 8/8:30 p.m.): Let's get to the highlights, shall we? First up, on The Middle: "Sue runs into Logan - the hunky Abercrombie guy - and thinks she has a real chance of becoming his girlfriend." Fingers crossed for Sue. When you've got a guy like Logan the hunky Abercrombie guy/White Josh, you've got to lock that down. Then, on The Goldbergs: "'Weird Al' Yankovic guest stars as himself." Will Harris honestly has the best job out of any of us over here.
Survivor (CBS, 8 p.m.): "Castaways embark on the most grueling 39 days in Survivor history and test whether brute strength, looks or smarts will be the attribute that helps capture the title of Sole Survivor." That is right—Survivor is back, officially going 32 seasons strong. 90 minutes. Three tribes. That would be the Brains Tribe, the Brawn Tribe, and the Beauty Tribe. We can't wait until The Challenge does this exact concept. And no, that was not sarcasm. (By the way, the full title of the season is Survivor: Kaoh Rong - Brains vs. Brawn vs. Beauty.) "Also, one castaway deals with excruciating pain when a bug gets stuck in their ear." Let's do this, Carrie Raisler. Let's. Do. This.
Star Wars Rebels (Disney XD, 9 p.m.): It's "Homecoming," baby! No, there are not sports or a big dance. Sorry we got your hopes up, Kevin Johnson. But there is this: "The rebels contact freedom fighter Cham Syndulla, who needs help to fight off the Imperial bombing attack on his planet. While coordinating a plan to overtake and steal the carrier that houses these Imperial bombers, the rebels discover that Cham may have a plan of his own."
It's Always Sunny In Philadelphia (FXX, 10 p.m.): So you say you're hooked on American Crime Story: The People Vs. O.J. Simpson, huh? That's lame. Instead, you should be hooked on It's Always Sunny In Philadelphia's "McPoyle Vs. Ponderosa: The Trial Of The Century." Why? "Old grievances bubble to the surface when The Lawyer agrees to sue Bill Ponderosa on behalf of the Liam McPoyle and his lost eye." That's why, Dennis Perkins!
Regular coverage
Arrow (The CW, 8 p.m.)
Modern Family (ABC, 9 p.m.)
Black-ish (ABC, 9:30 p.m.)
American Crime (ABC, 10 p.m.)
Younger (TV Land, 10 p.m.)
Elsewhere in TV Club
Paul "Loves Chemicals So Much He's Basically Walter White" Rust and Gillian "Gilli" Jacobs are co-stars in the upcoming Netflix comedy series Love, and that's technically all you really need to sell you on the show. But Erik Adams would like to sell you on it too, so that's what he plans to do with his pre-air review of the series (which premieres February 19). Thanks, Paul. Thanks, Gillian. Thanks, Erik.
Meanwhile, Caitlin PenzeyMoog is talking about The Bachelor, and you best listen (well, read). Her For Our Consideration piece is all about how "The Bachelor shows the power of female friendships over competition," which we definitely agree with, given all of our research. Just a reminder: All of our research is Burning Love and UnREAL.
What else is on?
American Idol (Fox, 8 p.m.): The Showcase goes on, with "Showcase #3: 2nd 12 Performances." We love how numbers are a big part of American Idol. You have to have something to fall back on if that whole music thing doesn't work out, right?
Young & Hungry (Freeform, 8 p.m.): "Gabi's updated relationship status has everyone commenting on an all-new episode of Young & Hungry." Do the non-Gabi characters on this show have lives of their own? Can they do anything other than care about "Gabi's updated relationship status"?
The Mysteries Of Laura (NBC, 8 p.m.): "THE MYSTERY OF THE POLITICAL OPERATION." This is literally all that we know about this episode. We're assuming this is a Blacklist/Mysteries Of Laura crossover. We mean, that's what NBC would do if they actually wanted Mysteries Of Laura to succeed. They'd also do something with the show and The Voice.
Unsung (TV One, 8 p.m.): Patrice Rushen, prepare to be sung!
Mob Wives (VH1, 8 p.m.): This week's Mob Wives teaches us all why education is important, in "Exes And Whys." We're 100 percent sure that Jenna from The Challenge believes that how Xs and Ys are spelled.
Baby Daddy (Freeform, 8:30 p.m.): Remember how last week's Baby Daddy episode synopsis spoke of a new and improved Ben, and we said that would never happen because Ben is a manchild? Like a daddy who is also a baby (giving new meaning to the show name)? Well: "While looking for a new bar manager, Ben interviews his old crush Sam (guest star Daniella Monet), and decides to exact 'Ben-geance' on her for never noticing him in high school." Yes.
Tia Mowry At Home (Cooking Channel, 9 p.m.): "Tia hosts a sleepover for her girlfriends." And that was the last time anyone saw any of Tia's "girlfriends."
Supernatural (The CW, 9 p.m.): Time travel! There's time travel in this episode!
Hell's Kitchen (Fox, 9 p.m.): "A new member joins the Blue Team before a grocery spelling challenge, after which the winners go flying in a stunt plane, while the losers make sangria." From this point forward, we want losers in any competition or sport to make sangria. Thanks, Hell's Kitchen.
Little Women: LA (Lifetime, 9 p.m.): "Briana keeps a huge secret from Matt." If it's not sangria-related, we're afraid we're not that interested.
Law & Order: Special Victims Unit (NBC, 9 p.m.): This week, in episodes Law & Order: SVU has definitely done before in all 17 seasons of its existence: "An undercover sting leads to the takedown of an online pedophile ring and the arrest of two high-profile suspects."
Face Off (Syfy, 9 p.m.): "The artists create whimsical ghost characters based on unique and comical obituaries." We really hope this means every character ultimately looks like either Casper or his ghost uncles.
Newlyweds: The First Year (Bravo, 10 p.m.): In "Wife Is A Stage" (no, we're not kidding), "Ro has a new outlook after reuniting with her father, but tempers flare when she makes a big decision without consulting Rob. Meanwhile, Brandon surprises Craig with a trip to New York; Erica's trust in Adonis fades; a home renovation leads to a fight." Good for Brandon and Craig. Sorry for the rest of you.
Code Black (CBS, 10 p.m.): "Christa must put aside her personal feelings for Grace and work with her to treat Brody (Cameron Boyce), a patient who claims to have been abused at a camp for troubled teens. Also, Grace is surprised when Campbell asks her out" If you want to see Boris Kodjoe ask Meagan Good out, this is the episode of television you need to watch to fill that specific void.
Kocktails With Khloé (FYI, 10 p.m.): "The Twerktini." No.
Little Women: Atlanta (Lifetime, 10 p.m.): "Minnie plans a birthday party, but an unexpected guest crashes her big night." Please say Owen or Vince. Please say Owen or Vince.
Chicago P.D. (NBC, 10 p.m.): Chicago Platt Update: Nope. We want (Oliver) Platt, Dick.
Wild Things With Dominic Monaghan (Travel Channel, 10 p.m.): "Dominic Monaghan treks through Brazil to find a bizarre giant anteater." Do what you gotta do to get your kicks, Dom. If it's finding "a bizarre giant anteater," then so be it. Do you, man.
Man Seeking Woman (FXX, 10:30 p.m.): In "Cactus," "Josh finally makes a move on Rosa." That's really all they give us, but we'll take it.
Teachers (TV Land, 10:30 p.m.): "Ms. Bennigan has a drunken moment at a bar, which makes her question everything." Ooh, go on.
Suits (USA, 10 p.m.): "As time runs out before the trial, Mike wants to represent himself while Harvey wants to lead the charge." Well, Mike is being accused of not being a real lawyer (which he's not), so what better way to disprove that than by representing himself? Duh.
Nick Cannon Presents Wild 'N Out (MTV2, 11 p.m.): The gas tank is on "E," as Wild 'N Out is bringing out the "WNO Wildest Moments 2."
The Way We Were (TCM, 10 p.m.): Streisand. Redford. Let's do this Wednesday night right.
Sports, sports, all type of sports
UEFA Champions League: KAA Gent vs. Wolfsburg (ESPN Deportes, 2:30 p.m.)
UEFA Champions League Soccer: Roma vs. Real Madrid (FS1, 2:30 p.m.)
NASCAR Sprint Cup Series: Practice in Daytona Beach (FS1, 5 p.m.)
College Basketball: Dayton at St. Joseph's (CBS Sports, 6 p.m.)
College Basketball: Syracuse at Louisville (ESPN, 7 p.m.)
College Basketball: Villanova at Temple (ESPN2, 7 p.m.)
College Basketball: Central Florida at Memphis (ESPNU, 7 p.m.)
College Basketball: Providence at Xavier (FS1, 7 p.m.)
College Basketball: DePaul at St. John's (CBS Sports, 8 p.m.)
Women's Basketball: Oklahoma State at Baylor (FSN, 8 p.m.)
NHL Hockey: Blackhawks at Rangers (NBC Sports, 8 p.m.)
College Basketball: Duke at North Carolina (ESPN, 9 p.m.)
College Basketball: Arizona State at Arizona (ESPN2, 9 p.m.)
College Basketball: Seton Hall at Georgetown (FS1, 9 p.m.)
College Basketball: Houston at Tulane (ESPNews, 9:30 p.m.)
College Basketball: Colorado at Southern California (ESPNU, 11 p.m.)
LPGA Tour Golf: Australian Open (Golf Channel, 11 p.m.)
Lucha Underground (El Rey, 8 p.m.)
WWE NXT (WWE Network, 8 p.m.)
Ring Of Honor (Comet TV, midnight)
In case you missed it
Idiotsitter: Idiotsitter is actually on Thursday nights, but you really should be watching it if you aren't already. We're just saying.