The semi-regular Hollywood Legends auction currently taking place at Julien's is filled with some fascinating ephemera from on and off screen: Costumes worn by the likes of Lana Turner and Rudolph Valentino. A huge selection of artwork and military memorabilia owned by the late Jonathan Winters. Bruce Lee's hand-strengthener. An actual Back To The Future Part II hoverboard (non-fuctioning, like all hoverboards). Courtney Cox's jacket from Scream. Ann-Margret's presumably baked bean-stained pantsuit from Tommy. A People's Choice Award given to the first Lord Of The Rings movie in 2003—obviously important, because it came from the people, and now the people can buy it back for about $1,500. A hair braid worn by Hayden Christensen in Star Wars: Attack Of The Clones, for fans and for people who want to frame Hayden Christensen for murder. A magazine Ice-T and Coco signed, etc.
But for the pieces that truly capture the blurred line between the tangential fame and gross garage sale that is the celebrity auction, you obviously should look no further than David Hasselhoff, who seems to be unloading everything in his house—mostly to benefit Starlight Children's Foundation, possibly just to make more room on the floor. Among the Hoff things you can buy are a full-sized exact replica of KITT (pre-programmed with more than 4,000 soundbites) gifted to him by fans; a smaller, golf cart version; the lifeguard chair he sat in for his Comedy Central Roast; his Baywatch rescue can; and the jacket he wore in his 1999 "Hooked On A Feeling" video. The last item is one you can get literally years of enjoyment out of, as that is how long you will spend explaining that David Hasselhoff once covered "Hooked On A Feeling" for a music video and that he wore a jacket in it.
Apparently, Hasselhoff is also taking this opportunity to just sort of empty out his closet: Like a lot of yard sales, you can get some ugly-ass tie-dyed shirts and duster coats, and a particularly eye-searing denim jacket with Disney characters embroidered on it. Unlike a lot of yard sales, these belonged to David Hasselhoff, making them all worth at least $50-$600.  (Also, the Disney jacket has water bottle pockets on the back.) No, he will not just "throw in" his Hawaiian shirt; he wore that during an interview with the Honolulu Star-Bulletin 15 years ago!
G/O Media may get a commission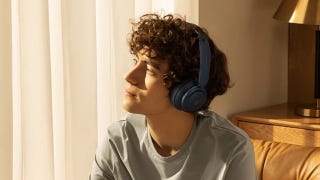 30% off
Soundcore Headphones and Earbuds
Still, the main attraction is unquestionably the item seen up top—a lifelike, yet "oversized" model of Hasselhoff himself in his Baywatch trunks, made for The SpongeBob SquarePants Movie. This is estimated to go for $20,000 to $30,000—which seems steep, until you consider that, besides its obvious value as a conversation piece in your home ("Oh, I see you have a lifelike but oversized model of a grinning David Hasselhoff; tell me, where is the nearest exit?"), it's also practical. The model comes on a rolling metal rack, making him perfect for serving hors d'oeuvres on, or mounting and riding into freeway traffic, after realizing that you spent $30,000 on a latex David Hasselhoff.