This season of Californication has been all over the place. It would be enraging if it weren't ultimately just a TV show and not worth getting that upset about. But if one were pressed to come up with answers, there might be a few: New writers working on more of the scripts, too many featured actors with varying availability, and simply not being sure where to go with certain characters and stories. Still, at its best, season five's weathered those elements and, in doing so, made its strongest case yet as exceptional mindless entertainment. But during its lesser half-hours, the show noticeably sags from the burden of carrying all that baggage.
"At The Movies" (a title that could plausibly be lifted from either Bad Brains or Roger Ebert) isn't the worst we've seen from Hank and his gang of misfits this year. That dubious recognition would go to the shticky "Here I Go Again." But "Movies" is certainly the hardest to watch and, at times, relies on the sub-Revenge of the Nerds horndog juvenilia that turns so many passing viewers off. It does, however, delineate the kind of movie Hank wants his life to resemble versus the low road his friends and colleagues have chosen as a result of making movies.
Santa Monica Cop is a B-picture, and Hank knows it. Everyone involved does, actually, except maybe Samurai. Hank refers to it as Stu's "big, shitty movie." Stu himself dismisses it matter-of-factly as "tentpole filmmaking" (i.e. dumb blockbuster) and the weasel-y new director—at least they spent a couple of throwaway lines explaining when and why Peter Berg quit—just wants to get into the starlet's pants. Even said actress (Sarah Power), who's only acknowledged as "The Girl," describes her role in the film as playing "a dial tone with tits."
The only problem is, just because they're all self-aware doesn't mean they still don't live down to our expectations. The Girl concludes her passionate (and, initially, believable) speech about being a theater geek who's got more than good looks by showing Hank her aforementioned tits and offering to blow him. It's an especially cynical scene, but comes across as the kind of superfluous and incredulous casual encounter that season five has—to its credit—largely shied away from. Later, when gossip spreads about their indiscretion, The Girl slaps Hank across the face because, "It's better if it looks like you took advantage of me." Before, she was a harmless, lazily drawn cautionary tale. Now she's just a dick.
G/O Media may get a commission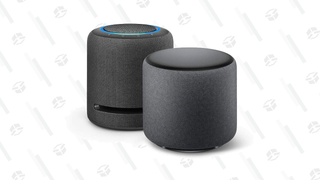 25% off - Prime Exclusive
Echo Studio + Echo Sub Bundle
Speaking of dicks, Charlie again got much closer to one then he'd have liked, despite his comfort level when it comes to jesting with Hank about how "ass-play is never out of the question." In the B-movie that Hank's life is becoming, Charlie has regressed into a blustering cartoon. Some of what he's been subjected to would be better suited to Jackass 3.
You could say he needs Marcy to ground him, but really, he just needs the series' writers to elevate his material while apart from her. So far this season, he's been caught masturbating in a relative stranger's kitchen, unknowingly been orally serviced by a tranny and witnessed Marcy and Stu degrade him as the focus of their bedroom kink. The latter was even enough for him to declare that he'd sacrificed enough dignity. Yet, here he is, bending to smug asshole and sudden hotshot writer Tyler's will (although it's easy to deduce that his phone's not actually ringing off the hook) and accepting ultimatums that end up with him getting smacked in the face by another man's enormous penis. Several times. When Tyler still has the balls to go with another agency, Charlie finally finds his own pair and successfully threatens Tyler into signing with him. It was a well-earned moment of righteous anger, but Jesus Christ, at what cost?
Tyler may have actually been the biggest disappointment of the night, outside of Rob Lowe failing to reappear as Eddie Nero (see earlier concern about revolving cast). After so much time was spent in "Raw" giving us a better understanding of his character's insecurities and unconventional upbringing, he's inexplicably an even bigger piece of shit than ever before, even though he's actually getting everything he wants.
But as "At T"he Movies" seems to be pointing out, maybe that's the problem with Hollywood and success: Your first taste is corrupting (e.g. Tyler and The Girl), and by the time you've drank too much Kool-Aid (Charlie, Stu etc.), it's impossible to dial it back and remember how to be human. This is all made explicitly clear when Hank, now fired from Santa Monica Cop, finds unexpected solace in a double-date at the multiplex (where else?) with Karen and Becca. And it's continually encouraging to see Hank finding some balance between his career in L.A. and the simple life we saw him reaching toward in "Love Song." All this would have been incredibly poignant and even funnier (as always, there were several great one-liners and reactions) if most of it weren't just so damn hard to watch, or if we'd at least been graced with a minute of Mr. Nero's charisma.
Stray observations:
OK, enough already, either Samurai gets hip to Hank and Kali or he doesn't.
I mean, on top of everything with Tyler, when it comes to Lizzie, is Charlie really that dumb?
Still, can't blame Charlie when he asks, "Who doesn't like me?"
Ugh, I bet directors really do use the term "kill zinger."
Man, Hollywood really is the only place where you can be at work and just announce it's time for a weed break.
Nice selection on the Raphael Saadiq track.
Charlie the truth-teller: "There are a great many things wrong with my penis."
It was fun to get some insight into how these asinine movies are made, but it would have also been fun to see more actual action from the set.
Can't knock a Merchant-Ivory reference.
Tyler drinks Dos Equis. Figures.
Guess it makes sense for Samurai to listen to Wu-Tang
Yet another recent cover of an excellent song from recent past, INXS' "Don't Change."
Great little father-daughter jab from Hank when Becca gives him free coffee: "It helps to have daughters in low places."