As a long Friday that has seen the networks shed blood several times over (and then save Hannibal, thank God) winds toward its conclusion, CBS has looked up lazily from its throne of skulls and realized that, hey, it should probably pick up some new shows, too. The network renewed basically everything earlier in the year, so it has fewer holes in its schedule than any other network, but the network still picked up more new shows than usual, reflecting its difficult 2013-14 season, which saw it lose a greater percentage of viewership than any other network. Those thrones of skulls don't just build themselves after all! CBS can only commission more when it can properly cow the other networks into building them for it.
The list of CBS' new series includes the already-picked-up-to-series Battle Creek, from Vince Gilligan and David Shore, which, from the logline posted on Deadline, sounds more blatantly comedic than Breaking Bad. The other new dramas include Stalker, a new series from Vampire Diaries and Following's Kevin Williamson about cops working in some sort of stalker prevention department, which stars renowned ham Dylan McDermott. Way to stay in the Dylan McDermott business, CBS! Also, from the ubiquitous Roberto Orci and Alex Kurtzman, here comes Scorpion, which is about an eccentric billionaire and his "international network of super-geniuses." They are fighting crime, because CBS. So it's basically a mash-up of Person Of Interest and Global Frequency? Maybe? Then we have Madam Secretary, from Barbara Hall, which is about a "maverick" female Secretary of State and stars Tea Leoni and Tim Daly. It sort of feels like CBS noticed The Good Wife isn't getting any younger and wanted to make a play for that sort of audience again. Finally, CBS picked up an NCIS spinoff, because it remains CBS. Called NCIS: New Orleans, it's anchored by Scott Bakula, who needs to get paid just like you do. Thank you for not pointing out how hard our dependent clauses have been working in this paragraph.
CBS' new comedies are but two in number, but the network is expected to pick up at least one more before all is said and done. Notably, both sitcoms are multi-cameras, meaning CBS might be over that abbreviated attempt to branch out into single-camera comedy. The McCarthys is about a big, wacky Irish family, and the point-of-view character is the gay son whose greatest shame isn't his sexuality—it's how he wants to spend less time with his family! (Yuk, yuk.) The other comedy pilot is the Matthew Perry starring remake of The Odd Couple, which will be a massive hit, because that is how you build a motherfucking throne of skulls.
Notably absent from CBS' pickups are both the latest C.S.I. spinoff and the How I Met Your Mother sister show, How I Met Your Dad. It would sort of make sense for CBS to pass on the new C.S.I. after it picked up the new NCIS—it wouldn't want to seem desperate after all—but we really did like the name C.S.I.: CYBER, because it sounds like the most grandparent-targeted show ever. The case of HIMYD is trickier, with some wondering if CBS (which isn't averse to passing on buzzed-about projects if it doesn't like them) didn't like it and some wondering if it's just a hardball negotiation tactic to gain a piece of the show, what with how much money HIMYM has raked in in syndication and all. So we'll find out next week, probably.
Not to be out-done, both ABC and NBC continued with their ancient, ritualistic practices of picking up shows they will cancel next spring and playing negotiating hardball to reduce the amount they have to pay for pre-existing shows. The vast majority of series have been renewed or canceled by now, but both ABC and NBC have major programs hanging in limbo. Depending on if you believe the scuttlebutt (and if you like the word scuttlebutt), ABC hasn't officially renewed Nashville yet because it and the studio that produces it are haggling over the number of episodes ABC will order, while it hasn't picked up Last Man Standing yet because it wants the studio to reduce its licensing fee. (This one might also explain why said studio's two pilots at ABC continue to be in limbo while the network has passed on most everything else.) Over at NBC, there's less haggling with the studio over Parenthood—since NBC Universal owns the show and all—but the rumor is that the network wants the show's producers and actors to take a pay cut. Stars employed by major corporations! They're just like us!
G/O Media may get a commission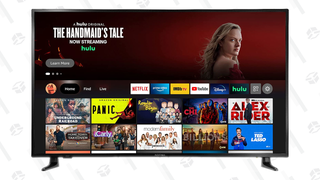 38% Off
Insignia 50" 4K UHD Smart TV
Yet shows can't get to a point where their networks slowly bleed them dry by reducing the amount of money they're prepared to financially commit to them if said shows don't get picked up in the first place, so ABC would like to introduce you to Secrets And Lies, a new Ryan Phillippe and Juliette Lewis vehicle that it hemmed and hawed about picking up before deciding that it really didn't want to pay the penalty it would owe if it didn't go to series. If the show doesn't bomb immediately, expect it to be subject to an intense negotiation over getting Phillippe to change his credit to "Ryan 'Can't Sleep!' Phillippe" before ABC will pick it up for a second season. (Also, did you know Phillippe had two L's and two P's? The things you learn in upfronts season!) The show is about a "family man" (presumably Phillippe) who discovers the body of a dead child and becomes the primary suspect.
NBC, meanwhile, picked up three comedies, since the only returning ones it has are Parks & Recreation (which is almost certainly entering its final season) and About A Boy, because NBC hates you. (But it did renew Hannibal!) Those comedies include Mission Control, set in NASA in the '60s and starring Krysten Ritter. "Female-driven workplace comedy starring Krysten Ritter and set at NASA in the '60s" sounds strangely like a show microtargeted at Todd VanDerWerff, so we're just going to hope for the best. Also, the network picked up Bad Judge, which stars Kate Walsh as a really terrific judge, whose jurisprudence and interpretation of the law are never called into question and whose personal life is wholly beyond criticism as well. Nah, she's a bad judge. That's what the show's about. Both series are from Will Ferrell and Adam McKay's production company.
Ellen DeGeneres is another star that NBC would like to have attaching her name as a producer to a sitcom on its schedule (look at all of those prepositional phrases!), so it's picked up One Big Happy, which stars Elisha Cuthbert and Kelly Brook. The show's about a lesbian and straight guy who have been best friends since childhood who decide to have a baby together, with none of that messy sex and the help of modern medicine. However, while they wait to find out the results of their experiment, the guy meets and falls in love with some British woman (Brook), and then they get married. The multi-camera sitcom has a premise that takes far too long to explain, which means it's dead already, but you can probably count on DeGeneres to "drop by" in an episode in an attempt to goose ratings. The show was written by Liz Feldman of 2 Broke Girls, but it is guaranteed that every single ad for it will say "From Ellen Degeneres!" while Feldman toils in obscurity. Also: Every single Happy Endings cast member has found new work now, and isn't that interesting?
Stay tuned for more news from the upfronts, as the last few renewals, cancellations, and pick-ups come in and as we prepare for what the schedules might look like next week.