Of course Cher pulls off the ABBA tribute Dancing Queen. Elsewhere BROCKHAMPTON continues to reveal new shades on Iridescence, and The Joy Formidable's Aaarth boasts its most off-kilter anthems yet. Plus, we take a look at Chicago indie-rocker Lillie West's second outing as Lala Lala.
---
Cher, Dancing Queen
[Warner Bros.]
Grade: B+
Cher releasing an ABBA covers album is such an inspired idea that it's only shocking she hasn't done it before. Dancing Queen—spurred on by her guest turn in this summer's Mamma Mia! Here We Go Again—is of course faithful to the Swedish band's blazing dance-floor jams (an ecstatic "Gimme! Gimme! Gimme! [A Man After Midnight]," the glitter bomb "SOS") and majestic pop ballads ("Fernando"). In fact, Dancing Queen succeeds because it's more than just splashy razzle-dazzle. A meditative "The Name Of The Game" boasts a deceptively complicated arrangement with slinky electro-funk accents and soulful background harmonies. And the album ends with the string-swept "One Of Us," a heartbroken song about the aftermath of a relationship. Cher turns in a stunning vocal performance that captures the narrator's loneliness, self-doubt, and tentative confidence. Dancing Queen pulls off a perfect balance of frothy effervescence and resonant emotional depth.

RIYL: Swedish pop. Singing along to the Mamma Mia! soundtrack in the shower. Over-the-top Las Vegas shows. Cher.
Start here: "Waterloo," a high-kicking sing-along with a pulsating electro-disco backdrop and jaunty saxophone spirals. [Annie Zaleski]
G/O Media may get a commission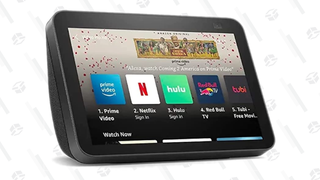 ---
BROCKHAMPTON, Iridescence
[RCA]
Grade: B
Iridescence's first two tracks are BROCKHAMPTON in a nutshell: Opener "New Orleans" is an all-in lyrical beatdown, with seven different emcees taking a crack at the thumping, post-apocalyptic rhythm, until it fades seamlessly into "Thug Life," a sun-kissed, effervescent pop track. The sprawling collective ostensibly creates hip-hop, but 2017's three-volume Saturation series showed just how versatile that term can be, filtering in skate-punk and R&B and twee indie rock. That members of the self-proclaimed boy band met on a Kanye message board is extremely apparent: The group's music is all over the place, often gloriously so. The temptation has always been to pick out best tracks from these records, and Iridescence has some clear standouts (the confessional "Weight" is a showstopper), but, four full-lengths in, your best bet with a BROCKHAMPTON record is to just settle in, let "J'Ouvert" reassemble malfunctioning car alarms into a dense sound collage and let "Honey" splinter into languorous sighs.
RIYL: Frank Ocean. Kanye West. Grimes. Tracks that shape-shift every 90 seconds.
Start here: Group founder Kevin Abstract's also the most characterful emcee, as evidenced by his opening verse on "Weight"—but, inevitably, it's all preamble to an almost drum-and-bass breakbeat that drops halfway through. [Clayton Purdom]
---
---
The Joy Formidable, Aaarth
[Seradom]
Grade: B
The Joy Formidable launched itself into the hearts of amplifier aficionados with an aptly titled debut: The Big Roar, which piled one giant riff on top of another, running with a sound that would have conquered airwaves (and stadiums) in the Alternative Nation era. Seven years later, the Welsh trio has yet to match the sheer speaker-quaking power of its inaugural racket, but maybe it is for a lacking of trying; subsequent albums have pulled at the contours of radio rock, inching further away from simple verse-chorus-verse arrangements. Aaarth is the band's most off-kilter collection of anthems yet, working in tribal drumming, stuttering and overlapping vocal tracks, and some of the Middle Eastern influences Led Zeppelin famously tried on for size when feeling adventurous. Admirable though the experimentation can be, The Joy Formidable still hits its sweetest spot aiming for the nosebleeds, like when the tinkling, affecting ballad "All In All" explodes into, well, a big roar. Maybe maturity is overrated, at least in the arena of arena rock.

RIYL: Smashing Pumpkins. Metric. Lollapalooza, the festival. Lollapalooza, the attitude.

Start here: Opening with a playful flush of strings, "The Better Me" rides the buzzing waltz of its verses to a cooing chorus, before hitting a wall of guitar. It's irresistible. [A.A. Dowd]
---
Lala Lala, The Lamb
[Hardly Art]
Grade: B-
The joy of listening to Lala Lala's debut album, Sleepyhead, was how drastically the sound changed from song to song. Lillie West took the vague concept of indie rock and just pushed it all together, using Lala Lala as a means of expressing everything she was thinking and feeling. With The Lamb, West removes the shagginess of Sleepyhead and replaces it with a sharper focus, making the danceable "Spy" and the ambient wash of "Dove" all feel part of a cohesive whole. While that adds a consistency to The Lamb that was absent on previous releases, it can also make sections of the album bleed together in ways that are uncharitable to West's skillful genre-dodging. In many ways, The Lamb is a step forward for West, but here's hoping its cleaned-up approach doesn't end up reining her in too much.
RIYL: Frankie Cosmos. Japanese Breakfast. Indie rock in the most general sense.
Start here: Picking the opening track can feel like a cop-out, but the swells leading to the final chorus of "Destroyer" show West reaching new heights. [David Anthony]