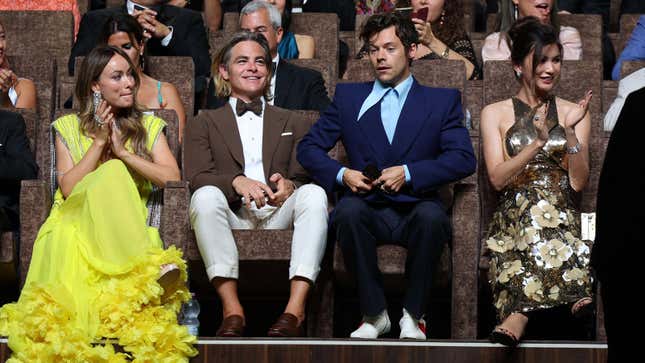 A new year is an opportunity for a clean slate. There are, no doubt, many of you out there who hoped that we'd be able to stop talking about Don't Worry Darling in 2023. Certainly, Florence Pugh shares the same wish, declining to even discuss that film with Vanity Fair. Unfortunately for her, and the DWD press circus' many haters, Chris Pine did not exert the same level of discretion.
"Harry [Styles] did not spit on me," Pine says in a new interview with Esquire, inadvertently reviving the dangerously oversaturated (no pun intended) discourse around the so-called "Spitgate" controversy at the Venice Film Festival. "Harry is a very kind guy. I was on the plane and we're flying back from Venice having a great time on the plane and my publicist wakes me up and says, 'We have to craft a statement on what happened in Venice.' She showed me the thing and it did look, indeed, like Harry spit on me. He didn't spit on me."
Not content to merely clear Styles' name regarding crimes of excess saliva, Pine also provided an explanation for the pop star's much-derided "movie that feels like a movie" comment. The actor shared, "I think Harry leaned down and said, 'It's just words isn't it?' We had this little joke. We were all jet lagged and trying to answer questions and sometimes when you're doing these press things your brain goes befuddled and you start speaking gibberish, so we had a joke: 'It's just words.'" This clarification demonstrates incredible generosity of spirit from Pine, whose own most viral moment of the event was appearing as though his soul had left his body while his co-star was speaking.
"All the memes I saw about my face in Venice made me fucking laugh," says Pine, who claims he "was admiring the ceiling of the Palazzo del Casinò, jet-laggedly," per Esquire. "Sometimes the question's not that interesting, and you just fucking zone out, and you're looking at a ceiling because it's really pretty."
As for the rumors of on-set feuding between Pugh and director Olivia Wilde, "If there was drama, there was drama. I absolutely didn't know about it, nor really would I have cared," Pine stated. "If I feel badly, it's because the vitriol that the movie got was absolutely out of proportion with what was onscreen. Venice was normal things getting swept up in a narrative that people wanted to make, compounded by the metastasizing that can happen in the Twitter-sphere. It was ridiculous." Could this finally be the last word on Don't Worry Darling? (Let's be real: Probably not.)