Adam McKay's Vice opens in 1963 in Casper, Wyoming, as the young, puffy, and whoopingly drunk Dick Cheney (Christian Bale) is about to be arrested for driving under the influence for the second time in a year. After losing his scholarship to Yale, he has returned to his hometown to work as a lineman for the local power company and the prospects of his future are anything but promising. But then, we flash forward to September 11, 2001, and see Cheney, now well on his way to becoming the most powerful vice president in the history of the United States, as he is being rushed by Secret Service personnel into a bunker under the White House. In short, Vice is asking: How did this guy become the secretive, smirking face of Machiavellian politics in America?
The focus of McKay's career, from Anchorman to The Big Short, has been on boys' clubs and self-interested morons, and that's more or less how he depicts the world of right-wing politics. That's anything but subversive; depictions of Republicans as buffoonish and antiquated (or of Democrats as tedious and hectoring) are well in the established safe zone of American political satire. Bale, who portrays Cheney from his 20s to his 70s with the help of about 45 extra pounds and some genuinely impressive make-up, plays him as another one of his ciphers—a man who never had the flair or magnetism we expect from even the most craven politicians, but played his cards right by attaching himself to obnoxious chumps who had no problem with delegating responsibility.
His performance is the most interesting and consistent thing about the film, which otherwise takes a spaghetti-at-the-wall approach to depicting Cheney's rise, from his beginnings as an assistant to Donald Rumsfeld (Steve Carell) during the Nixon administration to his two terms as vice president to George W. Bush (Sam Rockwell). The former comes across as a better-behaved refugee from the Ron Burgundy-verse; the latter as a barbecue-sauce-licking dolt with daddy issues, first seen about 45 minutes in as he bumbles into one of his father's receptions. Somewhere in there is Lynne Cheney (Amy Adams), his wife and former high-school sweetheart, depicted in the early years as a blatant Lady Macbeth figure.
G/O Media may get a commission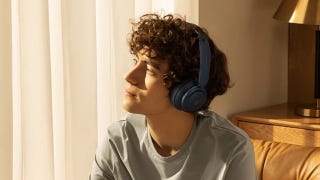 30% off
Soundcore Headphones and Earbuds
As in The Big Short, which used a skit-show formula of celebrities in wigs to depict the housing bubble and financial crisis of the last years of Bush's presidency, McKay often breaks the fourth wall, usually with the help of an everyman narrator (Jesse Plemons) who talks directly to the camera. But apart from one initially funny (but ultimately over-extended) gag involving a fake credits sequence, the material is mostly glib and second-rate—and, when it comes down to it, about as dry, oversimplified, and under-dramatized as a class presentation. Anyone who remembers the George W. Bush years is bound to leave the film knowing little more than they did before going in. (Unsurprisingly, the film skips and jumps through Cheney's terms as a congressman and his years as the chairman and CEO of Halliburton.)
While McKay (who also wrote the script) highlights Cheney's early contacts with Rumsfeld, the future Supreme Court Justice Antonin Scalia, and Fox News's Roger Ailes, he doesn't track the pursuit of power so much as occasionally drop in on it. The result becomes less and less coherent as it goes along, building to a long, confounding montage centered on Cheney's 2012 heart transplant and a cringe-inducing mid-credits sequence about the biopic's perceived "liberal bias." (As if the movie were trying to out-smirk its own subject, the actual credits roll to the strains of West Side Story's "America.") There are a few human notes in Vice's depiction of Cheney; one detects them in his relationship with his youngest daughter, Mary (Alison Pill), and in a scene that shows him calling home after being moved into his first window-less office in the White House in the '70s. But his motivations remain, to use a popular term of the George W. Bush years, "at an undisclosed location."