Here's what's up in the world of TV for Friday, January 27, and Saturday, January 28. All times are Eastern.
Top picks
Z: The Beginning Of Everything (Amazon, 3:01 a.m., Friday): Christina Ricci stars as Zelda Sayre, known better by the married name she acquired when she married writer F. Scott Fitzgerald (played by American Crime's David Hoflin). The 10-episode miniseries follows budding writer and artist Zelda's relationship with soon-to-be-famous novelist Fitzgerald and her wealthy, disapproving family, and promises all the champagne, flappers, and wild parties of The Great Gatsby, but with a whole lot more feminist skepticism. Think the Luhrmann Gatsby but with less fireworks and more hangovers and involuntary sanitarium stays. Look for Gwen Ihnat's pre-air review later today.
iBoy (Netflix, 3:01 a.m., Friday): A young British lad gets shot in the head while on his smartphone and gets electronic superpowers. This Netflix original sort-of superhero movie/feature-length product placement stars Rory Kinnear (Penny Dreadful) and Game Of Thrones' Maisie Williams, alongside Bill Milner… as iBoy!
Curling Night In America (NBCSN, 7 p.m., Friday): Sure, you might think that including this mention of America's, like, fourth- or fifth-favorite ice-based sport means there's not a lot on this weekend. But we all know it's really just an excuse to play this:
G/O Media may get a commission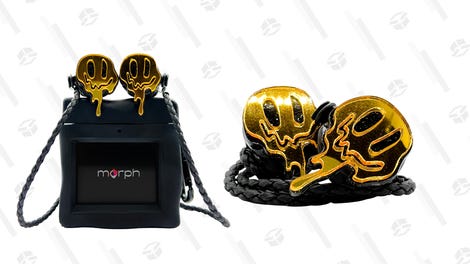 morph audio
Morph Earphones
Crazy Ex-Girlfriend (CW, 9 p.m., Friday): There's only one episode left this season before we have to brave the rest of this cold, miserable winter without the warm, comforting glow of Rachel Bloom and company bursting into hilariously honest and heartbreaking song. Having impulsively moved the date of her wedding to Josh to just two weeks away (shocker, we know), Rebecca finds herself rushing around to get everything ready in time. Fortunately, she's aided by guest star Seth Green, playing a helpful delivery guy.
Puppy Bowl: Where Are They Now? (Animal Planet, 9 p.m., Friday): They are happy and bounding through fields of flowers, and chewing delicious bones because puppies never, ever die. Never!!
Mary Tyler Moore Show marathon (Sundance, starting at 6 a.m., Saturday): 2017 started off with a decidedly bitter 2016 feel, as it claimed beloved TV icon Mary Tyler Moore on Wednesday. Thanks to Sundance, we get to say an all-day goodbye to Mary (and Mary Richards) with a marathon of the final season of The Mary Tyler Moore Show, including the finale, "The Last Show." You know, just in case you were finally done crying.
Jeff Ross Presents Roast Battle II (Comedy Central, 10 p.m., Saturday): "Your momma is still possessed of those many and glaring faults that I first outlined in Roast Battle I."
Premieres and finales
Rise (Viceland, 9 p.m., Friday): This new documentary series from Michelle Latimer and host Sarain Fox examines the methods and struggles of various indigenous people's groups as they fight for social and political justice. The first two episodes take on the ongoing—and even more heightened under Trump—protests at the Dakota Access Pipeline. (In which, it turns out, Trump has a financial stake, oddly enough.)
School Of Rock (Nickelodeon, 9 p.m., Saturday): The title of the second-season finale of this Jack-Black-less sitcom adaptation is "Don't Stop Believin'." So expect the final scene to cut to black unexpectedly, and The A.V. Club to call it "bold and brilliant in its ambiguity."
Regular coverage
The Vampire Diaries (CW, 8 p.m., Friday)
Grimm (NBC, 8 p.m., Friday)
Streaming pick
Sports Night, "The Six Southern Gentlemen Of Tennessee" (Hulu). In a week where employees of various government agencies (NASA, National Parks) have put their jobs on the line to preserve truth in the face of authoritarian threats, it's a fine time to watch Sports Night's station manager Isaac Jaffe (the great Robert Guillaume) defy his billionaire station-owner boss to report on the protest of a handful of black athletes against their southern college's racist policies. In a dark time, it's bracing when some real-life figures live up to a fictional act of heroism for a change.