In an effort to both serve our readers and help support The A.V. Club, we are going to post daily links to deals and interesting items that we find over on Amazon. If you use these links to click through and buy something—not just the thing you clicked—on Amazon, we will see a portion of that income. You don't have to do that if you don't want to, but if you do, know that we appreciate it.
With Halloween a little under two months away, it's the perfect time to start stocking up on all your spooky paraphernalia, from this skeleton-hand bottle opener to this Oktoberfest gnome. There's even a weird skeleton contortionist end table, on the off chance that you're into both death and sideshows.
G/O Media may get a commission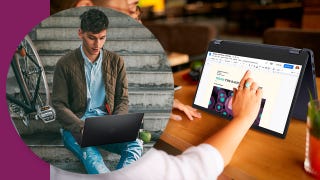 Ends August 15
Best Buy Anniversary Sale 2022
Ends August 15
Best Buy has a number of different promotions happening all for its Anniversary Sales Event. Laptops, tablets, TVs, you names it. Whether you're heading back to school or just trying to fill your home with some new tech, there is something here on sale that you've likely been waiting for.
Before La Croix was hot, everyone was into coconut water. If you're still one of those hangers-on, Amazon offers you the chance to just order the refreshing tropical beverage in bulk.
Concussion ($9.99 to own, or free to watch with a $8.99 Starz subscription)
Did you know Amazon Prime members can subscribe to a number of cable channels for relatively low prices? There's Showtime, Acorn TV, and the Tribeca Shortlist. There's also Starz, home of series like Outlander and movies like Will Smith's Concussion. For just $8.99, you can sign up for Starz and start blasting through some solid dramas right away.
It's hard to keep a drum kit in an apartment. Neighbors complain, it takes up too much space, and it can easily become a rack for drying clothes. So ditch the bass drum and pick up a tabletop drum kit. With seven pads and two pedals, this thing seems like the next best thing to actually pounding the skins.
Advertise your allegiance to House Targaryen with this classy set of Thrones magnets.
If you'd rather display your allegiance outside of the house, there's this Daenerys Targaryen keychain from Funko Pop, which is both badass and helpful.
Class up your pad—or a kid's room—with this set of 12 adorable Hello Kitty lights.