School rivalries are an unfortunate and inescapable result of human tendencies. A protective sense of pride kicks in whenever the place we call home is challenged. It's the same mindset of baseless egotism that inspires declarations like "my dad could beat up your dad" or "nobody picks on my brother but me!" We may not even like our school much—this teacher is awful, these classes are a waste of time, the facilities are an embarrassment—but when challenged, we're damn sure better than the other guys' school. Those guys suck. Their school sucks. Let's beat them to prove how much better we are.
All the way back in 1992, Crash 'N' The Boys: Street Challenge took that ethos and turned it into a cartoonish Olympic-styled sports game on the NES. When the privileged Todd Thornley III loses an all-city track meet to Crash Cooney and his crew from the other side of the tracks , the trust-fund brat challenges the Southside Boyz to a rematch without the trappings of referees or regulations. This well-worn trope of rich kids getting upset about commoners splashing in their pool is all too familiar. It's a typical class struggle like the ones in Revenge Of The Nerds, The O.C., or Friday Night Lights. Like the Alpha Betas and the West Dillon school district, Thornley believes his wealth and stature make him superior to Crash in every conceivable way. And like the rest of that lot, Thornley is willing to play dirty to prove it.
For Thornley and Crash, sportsmanship is nonexistent. In its place is a burning desire to crush their opponents and come out on top. It starts with the 400-meter hurdles. We all know how this works: students run in marked-off lanes, side-by-side, leaping over posts in their way, racing to the finish with as few stumbles as they are able. The competitors in Street Challenge opt instead to smash through the hurdles, either with devastating shoulder rams or Street Fighter-esque spinning kicks, picking up broken shards of smashed obstacles and whacking their opponents to gain an edge. Virtuous athletes can play it straight, running and jumping the way we've always known, but that's a sure-fire way to get bashed in the face with PVC pipe.
This mentality carries through to the other events. Swimming becomes more about holding your opponent underwater until they lose consciousness than crossing the finish line. In bare-knuckle brawling, dodging and hitting your opponent is less important than wearing them out so you can deliver unsportsmanlike theatrical attacks, such as the "lower the boom punch," "super spin head-butt," and "to the moon drop." For the athletes in these exhibitions, it's not simply enough to win. They need to dominate. They need to embarrass their opponents.
G/O Media may get a commission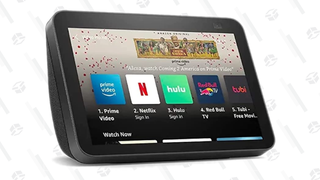 When pitted against one another, like Thornley's Washington High and Crash's Southside High, schools can at times feel more like gangs. There isn't much separating Harvard and Yale from the Sharks and the Jets, the Greasers and the Socs, or the Montagues and the Capulets. Each side has so much in common with the other, but by virtue of being pitted in opposition, for whatever reason, it's no longer a matter of which team is better but which community is better. Rivalries make mountains out of molehills. When the Baltimore Orioles face off against the Houston Astros, it's just a baseball game, but when the Yankees take on the Red Sox, it's the whole of New York City in a blood feud with the entire population of Boston. It doesn't have to be this way. We know this; we've seen the game played normally. But these rivalries take on a life of their own. It makes about as much sense as, well, drowning one another during a swim meet.
The cycle never ends because—while students come and go, graduating and moving on—communities stay the same. Uptown forever hates downtown and vice versa, partially because it's all they've ever known and partially because the management knows these rivalries sell more tickets than the average exhibition. When Todd Thornley II, entrepreneur and father of the disgraced Todd Thornley III, congratulates Crash on his victory, the Southsider has a quintessentially high-school response for him: "Thank you for your time, Mr. Thornley. Maybe we can all be friends—NOT!" Crash has been through the wringer with Thornley's son—beaten, bloodied, and drowned—and he knows this isn't the end. Hockey season's right around the corner, then baseball, then soccer. This feud isn't going anywhere anytime soon. The situation isn't fair, but then, neither are the games they play.
---
Previously in the School series: