Sharon Stone made a fraction of what Michael Douglas did for "Basic Instinct"
Early in its career, the London-based trio Daughter was labeled as everything from nü-folk to "Enya meets Eno." In reality, the sound fell somewhere in between Songs: Ohia and Bat For Lashes: Daughter's debut, 2013's If You Leave, possessed space-filled arrangements and minimal instrumentation, which placed frontwoman Elena Tonra's dusky vocals and ruminating on ruined relationships at the forefront. These gorgeous songs were subtle but moving, and led to Daughter opening shows for The National and recording a 4AD Sessions EP with a classical ensemble.
Despite denser arrangements, the group's equally lovely second album, Not To Disappear, also takes an economical, meticulous approach. Each individual instrument—the blooms of piano on "To Belong," a bluesy electric guitar squall curving through "New Ways," percussion splatters throughout "Numbers"—deliberately enhances the song on which it appears, but never feels superfluous. The record's prominent electronic elements, from the languid trip-hop beats anchoring "New Ways" to the lost-in-space synth fog of "Mothers," also feel like seamless additions. As a result, Not To Disappear echoes familiar touchstones: the spidery ambient gloom of The Cure circa Disintegration ("Made Of Stone"); Land Of Talk's snarled rock (the marbled angst of "No Care"); PJ Harvey's cloistered pop (the hushed, White Chalk-esque "Doing The Right Thing"); and Beach House's ornate indie-pop ("How").
That Not To Disappear does sound so similar to other artists can be an occasional detriment. However, Daughter steers these influences into new territory by employing brutal lyrical honesty. The album focuses on the collapse of important relationships—whether romantic, familial, or even the one people have with their own self—and examines the wreckage with an empathetic but candid perspective. "Doing The Right Thing" is a devastating song from the point of view of someone affected by memory loss; "To Belong" is a declaration of personal independence; and the Björk-esque "Alone/With You" explores the emotional warfare that occurs when someone both craves and hates solitude, and can't resist wildly imperfect, distant companionship.
G/O Media may get a commission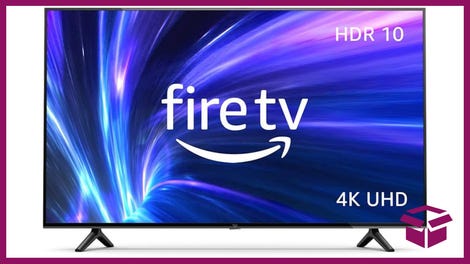 42% Off
Amazon Fire TV 50" 4K Smart TV
On the latter song, Tonra sounds tense as she methodically talks through her conflicting emotions: At separate times, she prefaces the memorable line "I should get a dog or something" with both "I hate walking alone" and "I hate living with you." In Daughter's world, the distinction between ecstasy and agony isn't always obvious; in fact, the two are often one and the same. It's why Not To Disappear demands full attention, and what makes the album such a compelling listen.