In 2006, people thought Dave Chappelle was crazy. The third season of his wildly popular Comedy Central show had been in the news throughout 2005—first delayed due to a "flu" Chappelle later admitted was just stress, then shelved entirely when the comedian fled to South Africa. There were rumors of drug use, that he was holed up in a psychiatric facility. There was talk that a particular crew member's reaction to a single sketch had caused him to leave. As the year wore on, Comedy Central's president publicly stated that Chappelle could return whenever he wanted, but not to hold out any hope. By the end of the year, Charlie Murphy, whose star had been made by the show, was quoted as saying it was kaput.
A truncated third season would air in April 2006 without Chappelle's blessing or input. Chappelle chose, instead, to appear a few months prior to that on Bravo's venerable Inside The Actors Studio, where he had a typically wide-ranging conversation with host James Lipton. While Chappelle was willing to talk at length about the costs of fame and why he left the show—"Get your Africa tickets ready, baby, because it's coming," he told the actors in the audience—it was when Lipton asked Chappelle about comedian Martin Lawrence that Chappelle was most revealing.
Here's the full quote:
Martin Lawrence is the guy who showed everybody you can make it from D.C. to Hollywood. And I had a personal stake in his success. Every time he did something it made me feel inspired and really good. And he was always real nice to me. He'd sit me down, "What's going on with you, baby boy." We'd talk about comedy, whatever. When we did Blue Streak, we were promoting it, and Martin had a stroke. He almost died. And then after that I saw him I was like, "Oh my god, Martin, are you okay?" And he said, "I got the best sleep I ever got in my life." That's how tough he is.
Let me ask you this. What is happening in Hollywood that a guy that tough would be on the street waving a gun, screaming, "They are trying to kill me"? What's going on? Why is Dave Chappelle going to Africa? Why does Mariah Carey make a $100 million deal and take her clothes off on TRL? A weak person cannot get to sit here and talk to you. Ain't no weak people talking to you. So what is happening in Hollywood? Nobody knows. The worst thing to call somebody is "crazy." It's dismissive. "I don't understand this person, so they're crazy." It's bullshit. Because people are not crazy. They're strong people. Maybe the environment is a little sick.
Then he takes a huge drag of a cigarette, because he loves smoking.
As pointed out by redditor Epic_E, the analogs here to Chappelle's old friend Kanye West, who as a musician has done nothing less than redirect the course of pop music a half-dozen times over the course of almost 15 years, are immediate and striking. Hollywood is uniquely good at breaking people. Kanye's hospitalization yesterday has been laughed at by bankrupt Twitter egg 50 Cent and compared elsewhere to Britney's meltdown, but as we've seen over the past few weeks from Chappelle himself, great artists have the fortitude to take the time they need and come back. They have something they need to say. Two weeks ago, Chappell's Saturday Night Live appearance provided a focal point for a reeling country, and his recently announced Netflix specials are an unexpected ray of light in an otherwise-grim 2017.
G/O Media may get a commission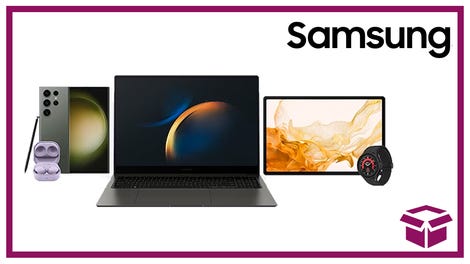 24 hour deals
Discover Samsung - Daily Deal
Anyway: Yeezy will be back. Last time the world turned en masse against him, he dropped My Beautiful Dark Twisted Fantasy. Here's hoping he reverses course on that "I would've voted for Trump" thing, though. You can watch a whole lot more prime Chappelle's Show comedy, which has aged shockingly well, here.