Welcome to the first installment of our Game In Progress review for Destiny 2. Over the next several weeks, internet culture editor Clayton Purdom will be shooting his way through Bungie's massive sequel and sharing his impressions. As always, we invite you to play and comment along as he makes his way toward the intergalactic terror known as Ghaul and, more importantly, stacks of fat loot.

---
Destiny 2 is a sequel unlike any I've encountered before, a work more cynical and less ambitious than its predecessor—yet better for it. In almost every possible way, it sets its sights lower than the game that launched three years ago. What Bungie set out to make with the 2014 original defied imagination, a sprawling MMO with a story on par with Star Wars and Lord Of The Rings, an interplanetary playground combining the vehicular mayhem and cavernous scale of the developer's Halo games with the thousand-hour playability of a Blizzard one. For someone who put probably 1,000 hours into the original Halo, mostly pistol-whipping my college roommates in an endless cycle of re-spawning and smacking and death, this was an enticing idea indeed. A game designed around such interactions, as well as the thrill of Warthog racing and Banshee loops and picking through The Library on Legendary, promised to be a sort of ur-game, a new hobby unto itself.
What shipped, instead, was a notoriously broken, incomplete game, a couple of strange levels stretched across some gloriously bizarre vistas appended with a multiplayer experience pilfered wholesale from Call Of Duty. Much of the blame for this dimming vision has gone to a drastic reworking in the middle of production, which involved the full story being rewritten and missions spliced up and reshuffled with little logic. This explained the weird soup of proper nouns that composed the main story, but it didn't explain the small scope of its playable experience, which could be beaten in just a few hours before the game demanded we revisit it ad infinitum, killing Sepiks Prime over and over again in a quest for slightly better gloves. There was something ugly and egotistical about the assumption that we'd want to do so. And while a series of expansions made that experience slightly deeper and less insulting over the intervening years, there was always a hope that in Destiny 2, Bungie might piece together something with the sort of scale they originally dreamed up, becoming legend themselves and fulfilling their self-made destiny.
G/O Media may get a commission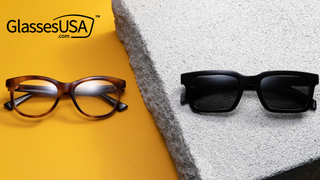 60% off frames
GlassesUSA.com Back to School Sales
As you know, they did not. They remade the first game, but they made it much better. While the original game shot for the moon and landed instead somewhere in the neighbor's yard, the sequel aims directly for the neighbor's yard and fucking nails it. Destiny 2 claims the neighbor's lawn as its own, building a pool there and pouring you a tiki drink. Everything is identical or slightly smaller, but better. It has the same number of strikes (six) and fewer multiplayer modes (five instead of nine) and maps (eight instead of 11), which now hold fewer people (eight instead of 12). Spaceships remain ornamental, while sparrows are now earned but still inessential. A lot of pre-release press about the game champions its "quality of life" improvements, a phrase generally used in the context of apartment hunting and palliative care. Much has been made of the decision to put the game's lore—long considered its most rewarding, esoteric writing—in the game itself rather than relegated to a separate app, but even this is more a matter of convenience than anything else. You hit the L2 button and it flies in from left screen. Sometimes people shout a little bit of it at you. You do not have to go to outer space to pick a new game mode.
If all this seems a little anticlimactic, well, you're not alone. But controller in hand, the game itself is thrilling, which has, for all its faults, always been the dirty little secret that kept it so popular over the years. Few shooters ever created—outside of Halo, that is—have evoked the same sense of high-stakes physical combat, a tight spatial dance that always seems to resolve itself with one perfectly placed grenade or punch. The magic of Destiny is the illusion of your skills clicking into place perfectly at the last second, a back-up power recharging just in time or a hair-raising double-jump pulling you from the edge of death. Character animations and troop movements conspire to make tense, bullet-strewn war zones out of enemies who technically don't do much but whose bullets always seem to find you with a precision that can only be described in narrative terms.
It's for this reason that I still can't bring myself to care about the nonsense tale of the first game or, really, that of its sequel, which assembles a slightly more coherent antagonist and three-act structure but still feels entirely inessential. Bungie's writers have, following the success of 2015's Taken King expansion, doubled down on the giggly dialogue of Nathan Fillion's Cayde-6, who here gets an equally obnoxious (or lovable, perhaps) foil in the form of a smartass Portal knockoff called Failsafe. There's also a new catty doctor character.

But the real star of the game isn't them, or you, or any of your various NPCs, but instead the floating gun pointing out at the center of the screen that you spend all your time staring at and tweaking and obsessing over, a lusciously designed piece of retro-futuristic tech with which you develop a physical communion. We don't fall in love with any of these cartoon stars but instead the pulse of a favorite auto rifle or the thwack of a hand cannon, the pneumatic hiss of a successful headshot and the pop-pop-pop of bullets on an opposing Guardian's armor. It's this tactile wonder—Bungie's legacy, dating back to 2001's Halo—that has made Destiny so compulsively playable despite its many faults, an unsurpassed artistry in the mere act of shooting complemented by its best-in-class minimap, which pulses with threat and promise like an omniscient narrator.
In the dimming of the game's scope, one can see at least an echo of the similar reduction in scale between the original Star Wars trilogy and their prequels and sequels, the shift from mythic space opera to serviceable popcorn flicks. Many of the cut scenes here play out like action figures shouting exposition at each other, but then, so too do many scenes in recent Star Wars films, a parade of outfits and weapons and fight styles all introduced on-camera but manifested as product.
Destiny lacks the righteous history and mythos of Star Wars, but it comes close to the wind-swept glory of its visual design, which here approaches Naughty Dog levels of color saturation and cinematic wonder. There's a newfound playfulness to it all, too, easing in myriad references—hints of cyberpunk neon, ODST ruins, Dagobah swamps, the European desolation of Stalker or City 17, and, most dazzlingly, the rain-battered oil-rig landscape of Titan, full of crystal blue water and croaking industrial balustrades. We traverse these spaces via paths that seem less like skillfully designed hallways and combat bowls and more like gnarled pathways cutting through real ruins, spilling you out into half-mined quarries and asymmetrical warehouses. Destiny 2 is obsessed with broken and crooked paths, leading us up the mighty limbs of an ancient tree and across oceans of electricity into trapezoidal tombs. It lets you actually do the things you pretended you were doing in the first game.
I had every intention of beating it before writing this article, but life had other plans. Not real life, that is, but the new life within Destiny, which, by taking a mulligan, has rendered its world full of adventures through vast topography, turned its world events from periodic grinds into chaotic set pieces, and, yes, even made me view the Crucible with fresh eyes. It's still far from the best competitive shooter out there, lacking the physicality of Halo 5, the playful invention of Splatoon 2, the scale of Battlefield 1, the pick-up-and-play razzle-dazzle of Star Wars Battlefront, the strategic complexity and wit of Overwatch, or the sociological brutality of PlayerUnknown's Battlegrounds.
But Destiny 2 has one thing all of those don't, which is a connection to the tense, lively, compelling world of Destiny 2. Treat it as a side-activity—larger in scale and reward than the soccer game on The Farm, perhaps, but engaged in with a similar breeziness—and its purpose becomes clear. It's another context in which to pull the right trigger, another place to see your hard-earned weapon mounted on the corner of your screen, another arena in which to forge a closer relationship with it. Happiness, as they say, is a warm scout rifle—at least until a random drop nets you something better, at which point you scrap that old pea-shooter for spare parts. It's war out there, after all.
It's always been tempting, for me at least, to believe in Destiny, to hold out hope that just around the corner is an update that fulfills the series' promise entirely. After three years, multiple expansions and now a proper sequel, there's still something seductive about wondering what the next numbered title could hold for it. It's a marketing-reinforced fantasy, the belief that these aren't games but platforms, soon to receive an update that makes all the time invested in them worthwhile. (Just ask the No Man's Sky community.) But, for the first time, Destiny feels good enough as is. It's a flawed but beautifully crafted and inventive shooter, at least as its vanilla offerings present themselves. It was in the endgame that Destiny fell apart, its mechanical latticework becoming smug and obtuse. I'm eager to see how its sequel fares.
---
Purchasing Destiny 2 via Amazon helps support The A.V. Club.