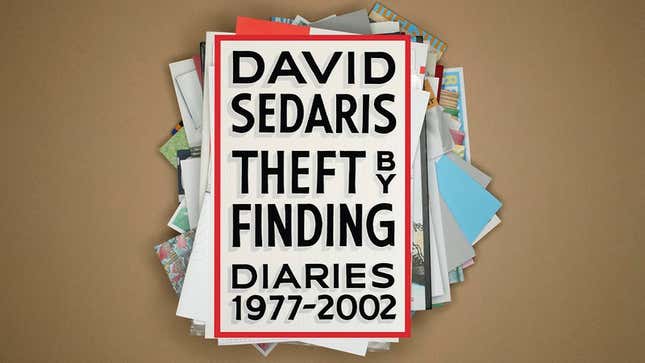 John Hughes says the director called his Ferris Bueller performance "boring"
At first glance Theft By Finding looks like a cash-in. In this first of two books, essayist David Sedaris prints selected diary entries made between the years 1977 and 2002. But like much of Sedaris' deceivingly simple prose, the enjoyment in Theft By Finding comes not from its very basic conceit but its sharp observations and bone-dry humor. It's easy to read the diary pages contained in Theft By Finding as Sedaris' first draft to some of his most celebrated works—the initial observation, joke, or insight that will later be fleshed out, put down here in the present tense.
Sedaris writes in the introduction that the early years—1977 to 1983—"were the bleakest. I was writing my diaries by hand back then. The letters were small and, fueled by meth, a typical entry would go on for pages—solid walls of words, and every last one of them complete bullshit. I've included very little of that time in this book." It's true that these early pages are more illuminating than entertaining, as we see both a glimpse into his past (as in the apple picking and hitchhiking he describes in Naked) and the starting point of a writer who grows better and better with each passing year. By the time Sedaris moves to Chicago in the mid-'80s, the entries become more familiar as they grow in their keen observations and Sedaris' razor wit emerges to tie them together. By book's end, Sedaris' entries read like mini essays. They're often as enjoyable as anything in Holidays On Ice and Me Talk Pretty One Day, the last published book that can be matched to Theft By Finding's entries.
For fans of those collections, there's much enjoyment to be had in tracing the timeline of events depicted in Theft By Finding with their eventual appearance in published essay form. October 1990 is especially auspicious, as Sedaris dashes off a few sentences about meeting a man named Hugh, then a few days later applies to Macy's Santaland. And while Sedaris' diary is mostly focused on the things he finds interesting—overheard conversations, the minutiae of his family members' and friends' lives, what he listened to on NPR that day—there's also something historically interesting about reading present-tense accounts of events that go down in history books: There's the brief entry in 1983 that reads, "There is a new cancer that strikes only homosexual men. I heard about it on the radio tonight." Then there's the entry from September 12, 2001, when Sedaris describes the previous day of watching the World Trade Center and Pentagon being hit by terrorist attacks on the news while in Paris.
Fans of Me Talk Pretty One Day will especially enjoy the last third of Theft By Finding, when Sedaris' writing becomes more essayistic and he spends time in France learning the language with the help of a sadistic teacher. Late in the book there's an unusually extended episode of the spiders living in his and Hugh's country home that's as laugh-out-loud funny as Sedaris' best work. Diary entries shouldn't be this good, but considering Sedaris' output, it's not surprising that this collection is a worthy addition to his name.
---
Purchase Theft By Finding here, which helps support The A.V. Club.