Here's what's up in the world of TV for Wednesday, July 22. All times are Eastern.
Top pick
Sharknado 3: Oh Hell No! (Syfy, 9 p.m.): Caroline Framke has done a lot of things in her life (allegedly) but none more important than her Sharknado coverage. It will definitely go down as her legacy, so let's take a moment to truly appreciate that. (We're taking a moment right now.) This third installment of the Sharknado pop cultural phenomenon—yes, that's what we're going to call it—is supposedly Sharknado meets White House Down (and strangely, doesn't star Daniel Bryan and Kane), which begs the question: Why aren't more television movies such-and-such meets White House Down? We're looking at you, A Deadly Adoption and Perfect High. (But not you, The Spoils Before Dying. You were perfect.)
Top pick (Non-Sharknado Edition)
White People (MTV, 8 p.m.): We went into this (other) top pick wanting to make so many jokes. But what jokes are there to be made when MTV has a documentary titled White People? That's already a joke itself! Just look at this bit from from the documentary's website:
G/O Media may get a commission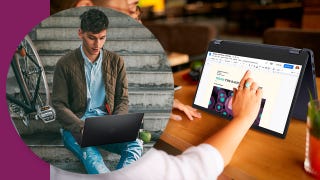 Ends August 15
Best Buy Anniversary Sale 2022
Ends August 15
Best Buy has a number of different promotions happening all for its Anniversary Sales Event. Laptops, tablets, TVs, you names it. Whether you're heading back to school or just trying to fill your home with some new tech, there is something here on sale that you've likely been waiting for.
No thank you. But also: LOL, we're laughing out loud! On the plus side, if the documentary ends up being this MadTV sketch on a loop, we're willing this to make it Wednesday's top pick for the rest of the year:
Regular coverage
BoJack Horseman (Netflix)
WWE NXT (WWE Network, 8 p.m.)
Mr. Robot (USA, 10 p.m.)

Key & Peele (Comedy Central, 10 p.m.)
Deutschland 83 (Sundance, 11 p.m.)
Elsewhere in TV Club
Joshua Alston deserves a medal of honor. Never forget that. When he says he'll watch anything, he means it. And that's what caused him to watch Netflix's abysmal (or is it?) Richie Rich series. Joshua Alston: National Treasure. (And that's not just because he's your friendly, neighborhood What's On Tonight contributor's boss.)
What else is on?
Melissa & Joey (ABC Family, 8 p.m.): It's a clip show!
MasterChef (Fox, 8 p.m): In "Moo-vers And Bakers," the MasterChef cooks are tasked with creating "steak meals for 101 cowboys and ranchers." Thus the "moo" part of the title. Get it? The losers are the "bakers," and they've got to deal with tarts! All of this is making us realize we are starving and wish that, at the very least, losers could bake us some tarts. Alas, real life is never as glamorous as the life of MasterChef.
Life On The Reef (PBS, 8 p.m.): PBS' new series is all about Australia's Great Barrier Reef, and while that's not as revolutionary as a documentary about white people, it's still pretty cool. Do you like green sea turtles? Of course you do, you're not a monster. (Though, if you're a green sea turtle monster, we expect you to love green sea turtles.) Well the the series premiere of Life On The Reef follows 20,000 of them "as they return to the biggest reptilian breeding colony on Earth." Again, that sounds pretty cool.
Unsung Hollywood (TV One, 8 p.m.): Just when you thought Unsung was done for the summer, season two of its spin-off begins, with an episode about Bernie Mac. As you probably already know, your friendly, neighborhood What's On Tonight contributor has quite a few things to say about Bernie Mac, but if that's not enough for you, tonight's Unsung Hollywood might be the perfect addition.
Baby Daddy (ABC Family, 8:30 p.m.): "Ben, Riley and Danny reflect on their complicated love triangle on an all-new episode." It's probably a clip show!
Extant (CBS, 9 p.m.): New time slot for Extant, y'all! Extant!
Leah Remini: It's All Relative (TLC, 9 p.m.): In "Leah And Chelsea Handler's Dating Tips," you decide whether or not you really want to take dating tips from Leah Remini and Chelsea Handler.
Dating Naked (VH1, 9 p.m.): Hey, Dating Naked it back! Remember all those naked dates you caared so much about? You will!
The Jim Gaffigan Show (TV Land, 10 p.m.): "Jim tries cutting back on junk food, but is tempted by a child's birthday cake." You know what he should do with that birthday cake?
Impastor (TV Land, 10:30 p.m.): "Buddy goes back home to attend his own funeral, but his new home is in an uproar after two people are found dead and evidence points to Buddy as a suspect." Melissa & Joey may be ending soon, but with episode descriptions like that, we think we'll be good.

The Exes (TV Land, 11 p.m.): The Exes is also on tonight.
An American Werewolf In London (FLIX East, 9:45 p.m.): Werewolves, man. Can't live with them, can't take them out of London. For whatever reason, the sequel, An American Werewolf In Paris (alright, maybe you can take them out of London) is the one that always plays on TV, so you better hit the DVR for this one. You never know when it might howl into your living room.
Sports, sports, all type of sports
MLB Baseball: Orioles at Yankees (ESPN, 7 p.m.)
Pan American Games 2015: From Toronto (ESPN2, 7 p.m.)
MLB Baseball: Marlins at Diamondbacks (FSN, 7 p.m.)
Tour de France: Stage 17 (NBC Sports, 8 p.m.)
Ring Of Honor (Destination America, 8 p.m.)
Lucha Underground (El Rey, 8 p.m.)
Impact Wrestling (Destination America, 9 p.m.)