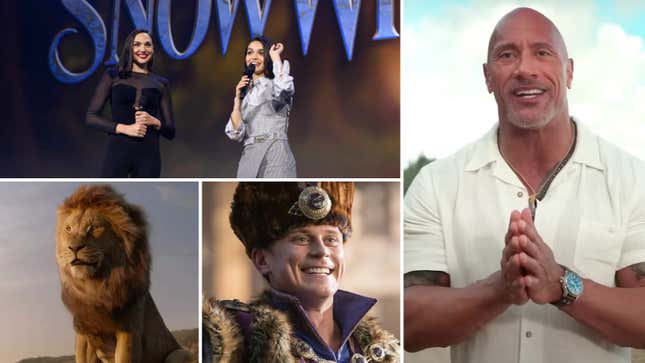 The Little Mermaid is set to make waves at the box office this weekend, the latest in a growing line of live-action remakes of Disney animated films. Since we've already ranked the remakes Disney has released so far, we decided to look down the road and see what comes after The Little Mermaid. The studio has several projects in the works, in different stages of development. Some have release dates as early as next year, a few are in the casting process, and some are just a dream at this point. With Hollywood in flux over the writers' strike, not to mention pending negotiations with the other guilds that have contracts expiring soon, it's impossible to predict when any of these titles will actually arrive in theaters, but we're keeping an eye on what's moving forward and what's waiting in the wings.

The A.V. Club's weekly film round up
You can bet that as soon as the labor issues are resolved and the filmmaking gears start turning again, Disney will right go back to feeding its bankable IP into the machine and churning out new releases based on those properties. Of the 61 animated features Disney has produced, only about a dozen have received the live-action treatment (depending on whether you count spinoffs and prequels), so we've got a ways to go before the studio runs out of source material for remakes. We already know of at least one that's likely off the table, though. Composer Alan Menken said at an event promoting Aladdin in 2019 that he thought the story of Pocahontas would be too difficult to adapt for a modern audience. There was a proposed project in the works at the time, but that's now on permanent hold.

Officially on the slate: Snow White and a Lion King prequel
Next up after The Little Mermaid is a musical adaptation of Snow White And The Seven Dwarfs—simply titled Snow White—scheduled for release on March 22, 2024. West Side Story's Rachel Zegler is set to star as the title character, opposite Wonder Woman herself, Gal Gadot, as the Evil Queen. Marc Webb (The Amazing Spider-Man) is directing. At the D23 Expo last year, Zegler told fans that "Snow White is the girl you remember, but she's definitely made for the modern age." Songwriting team Benj Pasek and Justin Paul, whose work you may know from The Greatest Showman, Dear Evan Hanson, and La La Land, are creating new songs for the film.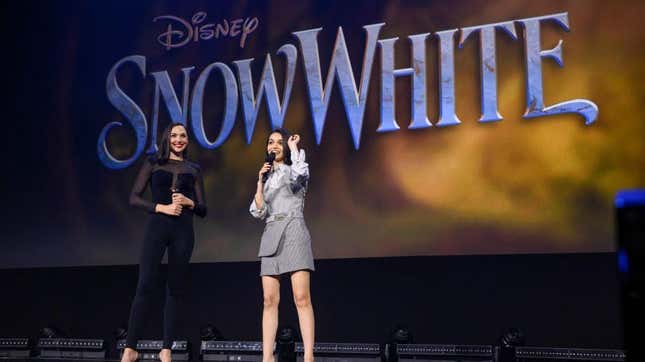 That will be followed by Mufasa: The Lion King, a prequel to The Lion King, which tells the story of young Mufasa and Scar in parallel timelines (think The Godfather Part II). For the sake of this discussion we're including Mufasa, though it's technically not a remake of any specific animated film or series, nor is it even live-action—it's a hybrid, like the previous version of The Lion King. But the film will feature many of the characters we know from the original and the CGI remake, including Rafiki, Timon, and Pumbaa (voiced by returning cast members John Kani, Billy Eichner, and Seth Rogen respectively). Kelvin Harrison Jr. takes over the voice of Mufasa, alongside Aaron Pierre as Scar. Barry Jenkins, the Oscar-winning director of Moonlight, has been tapped to direct. Jenkins showed footage from Mufasa at D23 Expo, describing it as "the origin story of one of the greatest kings in the history of pride lions." The film is expected to premiere on July 5, 2024.
Currently in pre-production: Lilo, and maybe Moana
Disney has a few announced projects in the works that don't yet have release dates. Depending on the length and outcome of the writers' strike (and any other subsequent work stoppages), we may see one or more of these arriving in theaters in late 2024 or 2025. They remain in limbo for now, but many already have directors attached and are in the process of filling out their casts

The upcoming Lilo & Stitch remake is currently filming in Hawaii and is eventually headed to Disney+, though we don't know exactly when. Helmed by the director of the Oscar-nominated film Marcel The Shell With Shoes On, Dean Fleischer Camp, it will feature a script by Chris Kekaniokalani Bright. There's been some controversy over some of the casting announcements, including accusations of colorism and one cast member who was replaced after digital sleuths uncovered his use of an offensive term on social media. The final cast includes Maia Kealoha as Lilo, Zach Galifianakis as Jumba, Billy Magnussen as Pleakley, and Courtney B. Vance as Cobra Bubbles. We've also heard that Chris Sanders, the co-writer and co-director of the original animated film, is in talks to reprise his role as the voice of Stitch.

Although it was only recently announced, the live-action adaptation of Moana could be fast-tracked to the screen thanks to the star power of Dwayne "The Rock" Johnson, who is not only producing but reprising his role as the tattooed demigod Maui. Auli'i Cravalho, the voice of the animated Moana, won't be playing the title character this time around, but is on board as an executive producer. Original screenwriter Jared Bush and Dana Ledoux Miller will also produce. Having only come out in 2016, it's the youngest title currently up for a remake, but we don't think that will hurt its chances. Johnson even went to the trouble to make a video to announce to fans that a "reimagining is in the works."
Announced, but moving slowly: Hercules, and Aladdin projects
After tackling Aladdin in 2019 (which made Disney literally a billion dollars), director Guy Ritchie signed onto another Disney remake, a live-action version of Hercules. We don't yet have any other details about the project other than it will be co-produced by Joe and Anthony Russo (who directed a couple of little superhero movies you may have heard of, among other things) through their production company, AGBO. In an interview with Variety in 2022, Joe Russo said that the film would be a musical, just like its animated counterpart, and will be updated for an audience used to watching content on TikTok. He described it as "a little bit more experimental in tone, a little bit more experimental in execution."

As for Ritchie's Aladdin, there are a couple of related projects that could be moving forward in the near future. A sequel film was announced back in 2020, re-teaming Ritchie and returning cast members Mena Massoud, Naomi Scott, and, yes, Will Smith. We're not sure if Smith as a wisecracking genie plays the same now as it did in 2019, but the current status of the project is unclear, so it might not matter. An Aladdin spin-off based on the minor character of Prince Anders, a rejected suitor to Princess Jasmine, was also announced, with Billy Magnussen reprising the role. As of 2022, Magnussen was still involved in the project and revealed in an interview with Screen Rant that rewrites were ongoing. There's been no further news on that front since.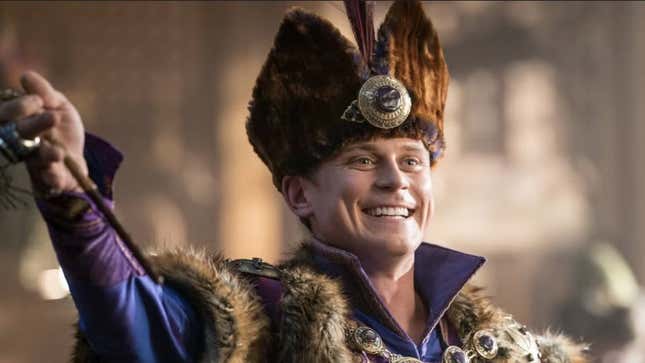 Finally, in the "maybe we'll see it someday" category, we have The Hunchback Of Notre Dame, based on the 1996 animated feature. We first heard about the remake in 2019, but it didn't seem to be going anywhere until recently. There have been conflicting reports that an update is imminent, including from producer Josh Gad, who played Olaf in Frozen as well as LeFou in the live-action Beauty And The Beast film. After reposting a fan-made poster on Instagram which listed him in the cast, Gad had to correct the record for hopeful fans. "Love that you guys all want this," he wrote. "We do to [sic]! The script is one of the best I have read and hopefully the powers that be will see this love and let us make the live action adaptation the original animated film deserves. But for now, again, this is just a fan cast!!!" Screenwriter David Henry Hwang was previously working on the script, with David Hoberman, Todd Lieberman, and Don Hahn joining Gad on the producing team. There's no director currently attached.

We have no idea: Cruella? Robin Hood? Bambi?
There have been plenty of other projects announced by Disney that don't seem to be going anywhere, but we thought we should mention them all the same. A Cruella sequel has been rumored, from writers Craig Gillespie and Tony McNamara, but there's currently no start date or any further information on the production. Likewise, a long-rumored update of Disney's anthropomorphic Robin Hood from 1973, to be directed by Carlos Lopez Estrada for Disney+, seems to be stalled out. Even Chris Evans commenting that he'd love to play the lead character hasn't moved the needle much on that one. Other films that have been in and out the remake conversation in recent years include Bambi, The Aristocats, and The Princess And The Frog.

There's also a potential The Sword In The Stone remake on the horizon from director Juan Carlos Fresnadillo and Game Of Thrones producer Bryan Cogman. Since the 2018 announcement, Cogman moved on to House Of The Dragon, then departed after one season, so maybe he'll be able to come back to Robin Hood once the strike is over. As long as Disney seems determined to churn out these adaptations, we can at least hope that the talent behind them brings something new and interesting to the table.