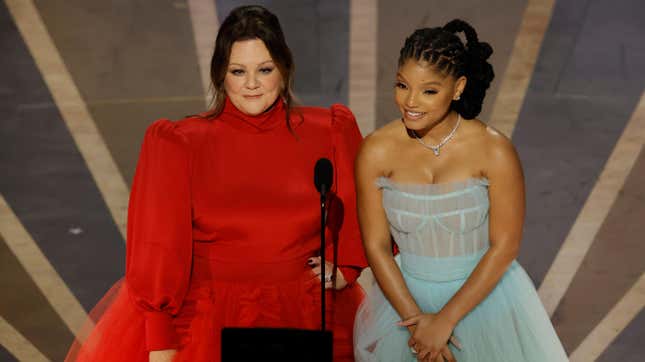 This year's Academy Awards contained not one but two corporate placement ads from the biggest companies in Hollywood: Disney and Warner Bros. While the latter's felt less out of place in the celebratory event on film, Disney's The Little Mermaid trailer spotlight pulled many Oscar attendees and viewers out of the moment as corporate pandering took the stage.
The stars of the upcoming live-action The Little Mermaid Melissa McCarthy and Halle Bailey introduced the trailer about halfway through the ceremony. Per a report from Indiewire, the two-minute and twenty-second trailer cost Disney upwards of $10 million. However, this all seems kind of moot when you realize Walt Disney Co. owns the event's broadcaster, ABC; however, insiders tell IndieWire "actual money actually changed hands" as the two companies are treated like "church and state."
The ad integration will probably work to The Little Mermaid's benefit in the long run, as the trailer finally showed off a more whimsical and colorful side of the film not yet seen amongst the previously shared low-lit preview images and posters.
Disney did get its money's worth as the Oscars saw improved ratings from last year, with 18.7 million viewers tuned in. Still, it's a big chunk of money considering 30-second ads for the telecast went between $1.6 million and $2.1 million. But when you're Disney, $10 million probably feels like chump change—especially when the money just ends up at another Disney-owned property.
The Warner Bros. ad aired with less fanfare with an introduction from Margot Robbie and Morgan Freeman, but it gave the company an opportunity to flex the legendary films in their repertoire, including Wizard Of Oz, Singing In The Rain, North By Northwest, The Matrix, Lord Of The Rings, Mad Max: Fury Road, The Notebook, Risky Business, The Shining, The Gremlins, and many more in celebration of the production studios 100th anniversary. At 90 seconds, the ad cost Warner Bros. anywhere from $3-7 million.
Sponsored integration has become a regular component of the Academy Awards ad revenue, as the last three ceremonies have featured ad placements of the sort. The ABC's ad-sales team pitched a sponsored placement to every major studio, but only Warner Bros. and Disney took them up on the offer. As the strategy continues to pay off for ABC, it's likely this is not the end of ads within an already advertised event.