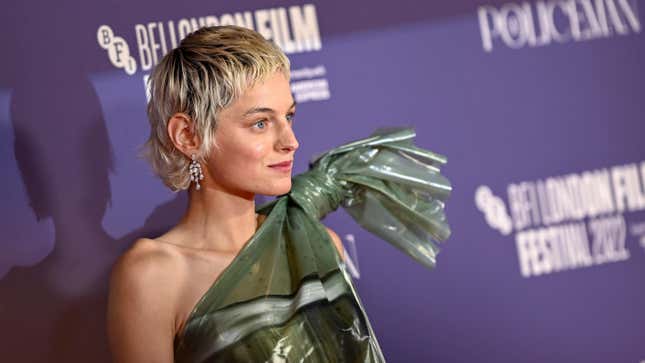 If you were hoping Deadpool 3 would be a two-man show, with Ryan Reynolds' Deadpool and Hugh Jackman's Wolverine repeatedly stabbing each other for two hours before realizing they should just finally kiss, we have some bad news: Other people will be in the movie. Or at least one other person, and that person will be played by Emma Corrin from The Crown (they played the younger Diana, before Elizabeth Debicki came on and the princess grew six inches taller).
The A.V. Club's weekly film round up
Reynolds announced this news on Twitter, welcoming Corrin to his Deadpool family ("which is just like a real family except with less swearing"), with Deadline adding that Corrin—who also just joined the new version of Nosferatu—is expected to play "the villain." We don't have much else to go off of, because this Deadpool movie will be part of the MCU and will have the keys to an enormous toy box of potential bad guys, buuut Reynolds' tweet did include two emojis of crossed swords… so maybe it'll be someone with swords?
Psylocke and Magik have swords, but they've both appeared in (real bad) movies already and they're both usually good guys. It could be "S.W.O.R.D." instead of "sword," but Emilia Clarke is probably playing Abigail Brand in Secret Invasion. How about Spiral? She has six arms, which gives her plenty of hands for holding swords. Plus, she works for classic X-Men villain Mojo in the comics, and he's exactly the kind of weirdo freak that Reynolds would have fun with in a Deadpool movie. Or maybe we're completely off-based and they're playing a character who has nothing to do with swords, and it'll end up being… Mister Sinister or something. Who knows! Either way, the movie is coming out next year, so there's going to be a wait.