It seems absurd now, but back in 1988, when Errol Morris' landmark true-crime documentary The Thin Blue Line was released, purists were up in arms about the film's use of dramatic re-creations. Nobody could possibly have mistaken those impressionistic, essentially dialogue-free sequences for a record of what actually happened; they were clearly hypothetical explorations, crucial to establishing the hypnotic tone Morris wanted. Nonetheless, The Thin Blue Line was roundly rejected by the Academy Awards' nominating committee (despite having already won prizes from the New York Film Critics Circle and National Society Of Film Critics), which reportedly felt that it didn't qualify as a documentary at all.
Imagine the horror, then, with which those fuddy-duddies would look upon Morris' latest project, Wormwood. Running a mammoth four hours, this investigative whatsit has zero interest in maintaining a strict line of demarcation between fiction and nonfiction. (Or between film and television, for that matter—it's available both in limited theatrical release and as a six-part Netflix series.) Much of Wormwood consists of Morris' usual probing interviews, digging into the details of a cold case dating back to 1953. This time, though, his speculation about events takes more concrete form, with actors like Peter Sarsgaard, Molly Parker, Tim Blake Nelson, and Bob Balaban acting out scripted scenes (written by Steven Hathaway and Molly Rokosz) that are intercut with the talking heads and archival footage. Cinema has been moving toward a hybrid form for ages, but leave it to a longtime innovator like Morris to push it this far.
The case in question concerns Frank Olson, a CIA scientist who was deeply involved in U.S. experiments with biological warfare, starting during World War II and continuing through the Korean War. On November 28, 1953, Olson, who had begun to express reservations about his work and was reportedly perceived as a dissident, went through the 13th-story window of a Manhattan hotel, dying shortly after impact. If "went through" seems like an odd choice of verb, that's because it's still unclear whether Olson fell, jumped, or was thrown out by persons unknown. Initially, the CIA claimed it was a suicide, spurred by depression. Then, in 1975, information about the MKULTRA program came to light, revealing that Olson had been unwittingly dosed with LSD by a superior. He jumped out the window while tripping, the U.S. government now said, paying $750,000 to the family in compensation. Olson's son, Eric, never bought either story, however, and has spent his entire adult life trying to determine what actually happened, even going so far as to exhume his father's corpse and have it examined for signs of murder.
G/O Media may get a commission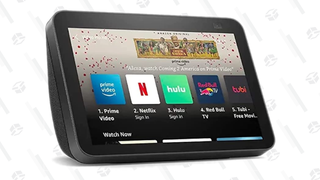 Wormwood would be Morris' best work since Fast, Cheap & Out Of Control even if he'd chosen to make it as one of his "standard" documentaries (which are still more formally creative than virtually anyone else's). Unlike The Thin Blue Line, which directly led to Randall Adams' release from prison, this sorrowful tale admits the likely impossibility that the full truth about Frank Olson will ever be known. Indeed, reporter Seymour M. Hersh (an entertainingly combative presence) tells Morris that he should be glad he doesn't have an ending—that uncertainty only makes the tale that much more poignant. He's not wrong. Eric Olson, now 73, has never been able to move past his father's death, which occurred when he was only 9; he has the same fanatically haunted look as Jake Gyllenhaal's character in Zodiac, consumed by a search for answers that only keeps raising further questions. Morris underlines this visually in numerous striking ways: by shooting Olson with six cameras simultaneously, placing all of the angles together in split-screen; by placing a clock behind Olson's head that's always set to the time his father died (2:33 a.m.); and by dramatizing multiple conflicting theories about what happened on the night of November 28, 1953.

The thought of extensive re-creations featuring professional actors might make some cinephiles nervous—not because they have rigid ideas about keeping fiction and documentary separate, but because Morris' sole attempt at narrative filmmaking, 1991's The Dark Wind (starring Lou Diamond Phillips), is widely considered a complete failure. No need to worry. There's dialogue here, yes, but it's deliberately stylized, drawing on film noir conventions (Morris helpfully includes a clip from Out Of The Past); these are still impressionistic sketches rather than fully realized dramatic scenes, primarily intended to enhance a mood of creeping paranoia. When two CIA men who may be plotting murder are forced to share an elevator with a little old lady holding a Pomeranian, there's no narrative function to her presence—it's merely the sort of offbeat detail that Morris has always taken perverse pleasure in foregrounding. Arguably, there are too many dramatizations, involving too much deliberate repetition. Wormwood could perhaps have been three hours long rather than four. But the overall conception, conflating investigation and imagination, works like a charm. Four decades into a storied career, Morris remains on the cutting edge.
Vikram Murthi will be recapping all six parts of Wormwood's Netflix cut from December 18-23. Read that coverage here.