It's been more than a year since the conclusion of Archer and Armstrong's first ongoing series at Valiant Comics—technically, the pair's first ongoing for the new Valiant Comics. And while the heroes have appeared in various titles since then, their signature brand of zany superheroics has been missed. Their break ends in March with the debut of A&A: The Adventures Of Archer & Armstrong #1 by writer Rafer Roberts, artist David Lafuente, and colorist Brian Reber, a creative team that ensures the title won't lose the emphasis on comedy that makes it a highlight of Valiant's lineup.
Roberts broke into the industry working on short humor comics—you can read his most popular story, "Thanos And Darkseid: Carpool Buddies Of Doom", here—and his genre-bending solo work makes him a promising choice of writer for A&A. Lafuente is a veteran that honed his talent for bold characterizations, dynamic action, and atmospheric environments working at Marvel Comics, and these preview pages from A&A #1 showcase all his strengths. The animated quality of Lafuente's characters is emphasized by Brian Reber's coloring technique, which renders the moving figures with flat colors while the surroundings are given more shading and texture.
In cel animation, this style of coloring makes it easier to animate the characters without having to worry about the challenges of shading and texturing each individual cel. On the comics page, it simply makes the characters pop against the background and draws more attention to their expressions and actions. It puts a spotlight on the range of emotion Lafuente captures in his linework, while allowing Reber to give more detail to environments like the striking world inside Armstrong's bottomless satchel. This creative team is making some strong artistic decisions for this new series, and readers can see more of their skill at work when A&A #1 goes on sale on March 16.
G/O Media may get a commission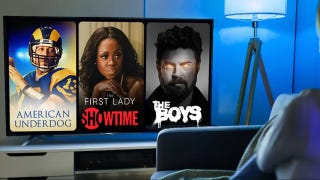 UNDER $1
99¢ Prime Video Channels