At first glance, NBC's fall schedule seems sort of stupid. It moves all of the network's dramas around for no real reason, sticks The Michael J. Fox Show in a really strange timeslot, and doesn't do much of anything to defend a Wednesday where the network was making modest gains. Everything is done with an eye toward two things: The Voice and the Winter Olympics. And everything is done with an eye toward yanking the network back toward the middle-of-the-road programming network president Robert Greenblatt is convinced is necessary to bring the network back to the top of the heap. And, hey, maybe he's right. The network has made the somewhat bold decision to push toward family sitcoms, which haven't been at the centerpiece of an NBC schedule for something like 30 years, over workplace sitcoms or hangout shows or whatever Mulaney was. You might argue this is a couple of years too late, and you'd have a good case to make there, but this is definitely a schedule taking aim at the widest possible swath of the American public it can muster.
Let's break this sucker down night by night.
Mondays
8 p.m.: The Voice (performance)
10 p.m.: THE BLACKLIST
Leaving The Voice put is a smart move. Somebody somewhere must have been tempted to see if the show could be used to finally kill off Fox's X Factor, but that would leave the network with far too many moves to promote when it's still working to shore up much of the rest of the schedule. Sticking The Blacklist after it, sadly, also seems like a smart move. The James Spader vehicle seems to take the basic premise of The Silence Of The Lambs—young female FBI agent working with a convicted criminal to hunt down other criminals—then mix it with the general look and feel of The Following. Reportedly, it tested through the roof, but the trailer looks like the kind of crowd-pleasing pap that can backfire. Still, crowd-pleasing pap has its audience, as do procedurals with slightly serialized elements built in (hello, The Following and Person Of Interest). This feels like a strong night, and it wouldn't be a surprise if it dominated again.
Tuesdays
8 p.m.: The Biggest Loser (new day and time)
9 p.m.: The Voice (new time)
10 p.m.: Chicago Fire (new day and time)
Shrinking the increasingly bloated Biggest Loser down to an hour is a smart call, and we'd ask if that's too much reality in one go, but, ha ha, that's never going to be the case. Moving The Voice an hour later, where it won't have to compete with NCIS is also a good move and could shore up the lower-rated half of the network's two singing show offerings. It's the move of Chicago Fire that really intrigues here. The show was holding its own on Wednesdays, with a much smaller lead-in, and there's potential for it to really explode in an undercrowded hour following one of TV's biggest shows. Or it will inexplicably decrease, as seems to happen all the time now when seemingly compatible shows move after shows that offer big lead-ins.
G/O Media may get a commission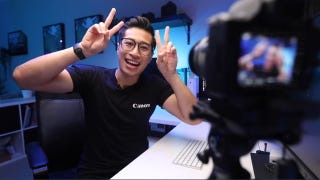 Up to 33% off
Canon Camera National Promotion
Webcam kits, lenses, & more
Since many of us adopted working from home, we've become accustomed to the crappy video quality output of our laptops' built-in webcams. Present yourself professionally with the help of a professional quality camera. Dress to impress now means set dressing and picture definition. Canon has made it easy to take your EOS camera and convert it to a webcam with the help of a variety of kits.
Wednesdays
8 p.m.: Revolution (new day and time)
9 p.m.: Law & Order: Special Victims Unit
10 p.m.: IRONSIDE
Complaints that NBC is trying to kill Revolution have been running rampant, and those complaints aren't wrong. Moving the show to 8 p.m. on Wednesdays, though a weak hour, is a move that takes the show out of a comfortable post-Voice slot and forces it to put its "we're really a family show!" money where its mouth is. At the same time, maybe trying to kill Revolution isn't the worst idea in the world. If it holds its own at 8 p.m. Wednesday, NBC has solved a particularly pernicious problem in one fell swoop, and it will almost certainly out-perform Animal Practice and Guys With Kids. And if it doesn't perform well? Then NBC has removed a potentially limited asset—the show has almost certainly already peaked in the ratings—from its schedule. It's a bit mercenary, but it's probably one of the better uses of the show in terms of the network's overriding ecology.
Law & Order: Special Victims Unit isn't terribly exciting to contemplate, but it's one of the network's highest-rated dramas anyway, to the point where it should probably move back into a 10 p.m. slot and shore one of those up. But it's here to give a boost to Ironside, which somebody remade for some reason and decided to put one of America's sexiest men in. Was anyone really calling out for an Ironside remake? Probably not, but one is here anyway. There's potential here for SVU to boost this procedural like it boosted Chicago Fire, but it's awfully hard to pull that trick two years in a row.
Thursdays
8 p.m.: Parks And Recreation (new time)
8:30 p.m.: WELCOME TO THE FAMILY
9 p.m.: SEAN SAVES THE WORLD
9:30 p.m.: THE MICHAEL J. FOX SHOW
10 p.m.: Parenthood (new day)
This is just a total mess. Could it work? Sure. Could it work up against CBS' comedies and ABC's big dramas? We have our doubts. Michael J. Fox seems like the one safe bet here for audiences to drop in on at least once, and the network has already committed to 22 episodes of the thing. Naturally, it's been stuck at 9:30 p.m., instead of anchoring the night at 9. The anchor job goes to, of all things, a Sean Hayes multi-camera sitcom about a gay man raising his 14-year-old daughter. Watching the clips will immediately remind you why multi-camera sitcoms have such a bad name. Parks And Recreation at 8 probably won't work, because it's an old show, and it will be up against TV's biggest show, most likely, and Welcome To The Family has something of an upside—in that it actually attempts to do a show partially about America's fastest growing racial minority—but who's going to find it at 8:30 on a Thursday? This is a deeply confused comedy bloc to the degree that throwing Community into virtually any time slot would make it make more sense. That's how weird it is.
Parenthood at 10 feels like a disaster waiting to happen, but the show's audience is loyal, and it is more comedic than just about any other show NBC has tried in that timeslot in years. (It's also another example of the network trying out an expensive drama with a core audience in a tough timeslot. If it works, great. Problem solved. If not, well, then you can at least ditch a profit-suck.) You can sort of see the logic here—watch family sitcoms, then watch a family drama that will make you feel good about life, and also Leslie Knope is here!—but it's hard to see why anyone would immediately watch any of these, outside of Michael J. Fox. Which, again, is stranded at the end of the bloc. Launching a bunch of new sitcoms at once worked for ABC in 2009, but it also had the terrific Modern Family pilot to anchor the night. We're willing to be surprised, but none of these new shows seem like the Modern Family pilot.
Fridays (Fall)
8 p.m.: Dateline NBC
9 p.m.: Grimm
10 p.m.: DRACULA
NBC should probably give Grimm a shot on another night on a more permanent basis, but at the same time, it makes sense that the network wants to leave it where it's more or less working and not mess with it too much. Dracula makes a lot of sense here, since it will have some degree of overlap with the Grimm audience and will essentially be a pure profit machine for the network, thanks to all its foreign co-production deals. If it unexpectedly turns into a hit, that's gravy. (It's also why there's a real argument to be made that NBC might renew Hannibal, though that argument is hurt by the presence of the very similar—but much more mass-audience-friendly—Blacklist and the fact that Crossbones has the midseason 10 p.m. Friday slot, which would be the natural place for a low-rated but critically well-regarded player like Hannibal to run for a year or two.)
Sundays (Fall)
7 p.m.: Football Night in America
8:15 p.m.: NBC Sunday Night Football
Fortunately for NBC, America still loves football.
It's not worth saying much about NBC's midseason moves—except to say that launching two complicated, serialized dramas on Sundays, right into the midst of Walking Dead season, seems like a fool's errand—but if the Chicago Fire to Tuesdays move pays off like it might, then the network will have created a very nice hammock for two new sitcoms, even if it's throwing them up against New Girl (which is fading).
The natural impulse is to deride this schedule, because it's NBC, and NBC does stupid things, and that Thursday night lineup seems pretty dumb. But there's a lot of potential upside here, and the few big moves aren't all that risky. It's the kind of lineup that makes more sense the more we think about it, and that's usually been the domain of CBS in recent years. Then again, there's a lot of new product here and a lot of moves to promote. If The Voice gets hurt by over-exposure, look out. But that problem is most likely at least a couple of years in the future. It's extremely easy to see NBC vaulting past Fox for second place with this schedule next year, and no one would have said that even a year ago.
Up next: Fox tries to pretend the fall of 2012 never happened.