FX is having an amazing year, basically by giving its creative forces free rein. Ryan Murphy's Feud isn't as mind-numbing as Noah Hawley's Legion, but it's just as much of a wonderland. Murphy has meticulously recreated the world of early 1960s Hollywood, in a candy-colored environment so perfect that practically every shot is framed like a painting. I am grateful to my TV Editor Erik Adams for pointing out that the environs of Joan Crawford and Bette Davis are reflected down to their taste in liquor; Crawford surrounded by shimmering aquas and plastic-covered furniture, drinks 100 proof vodka from her own flask. Davis goes for the amber liquors in her less extravagant but much more approachable country home. Yet both of these former screen queens rise to arms when they see themselves overshadowed by the younger generation: Joan by Marilyn Monroe at the Golden Globes, and Bette when she sees the young star of her play get the roses that used to be hers.
This premiere episode of Feud also sets up a vital difference between these two screen queens. For Davis, the job is all about the work. It's why she'll take a minor part on Broadway, just to act again. Crawford appears more focused on "Joan Crawford, movie star" than being an actress. These perceptions play out in their opposite approaches to vanity: To create the look for Baby Jane Hudson, Davis gleefully goes as hideous as possible, knowing how grotesque she will seem on film. Crawford still struggles to appear as the classic movie star she was, instead of the invalid she's supposed to play in the movie. She got in similar trouble on the set of Mildred Pierce, cinching in her dresses and putting in shoulder pads. Davis is monumentally fearless in her Baby Jane depiction; Crawford is insecure about her looks, which limits her performance (and only Davis got an Oscar nomination).
Still, it's fascinating to see it all play out, especially as Murphy so carefully puts us right in the thick of the action. For movie buffs, the machinations behind even getting the movie made are captivating: Crawford's search for a worthwhile female role, drafting the director, the director's effort to grab a studio, the advantage that the movie only needs a limited set all offer beneficial insight into the crafting of these creations.
It also shows how meta the Baby Jane casting really was. In the movie, Blanche and Jane are both former movie stars, haunted by their earlier successes, now stuck together in a decaying mansion. In Feud, Davis and Crawford are both aging movie stars trying to compete with their earlier successes. They also get "stuck" together in the only project still perfect for them: Baby Jane.
G/O Media may get a commission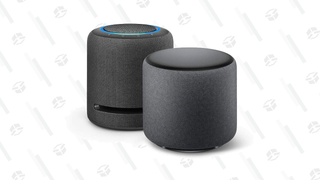 25% off - Prime Exclusive
Echo Studio + Echo Sub Bundle
Even more meta: Susan Sarandon and Jessica Lange are also actresses with long careers, but the places where their careers currently are point to the further possibilities there are for actresses today. Susan Sarandon is 71 years old and Lange is 68. At the time of filming Baby Jane, Crawford and Davis were in their fifties. At the Television Critics Association press tour, the two commented on the age discrepancies. Lange stated:
I think that's a big part of this show, is what you know, what Hollywood does to women as they age, which is just a microcosm of what happens to women generally as they age. Whether you want to say they become invisible, or they become unattractive or they become undesirable, or whatever it is. And I think with this film, we've touched on that in a very profound way. And, I mean, Joan was 10 years younger when this takes place than I am now, and yet her career was finished because of her age.
Lange went on to say, "I don't think it's changed that much, really, to tell you the truth. I really don't." Sarandon countered, "Well, we're working."
So Feud is a statement not only on women in Hollywood, but women everywhere. Stanley Tucci's hilariously hammy Jack Warner says the casting comes down to whether these two women—again, only in their fifties at the time—are still fuckable. Which, in his mindset, constitutes their only value (a value he punctuates by slapping the ass of his masseuse). Crawford and Davis, as formidable as they were, were up against an almost entirely male-run studio system: a system that Davis still managed to break, Warner points out. Crawford is persistent enough about her career to get this movie made, even when she's the only one championing it. Feud highlights how much the odds were stacked against these two at almost every turn, yet they still managed to be remembered as among the greatest stars of Hollywood's Golden age.
Not that there aren't some casualties along the way. Crawford is almost completely isolated in her pristine home except for her beloved Mamacita, and her meager advance toward her director Bob Aldrich is rebuffed. Davis loses her fourth and final husband in this episode, and both Crawford's and Davis' reputations were tarnished by tell-alls written by their own children (including B.D., portrayed here by Kiernan Shipka).
Of course, productions like Mommie Dearest and impersonations of Bette Davis clutching a cigarette and pronouncing "What a dump" make it even for difficult for these actresses to portray these legends in a way that doesn't fall into cartoonish camp. It's amazing how well they accomplish it, instead disappearing into these roles completely, By the time Sarandon shows up as Davis, cigarette ablaze, highball in hand, she even seems shorter, as she takes on Davis's stance and her frequent pose of arms akimbo. Lange's Crawford is a bit more understated, but just as astonishing, melding completely into the elegant queen trying to regain her screen royalty status.
This first episode of Feud is in itself a high bar of what TV is capable of: setting up its own, very specific, very stylized environment, even as it exposes new layers to characters we thought we know well.
Stray observations
Welcome to weekly reviews of Feud. I think it's going to be a hell of a ride, and I'm excited to go on it with you.

The Greek chorus/narrator angle seems to popping up a lot this TV season: It's also in the other show I'm reviewing on Sunday nights, Big Little Lies. Do you guys think it adds or subtracts here? I enjoy Catherine Zeta-Jones' and Kathy Bates' depictions of Olivia De Havilland and Joan Blondell, and they provide some valuable backstory.

I could have written an entire review just about Alfred Molina, and will delve into his portrayal of Bob Aldrich more next week.
If you're unfamiliar with the film history of Bette and Joan, I wrote a short Inventory of some of my favorite films over the course of their respective careers.