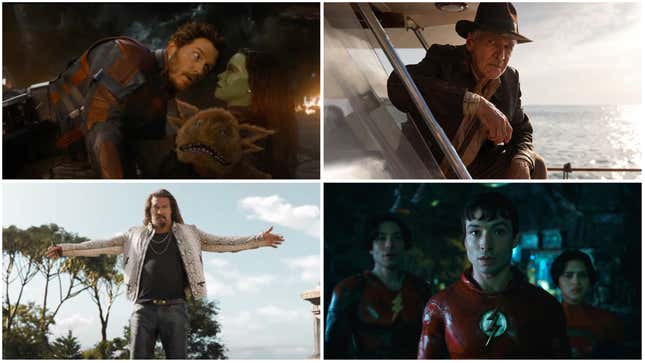 Sure, there was a football game and Rihanna concert today. But the Super Bowl is also a big enough event to encompass a snapshot of the cultural consciousness each year: Which celebrities are worthy of starring in a coveted commercial slot? What products are they hawking? And just as importantly, which upcoming films are buzzy enough to merit their own brand-new trailer? For pop culture aficionados, the Super Bowl can be seen as a chance to take the temperature of the coming year's cinema.

Loki's director on retro-futuristic computers and the significance of Mobius' soda choices
Judging by the 2023 lineup of trailers, blockbusters are in great shape. There was the first substantial glimpse of Ezra Miller's feature-length appearance as The Flash, while Marvel Studios didn't miss its chance to introduce the next step in their Phase Five, and the Fast & Furious franchise continued to give fans an actual look (as opposed to a "legacy trailer," because what even is that?) at its upcoming 10th installment. Read on for a round-up of the notable film trailers of Super Bowl LVII, and what we learned from each of them.
Creed III
Release date: March 3
"Ready or not," intones Lauryn Hill of the Fugees in an ominous tone in the Creed III spot that aired during the big game. Using a cool trailer-y effect, the "III" title frames our first glimpses of the Michael B. Jordan-starring, Michael B. Jordan-directed Rocky sequel. Creed III sees Jordan's Adonis Creed squaring off against a childhood friend-turned-rival, played by the magnificent Jonathan Majors. Of all the films providing previews at this year's Super Bowl, this one might be the best, seeing as it most closely resembles the live action in between those commercial breaks.
Guardians Of The Galaxy Vol. 3
Release date: May 3
The least surprising but most appreciated part of the new trailer for Guardians Of The Galaxy Vol. 3 is its spot-on soundtrack: Rainbow's cover of Argent's "Since You've Been Gone" totally rocks, dude, yet contains emotional depth, making it another fitting choice for this particular extraterrestrial franchise. Thanks to December's teaser, it's also not a surprise to see James Gunn's final Guardians installment will include creepy baddie the High Evolutionary, a talking otter, and Gamora-but-not-the-Gamora-of-Volumes-1-and-2.
Fast X
Release date: May 19
Most of what we now know about Louis Leterrier's FasTen Your Seatbelts has been discerned from the official trailer of two days past: Jason Momoa joins the fray as a flamboyant baddie, Paul Walker—either computer-generated or archival—makes a return appearance, and Rita Moreno and Brie Larson are joining Charlize Theron and Helen Mirren as the latest Oscars winners to give this franchise an upgrade. But the "big game spot" above does include new footage, a peek at a pretty epic action set piece involving a fiery explosion atop a dam.
Transformers: Rise Of The Beasts
Release date: June 9
Fair warning: this newly released Transformers 7 glimpse doubles as a Porsche commercial, in one of the Super Bowl's most quintessential examples of capitalistic synergy. While the teaser from a few months ago showed us Mirage the Autobot, it's only now that we're hearing him—thanks to the vocal talents of one Pete Davidson. Joining him in this Bumblebee sequel, featuring robo-animals inspired by computer-animated spin-off series Beast Wars, are Anthony Ramos, Dominique Fishback, Tobe Nwigwe, Peter Cullen, Ron Perlman, Peter Dinklage, Michaela Jaé Rodriguez, and Michelle Yeoh.
The Flash
Release date: June 16
As dramatic reveals in Super Bowl trailers go, Andy Muschietti's The Flash may have everything else on this list beat. (For a more in-depth breakdown, click here.) YouTube's "trailer reaction" posters are surely having a field day, between the above clip and the TV spot: In addition to Ben Affleck, we have Michael Keaton hamming it up again as Batman! Michael Shannon is back as General Zod! And instead of a Superman in all this multiverse madness, we have Sasha Calle's Kara Zor-El, a.k.a. a Supergirl for the big screen! We'll see how what is apparently double the amount of Barry Allens—more, not less, of a leading actor bogged down in criminally bad PR—changes the course of the evolving DCEU.
Indiana Jones And The Dial Of Destiny
Release date: June 30
Unlike most other TV spots on this round-up, the 30 second-glimpse of Indiana Jones 5 provided plenty of new visuals following the trailer. Unlike that longer version, here Indy asks Nazis to verify they're Nazis before punching Nazis. There's also a purported rescue from Phoebe Waller-Bridge (who looks more like the one who needs rescuing) and John Rhys-Davies as Sallah urging our hero to "give 'em hell," which seems more than worth the price of admission.