At the Television Critics Association summer press tour in 2015, Chelsea Handler took the stage to discuss her $10 million deal with Netflix. Questions mostly pertained to how a late-night talk show would work on a streaming service, but what Handler really wanted to talk about was the immediate future: a four-part docuseries called Chelsea Does. Chelsea would "do" marriage, racism, Silicon Valley, and drugs in her typical, acerbic Chelsea manner, experiencing things she either knew very little (marriage, technology) or way too much (drugs) about. After seven years of Chelsea Lately, the comedian knew she had become a "what you see is what you get" personality, and that would be the hook for the new documentary series. Despite that background, Handler promised that Chelsea Does wouldn't be more of the same, saying at the panel that "it's been a really amazing experience for me work-wise because it's obviously a lot different than anything I've ever done before. They're feature-length films."
The format and length of Chelsea Does differs from Handler's previous work, but a good portion of the new series feels like the out-of-studio bits on Chelsea Lately, just stretched for time. For fans of Chelsea Lately and Chelsea Handler, that's great news. For those who don't care for either, it's a lot to ask—even if the show has a lot to offer. And though it's metaphorically rough around the edges, the execution is often so polished and so artificial that it almost defies the definition of documentary.
That's most apparent in the first episode, "Chelsea Does Marriage," which feels more like an experimental romantic comedy, right down to the feel-good ending. From the start, it has all the trappings of something other than nonfiction: a romantically lit dinner in an empty restaurant, soft lighting and slow motion in the city, and a love-themed opening title sequence rivaling that of Netflix's own Grace And Frankie. It's the softer side of Chelsea, even if she's still creating awkward silences with her inappropriate barbs, but it also calls into question the "feature films" description of Chelsea Does. Are they documentary films or Nancy Meyers films? (Not that there's anything wrong with Nancy Meyers films.)
Chelsea Does doesn't really get interesting for the non-Handler fan until it gets into territory where Handler can't just laugh off the situation. The parts of "Chelsea Does Silicon Valley" that work best are the moments where the star's genuine ineptitude with technology cause her an upsetting amount of frustration, because they're so much more honest than the rest of the show. (The episode's conclusion, however, is one of the most manufactured beats of the entire series.) Things get similarly real when Handler travels to Ashley Madison headquarters in "Chelsea Does Marriage." The disdain she expresses for the adultery-aiding website's entire concept—paired with the lascivious and phony demeanor of then-Avid Life Media CEO Noel Biderman, who was ousted following Ashley Madison's 2015 data breech—is the first glimpse of Handler's willingness to "go there" (as the press releases say). Making a turn from irreverent humor to pointed critiques, Chelsea Does turns a fluffy episode into something deeper at the drop of the hat, without the tone shaking the balance of the episode.
G/O Media may get a commission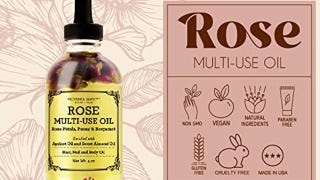 Provence Beauty Rose Multi-Use Oil
That's why "Chelsea Does Racism" is the best episode of the bunch. It renders moot every joke Handler makes, has made, or will make about race, through encounters with legitimate racism (from Confederate Civil War reenactors or white supremacists) or civil rights organizations (who discuss the impact of her jokes about race). "Racism" is the episode with the most gravitas, and despite the fact that Handler makes her living off laughs, it's the episode that best displays the serious conversation that Chelsea Does can foster. It would read as callous for Handler to make light of the subject matter, but she never actually does. It's the episode where personal opinions about Chelsea Handler don't matter, because it's simply a work of art that's doing its job and doing it well. But it's also the peak of the series, two episodes in. Even with "Chelsea Does Silicon Valley" (which is a return to the manufactured narrative of "Marriage") and "Chelsea Does Drugs," there's a sense that the best work is over and done with. As ambitious as the four documentaries idea is, one great one can't do all the work for three mediocre-to-decent ones.
Luckily, the format for Chelsea Does invites cherry-picking, where you're not going to miss out on the narrative if you don't binge or if you watch the episodes out of order. Each episode functions as a standalone. Hardcore documentary fans may find Chelsea Does a bit lacking in terms of depth—especially as the sheen surrounding most of the episodes is a bit off-balance, given Handler's personal lack of polish. But for Chelsea Handler fans or even people who aren't deeply invested in the genre, these are definitely good jumping-off points. For those who aren't too keen on Handler, there's nothing to be lost from taking a walk on the Chelsea Does wild side—the topics she chooses make it worthwhile.