Here's what's up in the world of TV for Friday, September 20, and Saturday, September 21. All times are Eastern.
TOP PICK
The Hollow Crown (PBS, 9 p.m., Friday): Sonia Saraiya's early review of this suggests this presentation of Shakespeare's Henriad will be one of the real treats of the TV season, so we're having Kevin McFarland—who knows a little something about the Bard—take a look at all four parts of the miniseries. Now, we know that all you British people saw this long ago, so you're resolutely unimpressed by the fact that we're getting it over a year later. To that, we will say that Ben Whishaw and Tom Hiddleston are great, no matter when they are enjoyed by us.
---
REGULAR COVERAGE
The Legend Of Korra (Nickelodeon, 7 p.m., Friday): Tension rises between the northern and southern tribes in an episode called "Civil Wars, Part 1," which seems like a fitting title for that particular scenario. Due to a series of comical mishaps, look for Emily Guendelsberger's review on Saturday morning.
The Neighbors (ABC, 8:30 p.m., Friday): We're giving ABC's occasionally charming sitcom about an alien family living next door to a human family another shot this fall, and Kenny Herzog would love if you would join him. Then he'll clap his hands above his head and turn into a green, fish-lookin' thingy.
Borgen (LinkTV, 1 a.m., Saturday): After her enormous triumph last week, Birgitte had to suffer a setback in her personal life, because of course she did. But the season is rather hurtling toward its climax now. Todd VanDerWerff guesses the many enemies she's made will make hay of the situation.
G/O Media may get a commission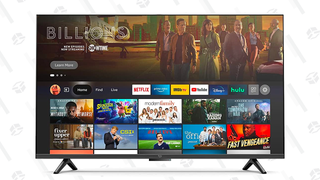 22% off
Amazon Fire TV - 50" Omni Series 4K - Early Access Deal
---
WHAT ELSE IS ON
Last Man Standing (ABC, 8 p.m., Friday): The little show that could returns with a season premiere involving Mike—played by America's favorite Tim, Tim Allen—trying to make sure his grandson doesn't attend a bilingual school, because AMERICA, right? We're sure everyone will hug each other in the end.
LT: The Life And Times (Showtime, 8 p.m., Friday): This new documentary chronicles the legendary linebacker Lawrence Taylor, with interviews with his coaches and fellow players. If you're a New York Giants fan or just someone who likes watching a guy tackle people, Alasdair Wilkins recommends it.
Shark Tank (ABC, 9 p.m. Friday): The Sharks are back, and John Teti is ready to let you know which crazy proposals they'll say no to, and which crazier proposals they'll argue with each other over for surprisingly long amounts of time. And while he's at it, could he get some hammerheads on the panel?
Haven (Syfy, 10 p.m., Friday): We completely missed that a new season of this show started, probably because Syfy itself doesn't know it's still airing new episodes of this show. Said episodes probably just emerge out of an interdimensional portal every Friday, and Syfy shrugs and throws them on the air.
Dog And Beth: On The Hunt (CMT, 9 p.m., Saturday): Here's a friendly reminder that Dog the Bounty Hunter still has a relatively popular new show airing on Saturday nights, even if you've never seen an episode of it. Know it's unlikely you'll escape his wrath for ignoring his show. He's like the NSA that way.
The White Queen (Starz, 9 p.m., Saturday): This acquired miniseries got shunted off to Saturday nights lickety split, so we're guessing it's not doing so hot for ol' Starz. That said, we keep getting asked by this one person on Twitter when we're going to start covering this, so we'll link to our review of it again.
Wreck-It Ralph (Starz, 9 p.m., Friday): This video game pastiche, featuring a bad guy from an '80s coin-op classic who goes on a question to prove he's actually a good guy, was one of the most fun films we saw last year. Then again, we would watch Vanellope Von Schweetz yell excitedly about nearly anything.
Lars And The Real Girl (Style, 10 p.m., Friday): Was this Ryan Gosling vehicle—in which the actor falls in love with a sex doll because he's got severe mental issues—a bit gimmicky? Absolutely, but we still loved its quiet sincerity and the way it played a ridiculous situation for bittersweet drama and laughs.
It Happened One Night (TCM, 8 p.m., Saturday): "What happened one night?" "Y'know. It." "No, I don't know. I haven't been keeping up with the news." "Well, if you have to ask, then you obviously aren't ready to watch this movie." "But Claudette Colbert is so feisty!" "She'll remain a mystery to you, son."
CFL Football: Edmonton at Winnipeg (ESPN2, 8 p.m., Friday): We genuinely had no idea anyone in the U.S. had a contract to show Canadian Football League games, so we're pleased to see this one show up on the grid. We're rooting for Winnipeg just because what else does Winnipeg have going for it?
College Football: Arizona State at Stanford (Fox, 8 p.m., Saturday): The last time these two teams met in 2010, Stanford prevailed, so we'll cheer for Arizona State, even with our general California allegiances. Other than that, we're not sure there's too much to care about here. Move along, everybody.
---
IN CASE YOU MISSED IT
Gilmore Girls (Thursday): David Sims' reviews are making their way through one of the very best seasons of TV ever made, so maybe you should be reading them, huh? If you don't start, we're going to shove you against the wall and threaten you until you agree to watch. Just like Lorelai Gilmore would!