Crimes:
• Perpetuating the no-talent careers of stand-up phenom (and MySpace buddy) Dane Cook and vapid pin-up Jessica Alba
• Offering two ridiculous gimmicky high-concept ideas—a stud-muffin who serves as a human stepping stone for marriage, and a hot penguin wrangler who's a magnet for slapstick-y accidents—for the price of one
• Including a sequence involving a donut-hole-stuffing, acne-riddled obese woman who's somehow more appalling than Rasputia in Norbit
Defenders: Actor Dane Cook, director Mark Helfrich, producer Mike Karz, and writer Josh Stolberg
Tone of commentary: Chummy, self-congratulatory. Between quips, Cook talks about the project as if his Oscar were already being polished, calling it "the turning point in my life and career" and "the movie I dreamed about doing since starting stand-up." Then he goes back to riffing on his buff appearance ("I have an ass like a bull! Did you see my ass just then?"), his for-the-fans inside jokes (like wearing a Super Club hat from Employee Of The Month), and how tough it is to pretend he's getting a blowjob. ("Nowhere can you go, like, 'Let me remember the time when a girl devoured my hog like a wildebeest.'").
G/O Media may get a commission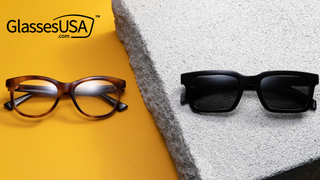 60% off frames
GlassesUSA.com Back to School Sales
Though Karz and Stolberg rarely speak, Helfrich loads the commentary with mundane details about making the film. There's lot of talk about the British Columbia locations ("that's Stanley Park, in Vancouver"), the dazzling technique behind all that movie-making magic ("all the close-ups were shot, like, two months after the wide shots"), and minor touches that only he gets ("the name of that restaurant, Uccello Freddo, is Italian for 'cold bird'"). And the scenes that Helfrich wanted added to the script mainly involved getting pervy shots of Alba, like having her remove her bra with her blouse still on ("I've always been fascinated by that trick, and I wanted to put it in a film") and stripping her down to her penguin underwear. ("I've got a thing for white penguin underwear. Jessica really wasn't that into it, but after weeks of talking to her and telling her how essential it was to the plot, she did it.")
What went wrong: The film, of course, is unimpeachably brilliant, but the filmmaking process had its share of rough moments. The leads did a lot of the rough-and-tumble stunts themselves, which led to several accidents, including Alba chipping her tooth during vigorous Mr. & Mrs. Smith-like "panto-banging" with Cook. (Ironically, the chip was in the same place where she had to wear a prosthetic chipped tooth earlier in the shoot.) After the filmmakers praise the actress who played the morbidly obese woman, Cook insults her eating habits ("She had never eaten lobster before in her life, so she was actually eating the shell") and talks about how their one-take sex scene nearly killed him. "With all due respect," he says, "she laid down on top of me and the blood stopped flowing through my body. My head got cold immediately. I told her 'Just roll, because if you go up and down and don't roll, you're going to murder me.'"
Comments on the cast: There's praise all around for Cook's crude sidekick, Balls Of Fury star Dan Fogler, whose improvisational line-readings cracked Cook up so often that a simple shot took 30 takes and most of the day to shoot. But most of the talk is about Alba: how her skit playing opposite King Kong at the MTV Movie Awards made her the only choice for the role, and especially how incredibly gorgeous she is, right down to her dental work ("that's the inside of Jessica Alba's mouth, as close as you'll ever get"). Alba even turns up briefly for some text-message commentary, saying "hello to all the fans" and hoping that "everyone is enjoying the movie."
Inevitable dash of pretension: Limited to mention of the film's cinematographer, Anthony Richmond, who photographed nearly all of Nicolas Roeg's great '70s mind-fucks, including Don't Look Now and The Man Who Fell To Earth. How the filmmakers can go from Roeg fanatics to the people behind Good Luck Chuck is a cautionary tale.
Commentary in a nutshell: Cook: "I know sometimes commentary tracks turn into a big jerk-off session, but…"