Now is the Yeezy season of our discontent. Following up last week's announcement of not one but two new albums, one a full-length collaboration with long-time right-hand-man Kid Cudi, Kanye West has now announced three more releases. In a series of tweets last night, he laid out an exceedingly ambitious release schedule:

This cadence evokes the legendary "GOOD Fridays" run of singles and b-sides he released in the run-up to his 2010 opus My Beautiful Dark Twisted Fantasy, a period of incredible productivity during which he started clearing the vaults, promising new supergroups (remember Child Rebel Soldiers?) and providing a peak into his creative process. It seems a little unlikely he's actually going to nail all of these newly announced release dates, and that he's really producing all five of these records himself, but then, this is how he generally does things, working quietly for a long time on various concepts and with various collaborators, then announcing a release date and working like crazy to meet it. Stories abound of him tweaking Yeezus up until its exact release date, and his most recent record, 2016's The Life Of Pablo, got post-release patches from the messy auteur.
The Kanye-produced Pusha T record had already been announced, but the Teyana Taylor and Nas records are much bigger surprises, only hinted at previously. Taylor was the star of Kanye's "Fade" video, and has served as a regular guest star on various GOOD Music projects, but her only album under her own name was safe, lukewarm R&B; it'll be interesting to hear her working with a bolder producer, and it'll also be interesting to hear Kanye indulge his R&B side. Nas, of course, is one of the greatest to ever do it, and was still in fine form on his last record, 2012's sanguine Life Is Good. He and Kanye have worked together a few times before, including the excellent 2002 cut "Poppa Was A Playa." Kanye has a Tarantino-esque manner of bringing out the best in his collaborators, particularly when they're heroes of his.
Unfortunately, also like Tarantino, the notion of a new Kanye project is a much less clear-cut prospect in 2018 than it once was. It's great to see one of the architects of post-millennial hip-hop getting back in touch with his production side, especially with so much talent surrounding him, but nothing exists in a vacuum anymore—especially not on Twitter, where Kanye has recently decided he is writing a book on philosophy. All of which seemed sort of charming and characteristically eccentric until:
G/O Media may get a commission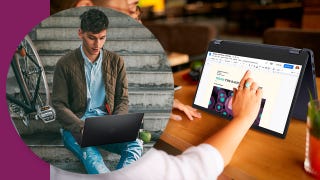 Ends August 15
Best Buy Anniversary Sale 2022
Ends August 15
Best Buy has a number of different promotions happening all for its Anniversary Sales Event. Laptops, tablets, TVs, you names it. Whether you're heading back to school or just trying to fill your home with some new tech, there is something here on sale that you've likely been waiting for.
Owens is a conservative pundit best known for her opposition to Black Lives Matter, her belief that Donald Trump is "the savior" of the free world, and op-eds with headlines like, "Black Men getting shot by police isn't about racism." She has the exact sort of takes you would expect on issues ranging from NFL player protests to transgender people serving in the military; her number one YouTube video claims that Black Panther is "a pro-Trump movie." Please, enjoy:
The Kanye co-sign has been great for Owens' career, as she is now making appearances on Fox News aligning her particular brand of Trumpism with Kanye's long history of provocation.
All of which casts West's lukewarm simulation-theory philosophizing on Twitter in a new light. By railing against so-called cultural programming, he's following the familiar right-wing radicalization trope of "taking the red pill" and breaking free from the vast conspiracy that is social progressivism. And it makes his otherwise innocuous, instantly viral missives a lot more nefarious. Like, say, this one:
In other words, that scowling meet-and-greet with the president-elect just days after the election wasn't just the flailing of a guy in the midst of a burnout, even if he later disavowed their relationship. West is still, as he once put it, on his Trump shit. Whether or not this colors how you consume his music is, of course, just another example of separating the art from the artist. Regardless, there'll be a lot of that music this summer, and he won't be the person talking on most of it.