For most of the history of television, the barrier to syndication—and to profitability—has been 100 episodes. The shows that have made it to that mark are an unusual group. Many were big hits. Some found small cult audiences. Still others just hung on as best they could and never posted numbers quite low enough to be canceled. In 100 Episodes, we examine the shows that made it to that number, considering both how they advanced and reflected the medium and what contributed to their popularity. In this edition, Gossip Girl, which ran for six seasons and 121 episodes between 2007 and 2012.
When The O.C. ended in 2007, the show's creator, Josh Schwartz, followed it up with two very promising but very different series. One was the NBC spy dramedy Chuck (co-created with Chris Fedak), which took Schwartz out of the teen-soap game, but allowed him to keep one foot planted in Orange County: Chuck's premise was essentially "What if an adult Seth Cohen became a spy?" The other show, The CW's Gossip Girl (co-created with Stephanie Savage and based on the series of young-adult novels by Cecily Von Ziegesar), was another tale about privileged high schoolers—only set on the East Coast this time. Neither show was a hit in the ratings, but Gossip Girl wound up running for 121 episodes, concluding long after its pop-cultural significance had waned. While Chuck fought for a third-season renewal in 2009, Schwartz told The New York Times, "Chuck probably gets double the ratings of Gossip Girl. Gossip Girl has obviously hit this cultural nerve in [a] really specific way."
Earlier in the show's run, Schwartz said he took on Gossip Girl because he "liked the idea of doing a show like this at The CW, at a time where there weren't a lot of these kind of shows out there. It reminded me of the glory days of The WB when I was in college… Those early years of Dawson's Creek, Felicity, Buffy, that whole period of stuff." But those shows—all of which aired on the networks that merged to form The CW—were much more earnest than Gossip Girl. The O.C. had a fish-out-of-water character—Chino expat Ryan Atwood (Ben McKenzie)—to contrast the show's affluent California youths; Gossip Girl's Brooklyn-based aspiring writer Dan Humphrey (Penn Badgley) wasn't really from the wrong side of the tracks. But Schwartz had an answer to that as well:
I remember being a teenager extremely vividly, and the emotional traits of being a teenager are universal regardless of where you grew up or how much money you had. And so it's an opportunity to continue to tell those stories, get to relive those years for myself and maybe make amends or do things I didn't have the cojones to do at the time.
Those universal emotions made a pop-culture phenomenon out of a teen show about spoiled high-schoolers whose every move was tracked by an omniscient gossip blogger. With its cast members booking magazine covers and the series earning accolades from the press, Gossip Girl brought a critically acclaimed new series to a fledgling broadcast outfit that lacked a serious sense of identity. It created a brand for The CW, at a time when the network was still little more than the combined ruins of The WB and UPN (and before it was TV's go-to home for genre fare). It was cheekily dubbed "the Greatest Show of Our Time" and "the Greatest Teen Drama of All Time" by New York magazine. After slamming the series' pilot on this website, former A.V. Club film editor Scott Tobias recanted, praising the show as "a weekly celebration/parody of conspicuous consumption and spectacularly cruel adolescent back-biting." In his review of season one's "Victor/Victrola," he wrote: "It's currently the most socially irresponsible hour of network television this side of maybe Deal Or No Deal."
Despite Schwartz's belief that Gossip Girl was a love letter to the teen dramas of the past, the show actually stuck out because it wasn't like most teen dramas. It was dangerous and sexy and scandalous—and it was aware of these characteristics. Gossip Girl put on an air of maturity unseen in its genre since the reign of Beverly Hills, 90210's Dylan McKay. Even in the pilot, the kids didn't need fake IDs to drink alcohol at the bars of their family's hotels. And they weren't having secret parties with red Solo cups, either—they openly imbibed in front of their parents, and that was that. This is where The CW standard of staging a weekly event was born, with episodes dedicated to annual brunches, white parties, fashion shows, or even parties thrown on a whim to impress others. It's a pattern that even genre shows like The Vampire Diaries have maintained.
G/O Media may get a commission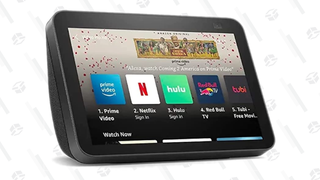 Gossip Girl depicted its characters' excessive power and wealth as a double-edged sword, but it still cast their Upper East Side ecosystem in an aspirational light, thanks to the audience surrogates in the Humphrey family. Dan judged how easily everything came to his more affluent classmates, all the while dating and loving the poster girl for their consequence-free lifestyle, Serena Van Der Woodsen (Blake Lively). His sister Jenny (Taylor Momsen) lied, cheated, and stole in order to gain the respect of queen bee Blair Waldorf (Leighton Meester)—though there was never a chance of that happening. There were no "very special" episodes, and when a character learned a lesson, it wasn't one they learned for good. The show was covered in "white people problems," as every possible dilemma the Upper East Siders encountered could be solved with money, status, and a little bit of charm. Whether it was a hand-waved attempted rape or stealing a dress worth five figures from the home of a "friend," the characters of Gossip Girl did nothing on a small scale.
But that was the appeal. They were desperate for love (from their parents or their significant others), they still wanted to get into college (of their choice or their parents' choice), but none of it had the intimacy of a Dawson's Creek. Decadence on the outside but honesty on the inside worked well for The O.C., and that was Gossip Girl's motto, too—only intensified.
While promoting Gossip Girl and Chuck, Schwartz reflected on The O.C.'s early days: "We were blowing through stories as fast as can be, which is what I think made that first season so much fun." But that's also what hurt The O.C. after its first season: Doing too much, too soon in the span of 27 episodes meant that each subsequent season had enormous expectations to live up to or surpass. (They never did, even in the return-to-form fourth season.) History repeated itself with Gossip Girl, which achieved in 18 episodes of a strike-shortened first season what The O.C. did in 27. Those episodes provided astonishing moment after astonishing moment, whether it was Blair losing her virginity to show villain Chuck Bass (Ed Westwick) in the back of his limo, or Serena's explanation for why she previously left New York, straining her friendship with Blair and setting up her series-premiere homecoming: She "killed someone."
What made all of these moments worth it, however, was the fact that these morally questionable characters had a code: They were intensely loyal to their own. Following Serena's confession, Blair, Chuck, and Blair's ex-boyfriend/Chuck's best friend Nate Archibald (Chace Crawford) rally around their friend:
You can tell us anything. We don't judge. We're the non-judging Breakfast Club. We're your best friends. Anything you do is something we do too.
It was a moment of true acceptance in a world where everything is all about exclusion and self-obsession. Yes, this code was often exercised to the detriment of other characters—the Humphreys, any perceived outsider—but it was a code nonetheless. As the show progressed, that code translated to a Gossip Girl mission statement, turning everyone into a bulletproof "monster." Ultimately, it became a big part of the show's downfall.
Before the second season even began, Gossip Girl's purported earnestness was already in the rearview. The show had officially become a "guilty pleasure," getting people talking with the decadent and sinful lifestyles of its central teenagers. And Gossip Girl—both the show and its eponymous blogger/narrator—knew that you were "nobody until you're talked about." Thus season one's "OMFG" promos and the print and outdoor advertisements that preceded season two, which juxtaposed pearl-clutching reactions to the series with provocative stills of Lively and company.
The campaigns got people talking, but they were out of line with Josh Schwartz's vision. "The network came up with that, and I just stood back," Schwartz told New York Magazine. "When you drive by a poster for your show and it says, 'Every parent's nightmare,' you have mixed feelings." As Schwartz began to shift his focus to Chuck, Stephanie Savage took the reins at Gossip Girl, which—in a case of déjà vu—now had to be bigger and better than it was the year before. The season opened with a summer vacation in which Chuck and Dan slept with every woman in sight, Serena was pretending to date Nate, Nate was having an affair with an older woman (Mädchen Amick), and Blair was dating an English noble.
It was an instant return to a world of chaos, and it did not stop. Nate's older woman eventually started paying him for sex and threatened to send his father to prison if he tried to end their arrangement; once class was in session, Dan had an affair with his English teacher, officially winning teen-drama bingo with one of the genre's most overused tropes. Chuck's dad Bart (Robert John Burke) died (though that's overturned in season five), so Chuck fell into a downward spiral; Dan's dad, Rufus (Matthew Settle) learned that he had a son with his old flame/Serena's mom, Lily (Kelly Rutherford). Viewership declined nonetheless, and come season three, both Schwartz and Savage stepped away from the show's day-to-day operations. Joshua Safran, who'd been a writer on the show since the first season, became the sole showrunner, ushering in even more "OMFG" moments. But all the musical guest stars, secret relatives, and sexual gamesmanship (Chuck trades Blair to his uncle in exchange for a hotel! Serena has an affair with Nate's politician cousin! Nate beds down with his partner in a new journalism venture—who might be Chuck's mom!) couldn't improve the ratings. What was once appointment television was being forgotten.
Amid all the changes, there was one constant: Gossip Girl (voiced by an unseen Kristen Bell), who followed the characters even after they graduated high school, rather than focusing on the next batch of Upper East Side brats and Brooklyn urchins. Early seasons of the show would sometimes make jokes about the blogger's true identity; fans theorized that Gossip Girl was either Serena's younger brother Eric (the prime suspect, before Connor Paolo split for Revenge) or Blair's maid Dorota (Zuzanna Szadkowski). But it wasn't until the final seasons that unmasking Gossip Girl became an integral part of the show's DNA.
By season five, the characters were driven by their need to know who Gossip Girl really was, with the two characters who were canonically the least "book smart" and ruthless—Serena and Nate—leading the charge. That's the key to the show's 100th episode, "G.G.," a weak love letter to Gossip Girl's lapsed prime, full of callbacks to the first season in conjunction with a countdown to the "reveal": Gossip Girl was none other than scheming Georgina Sparks (Michelle Trachtenberg)… for the moment. Since all of the blogger's power stemmed from a single laptop, what followed was a transfer of the pseudonym to Gossip Girl's biggest victim. Instead of Serena's retrieval of the laptop being the end of the Gossip Girl chapter of Gossip Girl, it became a way for her garner more attention as she created blog posts about herself. In a moment that reinforced the series' growing pointlessness, Serena's power as Gossip Girl was such that she was able to sabotage her cousin Lola's audition for Lars Von Trier with a simple email blast. Because, at this point, the insular blog about Manhattan's elite had gained such notoriety that even a respected Danish filmmaker factored it into his casting decisions.
By the final season of Gossip Girl, the show had started something that it intended to finish, and it had 10 episodes to do so. "People always talk about endgames, but the thing is, if you have have a firm ending set in stone, everything you write runs into that wall," Joshua Safran said prior to the sixth season. "It has to be done with a shifting, malleable approach." Safran had left for Smash following season five, so Stephanie Savage took charge once more. Viewership for the season premiere hit an all-time low, even as the series spoke of how the latest answer to the Gossip Girl mystery "would be a major media coup." The audience members who remained were going to learn who Gossip Girl really was—whether they cared or not.
On December 17, 2012, the reveal finally occurred—and the show was ushered into the same realm of controversial series finales occupied by How I Met Your Mother, Dexter, and St. Elsewhere. No, it wasn't all a dream, nor did Chuck Bass become a lumberjack—but the finale featured a couple of weddings, Lisa Loeb, and the revelation that Dan Humphrey (with a little help from his sister Jenny) was Gossip Girl the whole time. Except for when Georgina and Serena were Gossip Girl.
At that moment, "Gossip Dan" memes were born, and the time spent getting to know and investing in the characters of Gossip Girl was rendered into an absolute joke. The reveal didn't make sense within the context of the series, and it didn't make sense in the context of the season that was building up to it, either: Early in season six, a chapter of Dan's second Upper East Side exposé completely blows up the relationship between the author and his father. Things get so tense between the Humphreys that a Gossip Girl blast announces that Rufus is going to sue Dan, Nate, and Nate's newspaper. It would be one of the many moments in the series where Gossip Girl chose his readership over the people he loved, and it would be another reason Dan—the show's original outsider and male romantic lead—was suddenly the most irredeemable character of the series. But within the show, the reveal that Dan was Gossip Girl doesn't get him shunned or even punched. Instead, it finally gains him acceptance into "the non-judging Breakfast Club." The news even leads to his reconciliation with Serena, and the couple is wed in a flash-forward epilogue.
Penn Badgley went from being known for being in Gossip Girl to being known for being Gossip Girl, and even he was confused by the decision. "I have to bite my tongue there," he said while discussing the finale in 2013. "The end was strange for me, for all of us. Because the characters did all end up together. That has been my problem with television—you start with something real, and it eventually becomes, against all odds, 'How do these six people still hang out every day?' It's fucking crazy. It's impossible. I mean, those six people—why do they even keep hanging out? Because they have to, because they're on a show. So you start to figure out these asinine ways to keep them all together." Six seasons in, the intensely loyal dynamic between Gossip Girl's main characters no longer made any sense; the show failed to maintain its "universal" emotional traits as well.
Even on a ratings anemic network like The CW, making it to 100 episodes is no easy task, let alone 121 episodes. But Gossip Girl did it—it just grew further and further away from its original vision in doing so. Sonia Saraiya's series finale review for The A.V. Club noted that despite it being "an episode that had two weddings, a death, and the long-awaited unveiling of the gossip girl herself," the episode was "excruciatingly boring." In trading in an earnest story for a scandalous one, the show ultimately became neither, as the show's need for everything to be shocking made it so that it was no longer shocking. That "non-judging Breakfast Club" mentality remained, however, only in the most warped possible way: In that finale, Serena referred to Dan's years torturing and stalking his friends, acquaintances, and family as Gossip Girl as his "love letter" to all of them. A show that was at one time self-aware in how awful its characters could be ultimately became complacent in that, and in that way, it was a fitting ending to what Gossip Girl had become. The show that Josh Schwartz had made—that show that reminded him of "the glory days of The WB"—had gone the way of The WB long before the finale.