After an unexpected four-month hiatus, Gravity Falls returns tonight with one of its strongest examinations of what makes each of the show's five main characters tick. The supernatural stuff is there in the form of the terrifying, if oddly childish Gremloblin, but that's merely one small part of the larger conflict between Mabel and Grunkle Stan. This is a straightforward, character-building sort of episode, which works surprisingly well as a reintroduction to the show's core elements after such a long time away. It isn't just Mabel, Stan, Dipper, Soos, and Wendy who get time in the spotlight, as the Mystery Shack itself takes on new importance in the episode's narrative. In previous episodes, it's been the setting for the Pines' hijinks, and even the instigator with it its magical copy machine and room full of cursed wax figures, but "Boss Mabel" is the first episode that really digs into why the Mystery Shack is so important and how its daily demands shapes the characters.
The episode gets off to a slightly shaky start, depending on how you feel about Stan. He's easily the loudest and broadest of the five main characters, and since this episode throws the spotlight on the deficiencies of his managerial style, the opening act emphasizes his obnoxiousness even more than usual. In particular, Stan has a tendency to cackle at his own jokes. He even declares "That's funny!" as Soos is attacked by a large bird right after Stan mentions that might happen, which calls too much attention to a pretty basic visual gag. Ironically for the show's oldest character, Stan often represents the show's more juvenile strains of humor, and a little of this tends to go a long way.
Things pick up when Mabel confronts Stan and makes the big wager, as it gives Stan a clearer purpose in the story than simply being a jerk. When Stan considers Mabel's suggestion that he should go on vacation and decides to turn it into a bet, the animation shifts subtly to lend Stan a more menacing air. The straight-on shot of Stan, the carefully considered hand gestures, and even the subtle shift to more shadowy lighting all give the impression that Mabel hasn't so much made a deal with a profession conman but with the devil himself. Here though, Gravity Falls doesn't overplay its hand. Although Stan takes on a diabolical air when he senses an opportunity to swindle someone—even if it is his own grandniece—it fast becomes clear that he's just making this up as he goes along, particularly when he presents Mabel with his hastily made "LOSER" shirt. And once Mabel tells him what he will have to do if she wins, Stan doesn't play the smooth, in-control conman. Instead he loses his temper and gets into a shouting match with a 12-year-old girl, culminating in a heart sticker being plastered on his oversized nose.
The reason why that scene works, and indeed why so much of "Boss Mabel" works, lies in how deftly the show handles its characters. One character proclaiming she can do another character's job better than he can and then being proven wrong when they switch places is a familiar sitcom plot, but "Boss Mabel" is a superior example of this story type because it doesn't force anyone to act out of character just to keep the plot chugging along. Stan argues at the outset that if he gives employees everything they want, then they would walk all over him. This is clearly the hard lesson that Mabel will learn by episode's end, and a lesser show might well have had Dipper, Soos, and Wendy all realize just how easy Mabel is to manipulate and use this as an opportunity to get out of work. That is indeed exactly what Wendy does, but Gravity Falls has firmly established in previous episodes that Wendy is a lazy worker who will come up with the slightest excuse to shirk work, and she's not above the occasional self-serving manipulation. Wendy is a teenager, after all.
G/O Media may get a commission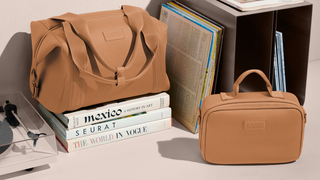 15% off
Dagne Dover Travel Kits
But it wouldn't make sense for Soos or Dipper to treat Mabel so cruelly, at least not intentionally, so the episode instead focuses on what happens when no one is around to veto their enthusiastic but ill-conceived ideas. Soos has some hidden reserves of wisdom when it comes to paranormal matters, but he's also a man-child without an ounce of common sense. When presented with his long-awaited mascot outfit, he doesn't even consider the possibility that he could wear more than just underpants while inside the rather revealing costume. Mabel offers him unconditional encouragement and praise, in accordance with Succeeding In Management 1983, but that doesn't work when dealing with someone who can't tell good ideas from terrible ones and will nervously yell his mangled lines of dialogue in the face of a pepper spray-wielding customer. Soos' eventual adoption by a pack of wolves is the perfect in-character excuse for why he can't help; whereas Wendy halfheartedly claims she has a headache, Soos doesn't abandon Mabel and the Mystery Shack out of laziness, but rather because he believes he's forged a familial bond with a bunch of wild animals. All this makes Soos a terrible employee for Mabel while preserving all his well-established positive qualities.
Since he's fundamentally a smart, helpful kind of guy, it's not as immediately obvious why Dipper would be a pain in Mabel's neck—indeed, a particularly sweet touch is how instantly supportive Dipper is of Mabel once she really takes charge, confidently assuring her that she became what she had to become in order to get anything done. "Boss Mabel" thankfully eschews the obvious answer to why Dipper might be a bad employee, which would have been to send him mooning after Wendy for the umpteenth time. Instead, the show gets back to Dipper's first love, which is hunting monsters and proving that he's right and the world is wrong when it comes to the supernatural. Dipper grabbing a medieval flail and jumping out a window while yelling, "Dipper, out!" is probably my favorite quick gag of the episode, and it's a nicely confident touch to have Dipper's capture of the Gremloblin happen entirely off-screen.  In an episode full of great characterization, even the Gremloblin is a weirdly three-dimensional monster, displaying a childlike fascination with the store's bric-a-brac and a deep-seated fear of turning into his father.
Through it all, Mabel is the architect of both her destruction and salvation. The Gremloblin could easily have escaped its cage through brute force, but it's so much more thematically satisfying—not to mention way more hilarious—to have Mabel leave a key taped inside the cage so he can take his five-minute break. When Mabel finally takes charge, Kristen Schaal adds a layer of Stan's crotchetiness to her performance, which is helped along by the sudden addition of "ulcer" and "lollygagging" to her vocabulary as well as the animation of her Stan-like facial expressions and posture. But before she reaches her breaking point, we're treated to some vintage Mabel adorableness, which includes wearing a smart business jacket complete with shoulder pads, hanging her own customized motivational posters, asking squirrels to fill out their time cards, and sending her pig Waddles to get her a latte, even though he just eats the money she gives him. Really, there's no surer sign that Gravity Falls is finally back in all its glory than the sight of Waddles sloppily but enthusiastically attempting to hold Mabel's calls. After four months away, it's the little things like that that I'm most glad to have back.
Stray observations:
The whole Cash Wheel subplot is a lot of fun, as it finds the perfect environment for Stan's crassness to run wild. The fact that the game-show host inexplicably has a '70s afro is a delightful touch.
I feel like the episode missed a beat by not revealing what Mabel's worst nightmare is. I'm also still debating whether it makes sense for the Gremloblin's worst nightmare to involve looking in a mirror. Probably best to not think too much about that one.
Hopefully, nobody cares too much about the letter grades to begin with, but I will say that I'm recalibrating my grading scale a bit starting with this episode, as I think I was slightly inflating the grades toward the end of the last batch of episodes. Still, Gravity Falls has maintained such a consistent level of quality that this should be a fairly minor concern.
"When fighting a Gremloblin, use water… only as a last resort, because water will make it much more scarier. Ah! Who writes sentences like that?" That's pretty much the perfect way to do a meta joke. It calls attention to the ridiculousness of the gag without breaking the reality of the moment, as Dipper remains terrified throughout.
"Billy, your face! It's ruined!" That seems like a kind of terrible reaction for a mother to have to her son getting hit in the face.
"Do I look like an idiot, folks? The word is 'Gimmee'! Two e's!"
Could anyone else go for some Chipackers right about now?