Harley Quinn is a sales juggernaut at DC Comics. Her main ongoing title is regularly one of the publisher's top sellers, and her spin-off series, Harley's Black Book, debuted as the eighth-best-selling book of December. Comparisons have been made between Harley and Marvel's hit character Deadpool, as their irreverent personalities and violent tendencies have resonated strongly with readers. Jimmy Palmiotti, Amanda Conner, and Chad Hardin's Harley Quinn is turning into a character-defining run not unlike Joe Kelly's initial run on Deadpool, giving Harley a bigger role in the DC universe while expanding her supporting cast and revealing new facets of her psyche. That last bit is what makes Harley Quinn #25 (DC) such a powerful read, featuring a turning point for Harley when she confronts her ex-boyfriend, The Joker.
While appropriate for the character, the writing on Harley Quinn can be a bit scattered, but #25 is the book's most focused issue. The cast is relatively small compared to the title's usual ensemble, and the story primarily deals with Harley's relationships with her best friend/sometime lover Poison Ivy, new beau Mason Macabre, and former flame The Joker. The opening conversation between Harley and Ivy effectively summarizes the evolution of their friendship in the hands of Palmiotti and Conner, and also spotlights how this team uses sexuality and nudity to enhance the intimacy between the women. Harley casually taking her top off around Ivy isn't gratuitous; it reinforces how close they are, both as friends and romantic partners. It also helps that Hardin's body language for the topless Harley isn't exploitative in any way, and despite her revealing costume, Harley isn't overly sexualized in Hardin's artwork.
Harley's costume redesign may have been greeted with ire when it first debuted, but it plays an important part in distancing Harley from her former role as The Joker's accomplice, girlfriend, and punching bag. She's not the woman in the full body harlequin suit anymore; she's shed her old skin and emerged a new person, one who refuses to be shamed for what she wears or who she loves. And if the developments in #25 stick, Harley's never going back to her old self again. After Harley breaks Mason out of his cell in Arkham Asylum, she seizes the opportunity to cut ties with The Joker, who is still convinced that Harley will come crawling back to him. What follows is a tense conversation that leads to a grisly fight, and that pattern of verbal abuse leading to physical violence is one that Harley refuses to engage in anymore.
G/O Media may get a commission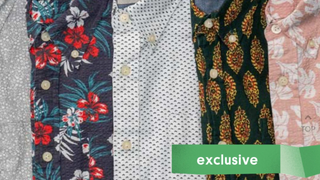 Grab three styles!
JACHS NY Summer Pack
Palmiotti and Conner write an excellent Joker who sounds a lot like the version in Batman: The Animated Series (a welcome change after Scott Snyder's Joker, who prioritizes horror over humor); Hardin's interpretation of The Joker combines the different versions of the character depicted in that seminal cartoon. Hardin's linework has become cleaner over the course of the series, and Alex Sinclair's slick colors blend very well with Hardin's smooth visual style. Harley and Joker's scene is the result of two years' worth of build-up, and all of the positive change this creative team has made to Harley show how a person can thrive when they leave an abusive relationship and surround themselves with people that genuinely care about them. The old Harley was defined by her dysfunctional relationship to The Joker, but the new Harley has cut the clown out of her life and is all the better for it. [Oliver Sava]
---
It takes a lot of incredibly difficult work to create a comic that appears effortless to readers. Olivia Stephens' Alone (webcomic) on the surface appears to be uncomplicated and undemanding, a story of loss and the rediscovery of love that she's been publishing online for a year and a half. But as each chapter of Jack and Sarah's story unfolds, layers are peeled away to reveal an intimate and complex fiction that may not be so fictional after all. Jack is a widower, slow to allow new happiness into his life, and Sarah is the person who unwittingly stumbles into his fears and tears them down.
This is one of those deceptively small comics, at first feeling sweet, but also has something specific and limited to communicate. But Jack and Sarah both have issues that bubble up organically and unexpectedly, just as happens in actual relationships, and watching them navigate those land mines makes everything feel far more universal. Where Stephens' work really shines is in the sheer variety of her characters and their histories, including women, people of color as well as interracial relationships, LGBTQ+ characters, bilingual multigenerational families, people struggling with addiction, and more. Stephens has created a comic that reflects the way reality actually looks, creating a work stronger and more nuanced than a lot of professionally produced books.
Stephens' art has grown and improved since the first few posts in really remarkable ways, but what's consistent from the very first pages is her brilliant use of color to accentuate emotional responses. The majority of Alone is in sketchy grayscale with excellent attention to expressions, body language, and setting. Red plays a huge part in Alone, but starting with "Listen," Stephens adds psychedelic water colors heavy in blues to portray the magic that music can bring into our lives. The most stark and astute use of color comes in the "Familia" chapter: Sarah is made aware of her difference from Jack's family, and Stephens uses color to literally separate her from the group in a way that's self-conscious and social commentary at the same time. It's difficult to discuss without spoiling the scene or her method, but it's a great use of a unique stylistic choice and proves that Alone is perfectly suited to the medium.
Alone's only real weakness has nothing to do with the comic at all: Stephens hosts all the chapters on Tapastic. Tapastic is built so you can subscribe to comics like an RSS feed, optimized to be used on their mobile app, which is absolutely the future for most comic content, but it has a steep but fast learning curve if you read comics on the website instead. Stephens is a talent to keep an eye on both as a writer and an artist. It'll be exciting to see where she goes next; hopefully it'll be on her own website. [Caitlin Rosberg]
---
Tillie Walden's What It's Like To Be Gay At An All-girls Middle School (Vox) is as incisive as at is accomplished, and Walden's heralded role as the comic industry's latest wunderkind is evidenced. The 20-year-old cartoonist has already published two well-received graphic novels. This story, published online by Vox, is fully explained by its title, and Walden clears the numerous hurdles that usually trip up autobiographical comics.
Her linework is clear and expressive—these weighty black lines coated by blocks of light pink—and she employs an aesthetic that is well-suited to the tone of the work without being overwrought and overbearing. Under her pen, eyes are simple black dots and the lines constructing some objects never connect; in long shot, her figures become hyper-abstracted, and in the fuzzy vagueness of those details, Walden approximates that feeling of remembering. She privileges emotional-narrative beats over active story "moments," so the depiction of an interior emotional arc/conflict is given priority over actions, reactions, and interactions. The story is told through grasps at the ineffable rather than in a meaningful sequence of events. The story's big moments are found in things like changes in facial expressions between two panels or the captioned soliloquy that subjugates the images, turning them into a montage. In turn, Walden grants What It's Like a trim, lithe structure; Walden makes herself immediately felt through the universality of these small moments. Unlike typical autobiographical fare, Walden explicates herself—not just a time in her life but the raw, emotional throughline of that time—in a way both touching and entertaining. This stands in fairly stark contrast to the propensity of autobio cartoonists to painstakingly relate their lives in the most minute detail.
The autobiographical comics tradition is rooted in Proustian narratives, a form that's often hard to sustain when the stories being told are so banal and uneventful. Some, like Boulet, render those tales with a vigorous visual flourish. Most, however, are too long and stifled by an overabundance of the quotidian. Walden eschews that narrative tradition and presents What It's Like in a tone and structure more similar to an oblique personal essay. This allows her to zoom in and out quickly and with ease, and she's not beholden to telling a "story" the way other autobio cartoonists are. Walden keeps the work tight and precise. It's hard not to admire how well she explicates this complex medley of emotions—navigating longing and coming to terms with yourself, then expressing that self amid a set of norms that complicate those efforts. [Shea Hennum]
---
The comics of Aidan Koch are not recommended for readers unwilling to tolerate a little bit (okay, a lot) of ambiguity. Her stories stubbornly refuse to cohere into actual stories, functioning instead as fractured narratives built on evocations of mood and emotional inference, but tantalizingly short on specifics. The Blonde Woman (Space Face Books) delights and perplexes in equal measure, but ultimately triumphs as a showcase for Koch's delightful, distinctive illustrations. It is possible that when the history of art comics over the last ten years is written, Frank Santoro will rank surprisingly high as an influence on the current generation of cartoonists. Although he wasn't the first to utilize a sketchy, purposefully unfinished pencil art style, he was one of the earliest—if not the earliest—to win wide acclaim for the technique. Koch's style takes this kind of studied minimalism to its obvious conclusion, producing narratives that seem to evaporate off the page as they are read.
The first chapter introduces the titular blonde woman, who wakes in the middle of the night to brush her hair before leaving to look at the moon. Who is she? What is she doing? Who is it that asks, off panel, "Where is she going?" The reader meets other characters in the next chapter—we think they're discussing the blonde woman, who arrives late and distracted. For what, it is never revealed. She's out to meet someone, a man who appears to be a dancer. They meet at the beach to look at the stars. It's still dark out.
What's going on here? The blonde woman appears to be sick, perhaps convalescing. We see her doubled over throughout the book, back bent as if she were being pulled to the ground by a great weight. Her face is in focus but much of the rest of her body appears to be abstracted. Is she suffering from depression? One of the book's final images sees her descending further into a dark tunnel, with a lone candle struggling to maintain light against an oppressive darkness.
In a 2015 interview with The Paris Review (not an outlet known for their comics coverage), Koch stated in reference to her fragmentary style that, "with drawing you're selecting what people see all the time instead of giving them a whole frame of imagery. I'm taking that to an extreme, and I think that helps the play between watching a narrative and experiencing a narrative—you don't necessarily know whether something is just what someone else is seeing or whether it's something that's happening emotionally." The interplay between subjective perception and objective narrative is crucial throughout The Blonde Woman. The reader doesn't know, and is given no real criteria to judge, whether or not events are occurring inside or outside the woman's head. Koch gives the reader tools that they can use to assemble some kind of meaning out of these disparate elements, but she leaves the finished product in the air. What the reader comes away with may very well depend on how much of themselves they are willing to invest. [Tim O'Neil]