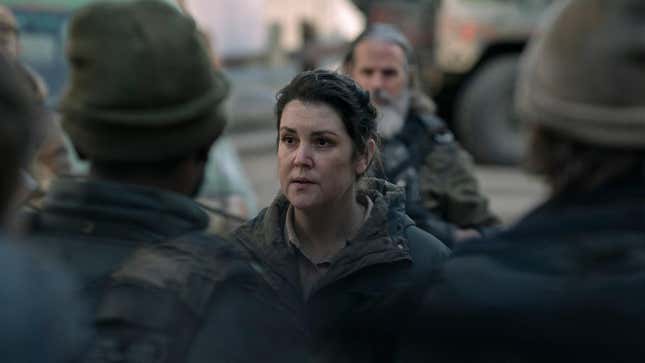 HBO's Sunday night programming continues to be infallible when it comes to dealing with competing network broadcasts. Despite 12.4 million people tuning into the Grammy Awards on Sunday night, The Last Of Us' newest episode brought in 7.5 million on the same evening—a 17 percent increase from last week.
While the Grammys certainly brought in more viewers overall, The Last Of Us took no hit in viewership. We're going to give all the credit for this to the all-powerful Melanie Lynskey, who made her series entrance with "Please Hold My Hand."
The Last Of Us' week-to-week growth threatens to outpace a fellow HBO juggernaut: House Of The Dragon. During its premiere, 10 million people tuned in to watch the Game Of Thrones prequel series. However, per Variety, HOTD's rating took a dip with the third episode and remained at that lower level the rest of its first season run. With The Last Of Us' current trajectory, it could easily surpass HOTD's high by the end of its first season.
Awards ceremonies are not the stiffest competition network television can offer, but The Last Of Us already stepped out of the looming shadow of the upcoming Super Bowl. With a thoughtful switch-up in the programming schedule, HBO moved the airing of The Last Of Us' fifth episode to Friday, February 10. This concession may prove to be a stroke of genius, as fans will have the whole weekend to view the episode.
HBO's not shied away from the strength of the Super Bowl numbers before, as the second episode of Euphoria aired concurrently with the big game last year. The teen drama reached its biggest audience yet that night, but even those numbers pale in comparison to what The Last Of Us has brought in so far.
However, the ultimate test will still come on March 12, when The Last Of Us' finale airs at the same time as the Super Bowl. While HBO was willing to move its upcoming episode to a Friday early release, it seems unlikely that they would do anything to jeopardize the finale. And while Oscar ratings have also steadily fallen in recent years, the inclusion of blockbusters like Avatar: The Way Of Water and Top Gun: Maverick into the best picture race is expected to draw more eyes than in the past couple of years.