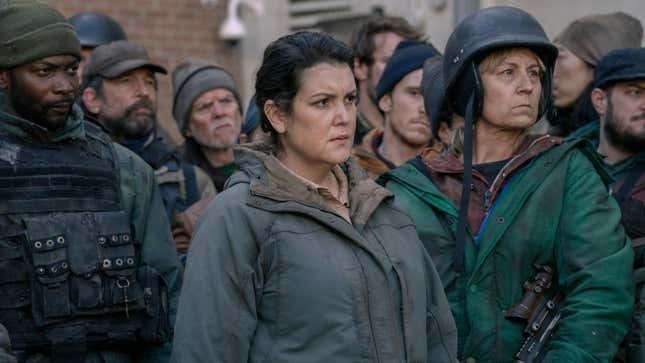 Last week's episode, "Long Long Time," was...a lot. An emotionally racking 75-minute epic about the once-in-a-lifetime romance between two middle-aged survivors of the fungapocalypse. We follow Bill (Nick Offerman) and Frank (Murray Bartlett) from their meet-cute in a trapping pit to an agonizing euthanasia-suicide pact 16 years later. Offerman superbly matched Bartlett: both sexy, vulnerable, spontaneous. Craig Mazin's script was a marvel of condensed storytelling, creating a layered, private history of two bearded gents and the gated world that was their own personal Eden. In the end, love triumphed over death and mushrooms.
Audience reaction was quite a lot, too. Folks screamed from the social media rooftops that this was THE SINGLE BEST EPISODE OF TV EVER FOREVER. Hypothetical awards were summarily thrust into actors' arms. Tattoos parlors were overrun with orders of Bill and Frank toasting strawberries. I graded it "A," and was excoriated for omitting a plus. (The A.V. Club grading system tops at an "A.")
So forgive your humble recapper if he hoped this episode would not break his heart into tiny ugly-crying shards. Joel and Ellie are heading west in Bill's truck, great. Let them take in the scenery, drive past remnants of civilization, maybe whack a funghoul or two as they get to know each other.
G/O Media may get a commission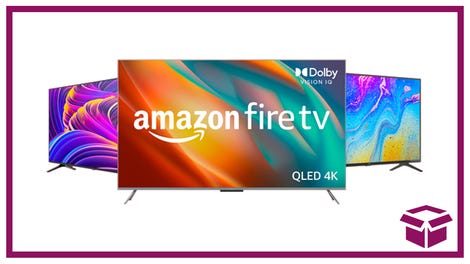 Ooh. stunning.
New Amazon Fire TVs
My wish was somewhat granted. Half of Episode 4 was a road trip, which fit nicely with the task-based nature of the gaming source. You drive, you camp out in the forest, you find a way around an automotive mega-pileup, you drive some more, and so on, until you fight an infected or malicious humans. The other half was dealing with said malicious humans, a populist uprising that had taken over Kansas City, essentially perpetuating the same conditions as the FEDRA troops: rule by fear, total obedience, and constant paranoia. Comparing the KCMO mess to the domestic bliss of previous episode recalls Agent K's line in Men in Black: "A person is smart. People are dumb, panicky, dangerous animals."
Written by Mazin and directed by Jeremy Webb, the episode begins with Ellie (Bella Ramsey) doing her best Travis Bickle in a gas station bathroom mirror (not that Ellie would know what Taxi Driver was, or what a taxi was, or that she's Jodie Foster, sort of). Ellie is practicing holding the gun she secretly pocketed at Bill and Frank's place. She aims the pistol at her reflection and makes "pew! pew!" noises. She and Joel are on their second day driving to find Joel's brother Tommy in Wyoming. They're stopping every hour or so for Joel to siphon gas from other cars. Apparently gas breaks down over time; you burn through the stuff faster. Learn something new every day!
Before they hit the road again, Ellie zings Joel with puns from a raggedy paperback she carries around: Will Livingston's No Pun Intended: Volume Too. What did the mermaid wear to math class? An algae bra. A teenager with a book of puns on a cross-country road trip. This job is becoming more horrific than even Joel imagined. He smiles a millimeter, which Ellie clocks.
In the car, Ellie shows Joel a cassette tape from the back: Hank Williams. Joel pops it in and the doleful "Alone and Forsaken" starts to play. Ellie next digs out a gay porn magazine called Bearskin, jokingly asks why some pages are stuck together, then obeys a flustered Joel to toss the mag out the window. Ellie's irreverent, unembarrassed reaction to the male nudity, first, is funny, but second, indicates she may not be into boys. A straight girl finding that skin rag would probably not wave it around to tease Joel.
Cruising along deserted, mossy highways as Williams croons makes a for a few poetically spooky moments. Toward the end of the day, they pull off the road to set up camp and eat (20-year-old Chef Boyardee Ravioli). As they dine, Joel notes that their forest location "is too remote for infecteds." Clearly the government response to the outbreak was a colossal mistake: by herding citizens into bombed-out urban Quarantine Zones, they contained the fungal pathogen but also created death traps for survivors. If the countryside is relatively free from infecteds and fungal networks, do the rich and powerful live in compounds there? Or is it just roaming raiders and slavers?
Pascal modulates Joel masterfully as he sheds layers of accrued emotional armor—thanks to Ellie's persistent mix of humor and decency. He visibly relaxes as they share bits of their past, Joel assuming the role of surrogate father, explaining trucks or the physics of siphoning or, eventually, how to hold a gun. When Ellie tells him his morning coffee tastes like "burnt shit," he takes loud, defiant slurp and gives side eye. At last, Pascal the actor has a chance to spread his wings with glimmers of humor and warmth, the traumatized, reluctant father-figure (a lesser series would have flashes of misrecognition, Ellie "becoming" Sarah from Joel's POV).
Joel's brother Tommy is two days away in Wyoming, he thinks. The last radio contact with him came from a tower close to Cody. At Ellie's prodding, Joel tells her about Tommy. He enthusiastically signed up to fight in Desert Storm, but "didn't feel much like a hero." Twelve years later the outbreak happened, and Tommy convinced Joel to join a group heading to Boston. That's where he met Tess. Then Tommy met Marlene and joined the Fireflies. "Same mistake he made when he was seventeen," Joel grumbles. "He wants to save the world." Joel reports that Tommy recently quit the Fireflies; he's driving there to join him.
Last episode we discovered that Joel and Tess had been partners for more than a decade. In "Long Long Time," they're shown in a lunch meeting with Bill and Frank in Lincoln, having slipped out of Boston Q.Z. Certain aspects of their relationship remain murky, at least to me. Was it sexual? True, they share a bed after an exhausting day in the pilot, but to sleep. Can we expect flashbacks that show intimate moments between the two?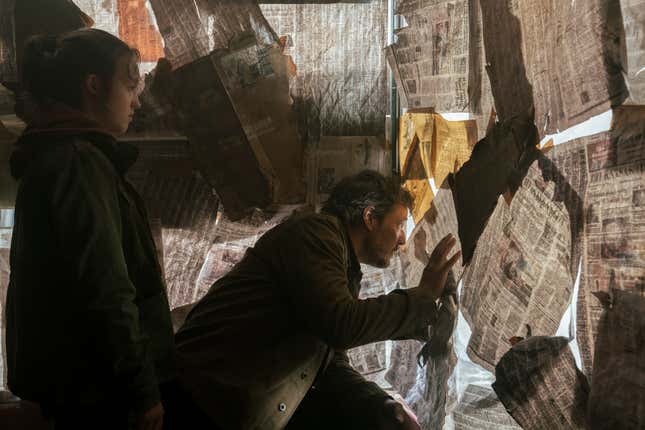 Joel doesn't believe in the Fireflies or FEDRA—of course. And he certainly won't approve of the jittery, heavily armed rebels they're about to encounter in Kansas City. "If you don't think there's hope for the world, why bother going on?" Ellie asks quietly. "You haven't seen the world so you don't know," Joel growls. He does believe in family. But "you're not family," he informs Ellie, "you're cargo." Not a lot of layers to tease apart here. Joel is the Hero Who Gave Up. Unwittingly, he is on a path to broaden his humanity, to extend sympathy to the whole human race, including himself.
Outside Kansas City, countless abandoned or wrecked cars block the highway. Joel gets out with his rifle to scout the way forward. A Sara Lee 18-wheeler has jackknifed at the entrance to the underpass, impossible to get through. Trying to drive around the underpass, Joel ends up taking them into the city (a bad move that recalls the pilot prologue). As they cruise the streets trying to find a way back to the highway, they get ambushed. A cinder block nearly shatters the windshield, Joel drives over spikes and they get pinned down by gunfire after crashing into a laundromat. Joel manages to shoot two of the attackers. A third (Juan Magana) surprises him and pins him to the ground, choking him with his rifle. Ellie crawls out of her hiding hole and puts a bullet in the guy's back. Identifying himself as Bryan, the bleeding and desperate kid begs for his life. Joel tells Ellie to walk away and finishes the guy off with his own hunting knife.
Next we get a glimpse of life among the civilian authority that has wrested control of the city from FEDRA. Kathleen (Melanie Lynskey) interrogates an older doctor (John Getz) in an old prison cell. The latter is accused of helping others (a splinter group, perhaps) escape. Kathleen ominously wonders if this was the cell where her brother was beaten to death by FEDRA agents. She pulls a gun on the doctor, who appeals to her sense of decency: He delivered her.
Lynskey is a counterintuitive choice to play this dangerous figure. Her thin, folksy voice evokes more Midwestern substitute teacher than a cold-blooded rebel leader. All due respect to the New Zealand-born Yellowjackets star, but I'm waiting to be convinced. One suspects Mazin and Neil Druckmann were going for a slight shock effect, like Marge Gunderson in Fargo, but with a banality-of-evil vibe.
Kathleen's standoff with the doc is interrupted with news of the men that Joel killed. Her top lieutenant (Jeffrey Pierce) reports the killings were probably done by outsiders, maybe "mercs." Kathleen speculates that "Henry" called in the killers using his radio. She strides back to the interrogation cell, shoots the doctor dead, then instructs her people to "find every collaborator and kill them all." When, later, Kathleen is shown evidence of fungal forces pushing up through the concrete in a basement, she tells her lieutenant not to tell anyone; they need to deal with Henry first.
Not seeing a lot of steady leadership from ol' Comandante K. Execute the camp doctor? Ignore a possible fungal breakthrough? How the holy heck is she in charge? Did no one else apply for the job?!
Joel and Ellie break into a building and climb 33 flights to find an abandoned office to sleep on couch cushions. In the morning, they'll get to the roof and scan for the way out of the city. We learn a few things. Ellie pensively admits that shooting Bryan wasn't her first time using violence on someone. As they bed down, Joel asks what she means, but Ellie doesn't want to talk about it (TBF = To Be Flashbacked). Ellie notes that Joel is a little deaf in his right ear. He says it's probably from years of shooting. As they drift to sleep, Ellie tells another pun joke, this one about diarrhea. Joel can't stop from laughing. Beautiful to see. Fade to black.
By federal law you can't end an episode of The Last Of Us on a poop joke, so in the closing moments, Ellie tells Joel to wake up. He does and sees a stranger (Lamar Johnson) training a gun on them. He turns the other way, and sees a boy (Keivonn Montreal Woodard), also armed, with a red bandit mask painted on his face. This must be Henry and his younger brother, Sam. Another character parallel of Joel and Ellie, as were Bill and Frank, in their own way. Next week I assume they'll be getting the hell out of Dodge. I'm calling the title now: Escape From Kansas City.
So far, this one's the most pulpy and formulaic episode, with a too-subtle concept for the villain (regardless of whether it follows the game) that strains credibility. Still: sick action, a blossoming Pascal, and killer fungus on the way.
Stray observations
R.I.P. actor Annie Wersching, far too young at 45. Wersching voiced Tess in The Last Of Us Naughty Dog game (not to mention 37 episodes of the show 24).
Given that the U.S. has a ratio of 120.5 firearms per 100 residents, the Kansas City uprising is plausible. How is the fungdemic unfolding in less gun-crazy countries?
As Joel and Ellie try to sleep in the forest, composer Gustavo Santaolalla provides evocative, spidery music, silvery strings to send a shiver down the spine.
As a magazine veteran who watched the internet ruin everything, I was pleased to see printed matter represented as a vital connection to our past. Even if it's lowbrow stuff, puns and porn humanize us.
Speaking of which, in the game, the Bearskin with sticky pages has a cover features a URL, bearskinworld.com. As noted here, the address leads to an animal rug manufacturer. Bill probably wouldn't have had a problem with that. Frank, on the other hand... No URL visible in the episode, but there is a piece on "College Hotties."
Per the Globe Cinema marquee in Kansas City, Underworld and Matchstick Men were playing during the outbreak. Significance? Underworld is about monsters fighting each other; Matchstick about a phobic con artist and a teenage girl who helps him out of his shell.