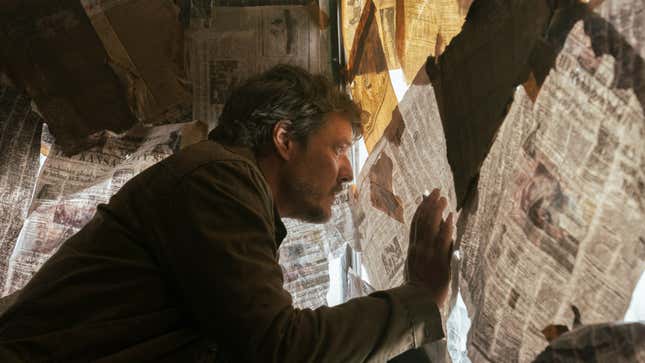 As far as television goes, this Sunday stands to look a lot less apocalyptic (for those of us who aren't die-hard Chiefs or Eagles fans.) HBO announced today that it will drop the next episode of The Last Of Us two days early, squarely avoiding any competition with Super Bowl LVII. Instead of airing episode five in TLOU's standard Sunday night time slot (or taking a time-honored crack at a post-Super Bowl episode) the next installment will be available on Friday, February 10, at 9:00 P.M. E.T.
Although the Super Bowl kicks off at 6:30 P.M. E.T. on Sunday—hours before TLOU standardly airs—that doesn't exactly mitigate the competition when a Rihanna halftime show is on the schedule. Plus, TLOU certainly has a stake in maintaining its steady ratings growth—over 6.5 million people tuned in to watch the series' third episode, marking a 12% increase from episode 2. Data from last night's episode four (which earned a B+ rating from The A.V. Club) will be released today.
Just over halfway through its inaugural season, TLOU's front-half run swiftly catapulted the series into an exclusive echelon of HBO originals: the ones that draw over 15 million viewers per episode. With TLOU, HBO has a record four of those airing right now, rounded out by Succession, The White Lotus, and Euphoria.

Unlike the cordyceps virus, the time slot switch-up isn't a forever thing: TLOU will return to its regular prime airing spot, Sundays at 9:00 P.M. E.T./ 6:00 P.M. PT. That's where the series will remain until its season finale on March 12.