1. Mr. Nanny 
Tuba-voiced pro wrestler Hulk Hogan was a ubiquitous media presence throughout the '90s, trying his hand at everything from music (1995's Hulk Rules) to restaurants (the terrifyingly punctuated Hulk Hogan's Pastamania!) despite showing very little talent for anything that didn't involve leg drops. Unsurprisingly, the Hulkster also attempted to become a leading man, starring in a TV show (the Knight Rider-meets-Jimmy Buffett TNT staple Thunder In Paradise) and a string of family films distinguished by bizarrely Byzantine plotting. Breaking the high-concept record set by 1991's Suburban Commando, Mr. Nanny stars the Hulkster as a former pay-per-view superstar suffering from wrestling-induced PTSD who takes a job as a bodyguard, only to find himself babysitting a couple of rich brats and battling New York Dolls lead singer David Johansen for control of a missile-defense system. Though the movie flopped at the box office, making less than half of its modest $10 million budget, it didn't deter Hogan from making two more mind-boggling kids' movies, Santa With Muscles and The Secret Agent Club (both 1996).
2-3. Joey Lawrence, Joey Lawrence
Shaquille O'Neal, Shaq Diesel
Albums by celebrities of questionable legitimacy and/or musical acumen are nothing new, but '93 produced a perfect one-two punch of dubious vanity project LPs. Hot off his "whoa!" fame, Joey Lawrence dropped Joey Lawrence, a New Jack Swing record that birthed the forgettable "Nothin' My Love Can't Fix." NBA newcomer Shaquille O'Neal launched his much-too-long record career with Shaq Diesel, a rap record featuring a number of awkwardly boastful and tenuously basketball-related songs like "(I Know I Got) Skillz," and "Shoot Pass Slam."
4. Look Who's Talking Now
The original Look Who's Talking was an unexpected smash, making 160 percent of its estimated $7.5 million budget its opening weekend and going on to be the fourth highest-grossing film of 1989. In the original, Bruce Willis voiced the thoughts of Kirstie Alley's son, Mikey, and in the inevitable 1990 sequel, Mikey had a sister, voiced by Roseanne Barr, and a friend, voiced by Damon Wayans. The series lurched to a third installment three years later, only without the voices of Willis or Barr, because the kids were now old enough to speak on their own. So the movie took its shtick to the family pets, a pair of dogs voiced by Danny DeVito and Diane Keaton. Critics rightly savaged the film, which climaxed with a ludicrous scene where Alley fends off a wolf attack, and it ended up grossing just 7 percent of what the original made. Good thing for Travolta that Quentin Tarantino came calling not long after.
5. The Chevy Chase Show
Amid the well-documented "battle for late night" of the early '90s, a common joke was that every man, woman, and child in America would soon have their own talk show. That joke found an unlikely punchline in Chevy Chase, whose jaw-droppingly awful Chevy Chase Show debuted on Fox in the fall of 1993—and was cancelled after five weeks. (Chase was informed of the cancellation at his 50th birthday party.) The aging SNL and Caddyshack alum was touted as a game-changing alternative to the likes of Letterman and Leno, but a stiff delivery, zero interviewing skills, and a reliance on shameless "Weekend Update"-like news segments made Chase seem more like Judge Smails than Ty Webb. Following savage reviews and the not-so-indelible sight of Chase awkwardly dancing with a jorts-clad Goldie Hawn, Fox execs gave The Chevy Chase Show a swift mercy killing, leaving the star to promote his latest film, Cops And Robbersons, and late-night viewers to warm up to another struggling newcomer, Conan O'Brien.
6. George
Former heavyweight boxing champion George Foreman underwent a curious transformation in the late '80s and early '90s: Returning to the ring after a stint as a Baptist minister, the once stoic fighter reinvented himself as middle-aged comeback kid and sunshiny commercial pitchman. So it's easy to understand why Tony Danza (a former boxer himself) and TV journeywoman Norma Safford Vela would've seen a potential sitcom lead in this new version of Big George. But Foreman failed to sell himself to viewers as an ex-champ teaching troubled youth a little about boxing and a lot about life; despite a November sweeps debut as part of ABC's popular TGIF bloc, George bounced around the network's schedule before meeting its demise in January of 1994. It didn't take long for the show's star to get back on his feet, however, as the year of George's cancellation also saw Foreman applying his name to a product that would make him roughly $200 million: the George Foreman Mean-Lean Fat-Reducing Grilling Machine.
7. Billy Idol, Cyberpunk
Released amid the public's growing fervor for all things "cyber," Billy Idol's Cyberpunk was a concept album that was based, according to its press release, on the premise that "science and technology are becoming the new weapons of change, and who better to arm you for the future battle than Billy Idol?" Judging by its hostile reception, the audience of 1993 could think of plenty of people. Idol's ambitious gambit was meant to bring the aging punk back to the bleeding edge, using DIY computer recording techniques and a story steeped in the writing of William Gibson. Unfortunately, although Idol bravely immersed himself in the burgeoning cyberpunk movement on the Internet, and even insisted that any journalist approaching his album had to read Gibson's work, his own, quickly apparent technological illiteracy made him an easy target not only for critics, but for actual cyberpunks who felt Idol was a poseur. It definitely didn't help that the songs were so poor, with dull, repetitive tracks such as "Wasteland" containing laughable gibberish that would make the cast of Hackers cringe ("In VR law, computer crime / So sublime"). These were interspersed with pretentious spoken-word dialogue, and a techno version of The Velvet Underground's "Heroin" provided the album's best argument that the future is indeed a hellish dystopia. Idol deserved some credit for anticipating technology's role in the production and distribution of music, but immediately upon release, Cyberpunk felt as ironically, pitiably obsolete as its accompanying VHS and floppy disk.
8. The Beverly Hillbillies
In 1993, The Fugitive demonstrated that Hollywood was capable of building a respectable, crowd-pleasing blockbuster out of the component parts of an old television show. Unfortunately, the mold for such TV-to-film adaptations was set not by Dr. Richard Kimble's Oscar-nominated pursuit of the one-armed man, but rather the seventh-highest grossing movie of 1991, The Addams Family. Dragging Charles Addams' macabre creations out of syndication and into the '90s inspired plenty of imitations—like The Beverly Hillbillies, whose "cloistered bozos get duped by outsiders" plot mirrored both the original Addams Family and its '93 sequel, Addams Family Values. In updating the story of a man named Jed (a poor mountaineer, but he kept his family fed) who hits pay dirt thanks to some bubblin' crude (oil, that is), director Penelope Spheeris and four credited screenwriters dropped the Clampett clan into a Southern California of movie stars and swimming pools as well as cell phones, high-larious post-riot road rage, and Dolly Parton cameos. But a tired premise and instantly dated gags waste a stacked cast, which includes Cloris Leachman, Lily Tomlin, Dabney Coleman, and Jim Varney in the only role he was more suited for than Ernest P. Worrel. Though the film's success may have paved the way for Brady Bunch movies to come, it at least opened the door for a more enjoyable mapping of worn-out material onto Clinton-era Beverly Hills: 1995's Clueless.
9. Carmen Electra, Carmen Electra
Prince has launched the careers of a number of female musicians, from Sheila E to his latest protégée project, 3rd Eye Girl. In 1993, The Purple One propelled Carmen Electra to eventual Baywatch stardom by aiding in the release of her absolutely horrible self-titled record. Electra's not much of a singer, so Prince (whom she was also dating) turned her into a female rapper with the help of Monie Love. Singles like "Go-Go Dancer," "Fantasia Erotica," and "Fun" were anything but, and the record flopped, essentially ending Electra's recording career. Fortunately she had her acting to fall back on.
[pagebreak]
10. Super Mario Bros.
There had been plenty of live-action films about video games by the time Super Mario Bros. jumped, stomped, and flopped its way into theaters, but none had attempted a direct adaptation. "Attempted" being the key word because other than a vague "save the princess" arc and a bunch of random references, the film has little to do with the 8- and 16-bit games that inspired it. Bob Hoskins and John Leguizamo star as the titular brothers (the film claims their shared surname is "Mario," making Hoskins' full character name "Mario Mario"), while a check-cashing Dennis Hopper stars as the evil King Koopa. Toss in some nonsense about super-evolved dinosaurs, an infamously troubled shoot (both Hoskins and Hopper described it as a "nightmare"), and a dark, kid-unfriendly production design courtesy of Blade Runner art director David L. Snyder, and you have a film that bob-ombed at the box office, making back less than half its reported $50 million budget.
11. The Paula Poundstone Show
As a stand-up comedian, Paula Poundstone aims for a wry mix of wised-up dryness and childlike, "Can you beat that?" wonder. She tried to translate that style into The Paula Poundstone Show, an uncategorizable mix of variety, chat show, and educational program. Dressed as if to present the valedictorian address on Graduation Day at rodeo clown college, Poundstone would sit on a bare stage and welcome such guests as track star Carl Lewis, ABC news personality Sam Donaldson (who read Where The Wild Things Are in its entirety during the second episode), and Paul Simon (the senator and 1988 presidential candidate, not the singer). ABC canceled the show after two episodes. One of the people caught up in the disaster was Joel Hodgson, credited as a "consultant." It was his first TV gig after his departure from Mystery Science Theater 3000 earlier that same month.
12. Son Of The Pink Panther 
The Pink Panther franchise—which began 50 years ago with The Pink Panther—has produced more lame cash-ins than comedy classics. Although Peter Sellers' iconic turn as the bumbling Inspector Clouseau was what made the series popular, his death in 1980 didn't stop Blake Edwards from making more Pink Panther movies. Son Of The Pink Panther—which attempted to anchor the series around Roberto Benigni—doesn't even have the distinction of being the first or, for that matter, the second Pink Panther movie to be made after Sellers' death. That the movie finds Benigni, in his Hollywood debut, playing Clouseau's illegitimate son only underscores how desperate Edwards had become to recapture some piece of Sellers' comic energy. Like its predecessors, Trail Of The Pink Panther (1982) and Curse Of The Pink Panther (1983), Son was a commercial and critical failure. It proved to be Edwards' last film, and seemingly killed the franchise off. Of course, a lucrative property like the Pink Panther never stays dead for long, and the series returned in 2006 with Steve Martin as Clouseau; despite actually being worse than Son Of The Pink Panther, Martin's version made a bundle.
G/O Media may get a commission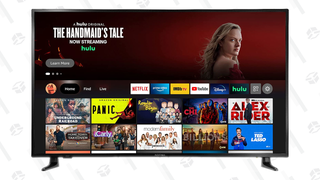 38% Off
Insignia 50" 4K UHD Smart TV
13. Teenage Mutant Ninja Turtles III
The first live-action feature based on Kevin Eastman and Peter Laird's Teenage Mutant Ninja Turtle comics was made for a paltry $13.5 million in 1990 and grossed 10 times that. Although the hurried sequel, released almost exactly a year later, made just over $75 million, it turned enough of a profit to merit a third film in the trilogy—albeit without the advanced animatronics previously provided by Jim Henson's Creature Shop. (But they got a couple guys missing from the first sequel: Corey Feldman as the voice of Donatello and Elias Koteas!) Somehow already out of material in present-day New York, the third film takes advantage of the third descriptive adjective in the title by transporting the turtles back to feudal Japan. On a mission to save April after she accidentally activates a "weird, Japanese, antique egg timer" (a scepter) that causes her to swap places with a Japanese prince, the turtles have 60 hours to find April, prevent a war, and get back to the right time to avoid damaging the space-time continuum. References to Quantum Leap and The Addams Family abound, along with other side-splitting comic set pieces of Japanese Honor Guards thinking hockey is only about fighting and Michelangelo teaching feudal Japanese villages about New York-style pizza.
14. Guns N' Roses,  "The Spaghetti Incident?"
GNR cemented its status as the world's biggest band with 1991's blockbuster quadruple album Use Your Illusion—Part I and Part II, each taking two LPs—just in time for '80s hard rock to be rendered irrelevant by the rise of alternative rock. So the Gunners came roaring back with… a covers album? The question mark in the title suggests even the band wasn't sure if it was the right move. The covers included a surprising amount of pre-punk—Iggy And The Stooges' "Raw Power," New York Dolls' "Human Being," and the Dead Boys' "Ain't It Fun"—and a nod to GNR's newer rivals with Soundgarden's "Big Dumb Sex" (in a medley with T. Rex's "Buick Mackane"). But the set also includes some questionable choices, including opening the album with The Skyliners' 1958 doo-wop hit "Since I Don't Have You," and closing it with "Look At Your Game, Girl," written by Charles Manson. While the album debuted at No. 4 on the charts, it sold only 190,000 copies its first week. To put that in perspective, Chinese Democracy sold 70,000 more copies its first week, in the post-iTunes era of low album sales, and was considered a flop. Spaghetti wasn't merely a commercial disaster for the band; it was also a loud and clear signal that Nirvana and its ilk had taken over.
15. Raven-Symoné, Here's To New Dreams
In 1993, pint-sized child actress Raven-Symoné was fresh off The Cosby Show (where she more or replaced Keshia Knight Pulliam as the sitcom's cute comic relief) and just about to start a four-year stint on Hangin' With Mr. Cooper. Before starting on the latter, however, the 7-year-old released an album, Here's To New Dreams.Despite some credible collaborators—Wu-Tang Clan pals Shyheim and RNS have credits on the old-school-sounding "First Day Of School," while a pre-fame Missy Elliott co-wrote and guested on single "That's What Little Girls Are Made Of"—Dreams is a weak collection of generic hip-hop and R&B. Raven's feisty flow shows promise in spots (e.g. lines like "I got more rhymes than Cosby got shows"), but her attempts at sounding tough are more chipmunk-like than effective; worse are the record's bubblegum slow jams, which require maturity (and vocal chops) that Raven didn't yet possess. After growing into her voice, she did eventually establish a successful music career as the star of That's So Raven and The Cheetah Girls.
16. Undercover Blues
Although the career of choreographer-turned-director Herbert Ross produced a few bona fide touchstones (Footloose, Steel Magnolias) and cult favorites (Play It Again, Sam), much of it was taken up with churning out pop-culture inessentials—unnecessary remakes, second-rate Neil Simon adaptations, and forgotten Barbara Streisand vehicles that, at best, serve as time capsules, preserving the middle-brow zeitgeist of yesteryear. It's hard to imagine, though, that even the most easily pandered-to baby boomers would be eager to watch Undercover Blues, an overstuffed comedy starring Dennis Quaid and Kathleen Turner as a couple of secret agents ("Blue" is their last name) who retire from active duty to raise a daughter. Full of baby reaction shots, warmed-over Cold War gags, and unfunny high jinks involving a mugger named Muerte (Stanley Tucci), Undercover Blues takes all the worst tendencies of the era's studio comedies and puts them into one easy-to-ignore package.
17. Dudley
A decade earlier, Dudley Moore had been one of the most overexposed talents in movies, with a string of mostly ill-considered starring vehicles after his big success in Arthur. Casting Moore as a father who butts heads with his teenage son, Dudley was the first of two failed attempts to see if Moore could reinvent himself as a TV star. Despite an impressive supporting cast that included Joanna Cassidy, Max Wright, and Lupe Ontiveros, CBS canceled the show after five of the six produced episodes were broadcast. (This does make it almost twice as successful as 1994's Daddy's Girls, in which Moore butted heads with three daughters—one played by Keri Russell—and which was canceled after only three episodes.) [PDN]
18. It Had To Be You
The sitcom It Had To Be You originally starred Faye Dunaway as a loveless Boston career woman who bravely hires hunky working-class carpenter Robert Urich to do some chores at her workplace, thus risking Sexual Tension between the two of them. (As if that weren't exciting enough, Urich's character is a single father with three sons, which meant it was a ready-made family waiting to happen.) The harsh reviews noted how uncomfortable Dunaway looked, not to mention her lack of chemistry with Urich. After four episodes were broadcast, CBS put the show on hiatus and retooled it without Dunaway, but the new version of the show never aired.
19. The Three Musketeers
Alexandre Dumas' swashbuckler The Three Musketeers was first published in installments, in 1844; by 1993, it had been filmed roughly 20 times. The most recent English-language adaptation prior to 1993 had been 1973's classic, slapstick-adventure version directed by Richard Lester, which had a counterculture flavor. Disney's straightforward attempt is mainly distinguished by how ill suited anyone in the cast—anchored by Charlie Sheen, Chris O'Donnell, Oliver Platt, and Kiefer Sutherland—is for engaging in sword fights in period costume. But with anything pertaining to the Musketeers, another version will inevitably follow—the most recent being the 2011 film starring Orlando Bloom.