Self-proclaimed "boss bitches" Ilana Glazer and Abbi Jacobson have landed one of the world's most powerful women as a guest star for their Comedy Central series Broad City: presidential candidate Hillary Rodham Clinton.
Pictures of Clinton's visit to Abbi and Ilana's NYC paradise have been flooding Twitter today, both on the former secretary of state's own Twitter account (where they sit above a call to remove the Confederate flag from military academy The Citadel) and that of the show (where they rest right above a shot of Glazer and Jacobson mockingly showing off their "Golden Globes.") Deadline, meanwhile, is reporting that Clinton will make her unlikely-on-the-surface appearance on the show's season three premiere on February 17.
The connection between the two, presumably, is Amy Poehler, who both executive produces Broad City and has spent more than a decade playing Clinton's pop-culture doppelganger on shows like Saturday Night Live and Parks And Rec. (The latter of which, we now know, counted the senator and former first lady as a fan.) Poehler was apparently on set for Clinton's visit, although it's not clear if she'll also be showing up in the episode, or if she was just hanging out for some Hill-dawg selfie time.
G/O Media may get a commission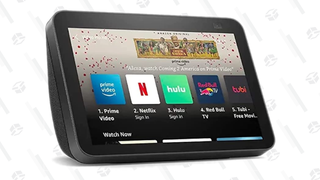 This late in the game, of course, it's not that unusual for a presidential candidate to appear on a mainstream show. Still, Clinton's appearance is presumably going to set a few new, more specialized records, like "Most creepy homosexual innuendo lobbed at a candidate by a wide-eyed Ilana Glazer" and "Most aneurysms caused in old white Republicans tuning in to hatewatch Broad City."