Plugging the still-burning, Anthony Scaramucci-sized hole in the nation's septum, Donald Trump's White House will reportedly follow the cocaine jolt of The Mooch with the calming Valium that is Hope Hicks, offering the woman best known for never talking the position of interim communications director. Hicks, the fourth person to occupy the position since the election, is a 28-year-old staffer who has the somewhat-notable distinction of being Donald Trump's longest-serving political aide, having previously served as his campaign's press secretary before joining the administration in the newly created role of Director of Strategic Communications.
Throughout her run, Hicks has been characterized by her unquestioning loyalty to Trump and by keeping an incredibly quiet, low profile (she never even tweets), displaying an unwillingness to speak to the press about just about anything—in other words, exactly what Trump would be looking for in a new "Communications Director." Hicks, a former model, is also a natural when it comes to flattery, having memorably said she thinks Donald Trump is "brilliant with a great sense of humor" and that he "exudes positive energy." We feel more communicated to already!
While the new person in charge of conveying the White House's message to the press doesn't like to give interviews and often flat-out ignores reporters—leading to the creation of a suspended parody account called @HicksNoComment—we do know a few things about her. In this 2016 profile for GQ, Olivia Nuzzi got the scoop from Hicks the only way you really can: by trying to ask her questions, having Hicks decline, then being informed that Nuzzi "could talk about her with Donald Trump, in front of her." Yes, even when it comes to straightforward inquiries about Hicks' own life, it seems, she immediately defers to her boss.
Hicks' shyness is such a defining facet of her character, in fact, there is exactly one extant clip of her actually communicating with anyone, filmed at a rally in Alabama. "Hi," she says. "Merry Christmas, everyone! And thank you Donald Trump!" It is a succinct summation of Trump's entire political platform.
Like Trump, Hicks had no political experience before his campaign, having come aboard at his behest after working with Ivanka Trump as a PR person for her fashion line and even doing a little modeling for it on the side. The two soon became fast friends and, Nuzzi reports, she "even began dressing like the heiress." Yes, something about this young, attractive, docile model wearing his daughter's clothes enticed Trump. He poached her for his organization, informed her that she was now going to be his press secretary, and put her up in one of his apartments.

G/O Media may get a commission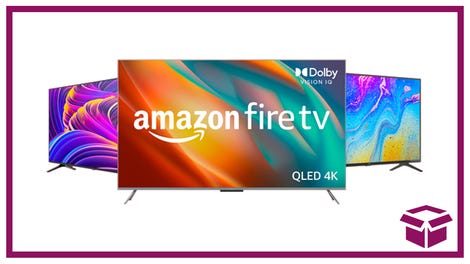 Ooh. stunning.
New Amazon Fire TVs
Hicks has survived every staff culling and upheaval since, with Trump expressing to Nuzzi his particular admiration for the professional way with which she answers the phone. She also reportedly takes dictation for all of the President's tweets. She is, in other words, the most qualified person for the job, at least until Japan finally invents a beautiful android that can read from Twitter and deflect reporters with a similarly lifelike verisimilitude.

Prior to her political career, Hicks was seen in magazine ads for Ralph Lauren, had a small part on the soap opera Guiding Light, and appeared on the cover of the young-adult Gossip Girl spinoff, It Girl. She was also the face of the children's book series, Hourglass Adventures, about a time-traveling 10-year-old. She is, in other words, a pleasant, pliant, mostly silent spokesmodel available to prop up whatever fantasies of wealth and returning to the distant past you might throw at her. She will probably have this job forever.