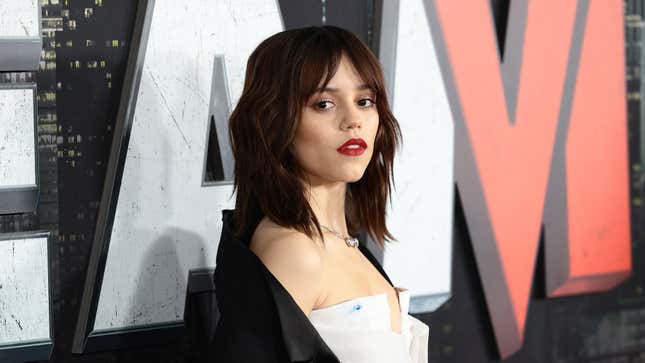 Jenna Ortega—fresh off working with Tim Burton on Netflix series Wednesday—is reportedly looking to stay in the director's spooky wheelhouse. This is per a piece from The Hollywood Reporter tonight, which suggests that Ortega is "circling" a role in Beetlejuice 2, the sequel to the 1988 Michael Keaton horror-comedy that cemented Burton's role as an unconventional Hollywood hit maker.
Is "Wednesday" turning The Cramps into the next Kate Bush?
You'll forgive us for being a little skeptical here, though: Not only have reps for Warner Bros. and Ortega both declined to comment, but we're also naturally pre-disposed to assume Beetlejuice 2 will never, ever happen, no matter how many glowing press releases the supposed movie gets. Entire generations have come into existence in the time that Burton and Keaton (who's apparently never not been game to get back in that filthy striped suit) have tried to get the long-since-shelved Beetlejuice Goes Hawaiian, or any other prospective sequel projects, made, all with absolutely zero luck. We don't even entirely know why, beyond the fact that the first movie is perfectly standalone: Winona Ryder, Burton, and Keaton are all still interested, the original film holds up shockingly well, and only a small percentage of its original cast are now registered sex offenders or currently on trial for involuntary manslaughter. What's not to love?
Anyway: It also just feels kind of on the nose for Ortega to sign on to the project, where she'd supposedly play the daughter of Ryder's Lydia Deetz. (It's also not clear yet if her pal Burton, who she spoke highly of in the aftermath of Wednesday, is formally attached to the movie, which is supposed to start shooting in a couple of months; the number of question marks surrounding a movie apparently filming in May is another point of skepticism for us.) It's not like Ortega necessarily needs the work, either: In addition to Wednesday, her Scream VI opens in theaters this weekend, and she's hosting Saturday Night Live as well.