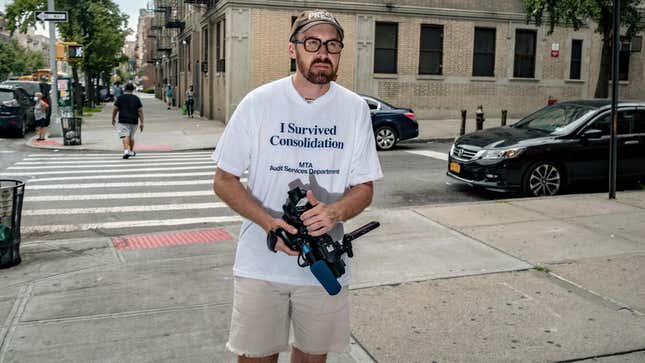 The simple conceit for How To With John Wilson is encapsulated in the nonfiction series' title: Ostensibly, every episode of this HBO show is designed to teach its viewers anything from "How To Make Small Talk" (as Wilson did in the series premiere) to "How To Track Your Package" (as he does in the series finale). But the instructional aspect of this documentary project served as a mere excuse to explore more ambitious questions. With a cheeky visual grammar that takes wordplay to new and increasingly absurd levels, Wilson's series is unlike anything else on television: at once a celebration of a New York City state of mind and an angst-riddled examination of such a point of view.

Late-night hosts welcome back their writers—and their jokes
In his farewell tutorial, which aired September 1, Wilson begins by helping us understand how to track a package through the U.S. postal system. But that soon leads him, per usual, into a winding adventure through organ donation, a conference on cryonics, and, in true Wilsonian form, equally quippy and deep meditations on mortality and the future—all while bidding goodbye to the city that's helped him hone his unique outlook on the world.
​​The A.V. Club caught up with Wilson to talk about the making of this finale, why he's healthily moved on from mourning the Burning Man episode that wasn't, and what he's learned from three seasons' worth of How To installments.
---
The A.V. Club: Maybe we can start by talking about what led you to frame the episode with packages and mail. Was this always designed as the series finale?

John Wilson: I think this was originally written as a mid-season episode. I don't think we wrote the season with a finale in mind. I think every season the finale was not written as the finale. It just ended up happening that way, where thematically it kind of reached a point that felt conclusive. So I started to film the package episode, you know, very innocently. Just as a kind of normal episode about city problems. But then the farther down the rabbit hole we went, the more intense it became. And I was looking for something that would allow us to hit a kind of vanishing point. By the end of this episode, I think, we started to deal with some of the biggest themes I think there are—which is mortality and reproduction and pleasure (denial of pleasure), all of these kinds of things that we've kind of danced around over the course of three seasons. It felt like it finally hit the mark here.
AVC: And, it's clear that you really you arrived at that meditation on mortality by accident.
JW: Yeah, I mean, there was the production screwup with the whole organ donation thing. And we just found that so funny. So then, you know, I visit the organ shipping guy, locally, here. And then we realized that the organ is going to Arizona. But then one of my researchers mentioned that there was an organ pizza place—like, a pizzeria with the biggest organ in the area. I knew I really wanted to see that. So we just planned a last minute trip out there to kind of follow the organ during its journey. And then, you know, we met a guy, Mike, who kind of took us through to the end of the episode.
AVC: How nimble do you have to be when you're shooting to make those things happen? I found that, especially in this season, you left New York City more often than you did in the earlier seasons. Would that be a correct assessment?
JW: It might be. It's hard to say. But we usually leave the city in the third act, naturally. But yeah, we definitely did spend a lot of time outside of the city this season. We have all of this stuff planned within New York. Like interviews and stuff—whether it's a noisy neighbor or something like that. And, you know, it can be really frustrating for my producers when we have to drop everything and then go to Arizona for a week and a half or something. But we just have become used to doing stuff like that for the show. So it's not as surprising anymore. Because for the Burning Man episode we spent so much money, so much time out there. And we can't use any frame of it. And that was just, like, so annoying. But I felt like we still needed to include it, because it ultimately made the episodes stronger that we couldn't get access to Burning Man because the whole episode is kind of about gatekeeping. So even if it was a failure, in a way, we tried to do something productive with it. And this trip to Arizona could have been a similar failure, but it ended up paying off.
AVC: I'm glad you brought up Burning Man because I remember watching the premiere episode and being so excited because I was there.
JW: Oh wait, we were there at the same time?
AVC: Yeah. I went with people who had been going for years and they remarked how odd of a Burn it was, even for those who've been going for decades.
JW: Yeah, same with our chauffeur, the lady that I hitched a ride with. I didn't know how abnormal it was to have such a devastating dust storm and the heat and all that stuff. Like, I could barely do anything during the day because of how fucked up it was outside. But yeah, I mean, you were there.
AVC: It's funny because Burning Man then became a kind of phantom presence for me throughout the season. The entire concept of Black Rock City almost feels perfectly suited for the show. Did you try to thread things from that footage throughout the rest of the season? 
JW: Yeah, I tried a handful of things when I was there. But for the most part, I was shadowing the sewage-treatment people. So I was just in these porta potties that were 115 degrees, studying the infrastructure of Burning Man, in a way—like, the lost and found and all this other stuff. But ultimately, the footage is inaccessible.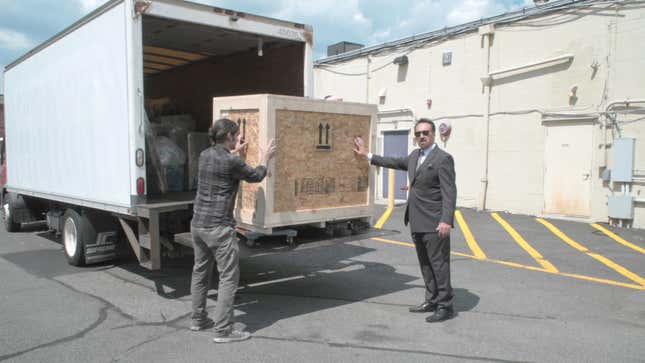 AVC: It's in a vault somewhere.
JW: Yeah, basically. Honestly, I've gone through all the stages of grief and acceptance. And I'm perfectly fine with that now because if we didn't fail there, I don't think that the season would have been as strong.
AVC: One of the things you do really well throughout the show is getting into these niche communities and you get those involved in them to be quite self revealing. In this episode, you feature this older gentleman who talks about how he self mutilated, and that feels like the kind of thing that maybe you wouldn't want to be disclosing to someone with a camera. Can you talk a little bit about building that kind of rapport?
JW: Sure. You know, I've struggled with a certain amount of social anxiety throughout my life, and the best tool that I feel like one could have when they're dealing with something like that is just to ask questions. Just don't don't stop asking questions. Because then you don't have to talk about yourself as much. I think people in general respond really well to that. I think just having a genuine curiosity and not really playing a character when you're with someone intimately is really important. You just get a vibe from someone pretty quickly as to whether or not they would be open to revealing certain things. But if you spend enough time with someone, the walls kind of erode and you get to a much deeper place than you would have if it was just like an hour-long interview. So I think by keeping the production really small and making it so it's just me and the person—and there's no one else that they can see—is really important. Because it feels like you're on a much smaller scale in the moment. It works in the reverse way to where I feel less pressure to conceal certain things. Each conversation that I have with someone is usually way longer and it includes a lot of confessional stuff for me that we use selectively.
AVC: And here, in one of those interactions you're called a "loner" with commitment issues. By a psychic, no less. Which brings me to one of the things that I wanted to talk about. You began doing these videos alone and now you have an entire team. How has that collaboration helped shape your work and the show itself over the course of its three seasons?
JW: Yeah, I mean, the psychic … She was pretty accurate. In a lot of ways. I thought it was just so funny how much she would not let the commitment issue go. She kept trying to tell me that I have commitment issues (which is like, not untrue). But it felt like a nice foundation for the rest of the episode, especially as we get into stuff about family and procreation. But yeah, I was working by myself for around a decade making this work. And that was my preferred method of doing things, because I didn't have the money to pay anyone and I don't like to ask for any favors. I felt very comfortable in my little corner. But I really love working with a team like this because it's a mixture of lifelong friends of mine and people within the documentary and comedy-writing worlds that are so experienced and just so talented. This show would have been a mess if I had tried to control everything the way I used to. Everyone has such good ideas. I appreciate so much that the people who work on the show feel comfortable pitching things, because it's led to some of the most transcendent material in the series.
AVC: The show has grown quite a bit. In this finale, you're dealing with these more ambitious ideas about mortality, about reproduction, about what remains, about our future. How have you matured as a filmmaker since the show started?
JW: Well, the format of the show is tutorial based. I ostensibly try to teach you to do certain things. But at the end of most of these episodes, I stubbornly refuse to change, in a lot of ways. But there are other things that I have become better at. Like, I think I've become a much better artist and storyteller because of [Nathan] Fielder and [Michael] Koman, the other co-writers on the show. I feel like a much better version of myself. I mean, I do make a lot more plans now. I don't try to leave things up to spontaneity as much. But as a New Yorker, I still have the same routines. A lot of the time when I don't have anything else to do I still go to the same coffee shops and walk up and down the same streets. And, you know, I don't feel as sad that some of my favorite stuff has disappeared because I've been able to preserve it in a way. And that was the race against time that I felt like I was running for most of the series. Because I felt so fortunate that when we started making the show for HBO that I have a container to freeze all of this stuff in. I wanted to preserve this stuff for people in the future. I've always thought of the work as finally paying off in 100 years or something, when you don't really have any other reference for the way certain things looked. But maybe that's … I don't know if that's thinking a bit too far.
AVC: But that chronicling impulse is so obviously why the show works. You've found in that playfulness, as well, a way of not just documenting New York City but a way of looking at New York City. 
JW: Yeah, I mean, that was one of the things that Nathan said during the pitch for the show, when we were sitting in the room with HBO. He was like, "After I saw John's stuff, I now see the city in a different way." And you know, I didn't really have a name for that yet. I think that's what excited HBO to begin with, was that it kind of gave you a new lens to view things through. And now I've seen press conferences from the city on scaffolding or restrooms since [those episodes] came out. I don't want to take full credit for any of it. But it is interesting that it's like starting a conversation even though it's done in a really immature way sometimes.
AVC: But that's always a great place to start. You take things that aren't serious seriously. I keep thinking about the vacuum-cleaner collectors. You approach them seriously, with curiosity, which is not how most people would.
JW: Yeah, I hope that compassion translates, in a way. Because, you know, I can definitely be a cynic about certain things. But the work is also a way for me to get over those hurdles in my head and figure out, like, What part of all of us is in this very niche thing? Because it's all there. Even the self-castration guy, you know? Like, I feel I identify with him more than I do, like, Ryan Seacrest or something. I feel like Seacrest is a weirder character to me than that guy.
AVC: That seems apt.
JW: [Laughs] I mean, it's not one or the other.
AVC: But I think it gets to the point of relatability and how we understand who gets to be relatable and what kinds of things are shown, what gets to be onscreen.
JW: Yeah, I've had to film interviews, commercial interviews—you know, for money, growing up and stuff where I felt like I was in a straitjacket because I couldn't ask them the questions that I really wanted to ask them. I feel like there is something deep down in every one of these people. But you just can't access it with the kind of media we're producing. That's why I wanted to go as deep as I possibly could within the show, even if we entered some dark corners of humanity.
AVC: I will continue to think about the woman who dated a serial killer for a long time.
JW: Yeah, I don't know. It was a strange thing to kind of brag about. I don't really know what was going on there.
AVC: But I think, to your point, it's a testament to the kinds of questions you were asking, the kinds of spaces you were creating for these people—to the curiosity and the visual language the series created.
JW: I feel that way, yes. Because, yeah, if you extend any shot from any reality show for, you know, three seconds per shot, it'll feel more like this. It'll feel, like, really really weird.