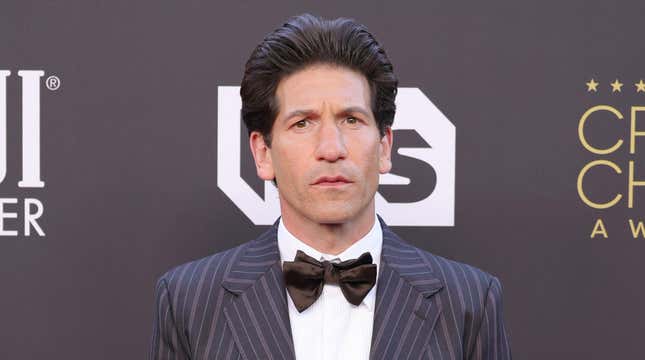 Charlie Cox and Vincent D'Onofrio are set to star in Disney+'s reboot of Netflix's Daredevil series, bringing back the actors behind two of the most compelling performances in superhero adaptation history, and now they'll be joined by another actor behind one of the most compelling performances in superhero adaptation history: According to The Hollywood Reporter, Jon Bernthal will be reprising his role as Frank Castle, a.k.a. the Punisher, in Daredevil: Born Again.
Brendan Hunt on "Ted Lasso," Karaoke, and Arsenal F.C.
This is surprising for a number of reasons, but the main one is that… he's the Punisher. The gun violence superhero. The guy whose iconography has been adopted by trigger-happy dirtbag cops who fantasize about how much easier their lives would be if they could just murder everyone. He's going to be on Disney+, a few clicks away from Bluey.
But if the people behind Born Again—specifically writers Matt Corman and Chris Ord—insist on bringing back the Punisher, at least they're doing it with Bernthal. He (pun intended) killed it on the Netflix show, and whether or not they're maintaining any canon from that series (we still have no clue!!!), it gives the character a bit more weight to have Bernthal facing off against Cox again. Bernthal also famously put a lot of thought into his portrayal of the Punisher, and it doesn't seem like he would take a return lightly, so him being on board is a good sign.
Though there is also a bad sign accompanying this news: THR also believes that Deborah Ann Woll and Elden Henson, who played Karen Page and Foggy Nelson on the Netflix show, are "not expected to return." That sucks, if true. You can't tell a Daredevil story without Foggy, he's arguably more integral to the character than even Alfred is to Batman, or Mr. Ditkovitch is to Sam Raimi's Peter Parker. And Deborah Ann Woll got to play a version of Karen Page who never suffered the horrific hardships the character famously went through in the comics before being murdered! That character still had potential! And it would be silly to recast them if they're already bringing back three other actors from the Netflix Daredevil. As encouraging as everything else about the show has been, this seems like a bad decision.