The actor: Since emerging from the world of stand-up comedy, character actor and customized-trucker-hat enthusiast Judah Friedlander has carved out an unmistakable niche as the go-to guy for geek, nerd, dork, and dweeb roles. After scoring attention-grabbing turns in several Ben Stiller films, Friedlander landed a career-defining part in 2003's American Splendor playing Toby Radloff, the real-life geeky pal of Cleveland cartoonist Harvey Pekar. In addition to his role as a smartass comedy writer on 30 Rock, he still tours as a comedian, with a stand-up CD planned within the next six months.
30 Rock (2006-2007)—"Frank Rossitano"
Judah Friedlander: Let's see, I got an audition for it. I had one audition. It was for the casting director and [creator/star] Tina Fey. I think it was five months later, I got a call saying I got it, and then we filmed the pilot.
The A.V. Club: Had you forgotten about it by that point?
JF: I try to forget about stuff after I do it, otherwise I go crazy. So I try to put everything into it, then forget about it until I hear about it. So the agent sent me on the audition, and the casting director, Jennifer McNamara, she was a producer on an independent movie I did, Southern Belles. It's been playing, it was at the Gen Art Festival, and the Sundance Channel picked it up. They play it fairly often. With 30 Rock, the character I play is different from me, but looks just like me. I do a lot of roles where I look totally different and act totally different. The 30 Rock one is quite a bit different from me, but certainly looks exactly how I look.
G/O Media may get a commission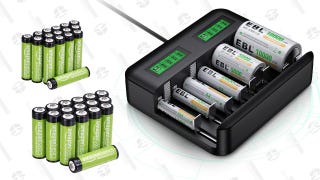 AVC: 30 Rock is very quotable. Are there any lines that stick out as personal favorites of yours?
JF: There's probably a lot. I gotta think about that. There's so many, I'm blanking. The writers are very funny on that. They let me come up with some stuff here and there, and they're all very open to ideas, if I have an idea for a line or something. But usually it doesn't need it. Some projects need more improvising than others, but 30 Rock is so tightly written, the dialogue, the plot, there's often not that much room to improvise, just because you'll be messing up the scene that's following it.
AVC: Also, the pacing is so fast that you don't really have a spare 40 seconds where somebody can do a funny riff.
JF: I can't tell you how many funny lines they cut out of the show just for time. Every week, there's funny lines that get cut, just because they have to make it a certain length.
AVC: Any revelations about the second season, anything you can tell us about where your character is going?
JF: I can't tell you that much, because we've only shot a couple episodes, and I only get the script two days before we start filming. I really couldn't tell you that much. I think there's gonna be a lot of guest stars, like last season. There were a ton last season. Isabella Rossellini, Nathan Lane. I think they're gonna have certain people coming back, and a lot of new people, too. I do a blog for 30 Rock—it's on NBC, and I do it in character. I really like it, 'cause as an actor, it's the first time I've had to do something like this. So every Thursday, I put up a photo, and I put up probably one to four paragraphs of stuff, hopefully funny. I never like to say if it's funny. If people laugh, then I'll say it's funny. But people seem to like it. It's called Frank Talk, and it's just me doing whatever I want. I really like it, because it really brings the character to life and makes him more full-dimensional. Take a look at the blog, and you'll see. Go to judahfriedlander.com, and on the main page, there's an ad for Frank Talk. Been there for six months, every Thursday, and it's all written by me, in the voice of the character. I take all the photos, too.
Southern Belles (2005)—"Duane"
JF: Southern Belles was just a connection in maybe getting 30 Rock. I changed my look for it—you know, hair slicked back in a ponytail, grew a beard, no glasses. I played this real jerk, a kind of overbearing, tightwad boss at an independently owned Wal-Mart type of store, and I played opposite Anna Faris. She was one of the leads, I was a supporting role. I played her manager who secretly has a crush on her and is always giving her a hard time, and it all takes place down South, so I had to do the accent.
AVC: Are you the heavy of the piece?
JF: No, it's a supporting role. It's a humorous role, but it's a comedy. It's much different. I can send you some pictures or video or whatever you want, and you can look at it and decide for yourself. But anyway, it's a much different role. I'm just saying that's a 30 Rock connection. Tina Fey, I don't think she knew my stand-up work, but I think she knew me from American Splendor, which is another movie I did. Do you know that movie?
AVC: That was a seminal movie for you.
JF: You know that I was in the movie?
AVC: Yeah. Most people probably know you from American Splendor.
JF: I just bring it up because a lot of people don't even know I'm in the movie.
AVC: Really? You have one of the main roles.
JF: Because I don't look or act anything like me, so people don't even know I'm in it. I tell people that I'm in it, and they're like "Oh, that's one of my favorite movies. Who'd you play?" And they still can't figure it out. It happens a lot. I wish more people did know I was in it, then maybe I'd get some more movie offers.
AVC: It was a great part.
JF: Yeah, I got nominated for Best Supporting Actor at the [Independent] Spirit Awards, the New York Times Magazine had a big thing on me for that. So that's definitely one I would want to mention—American Splendor.
American Splendor (2003)—"Toby Radloff"
JF: Very tough work. Very intense work. I think it was the first time a movie had that, with the real people and the actors playing them in the same shot. There's that one scene in the movie where I'm playing Toby Radloff, talking to Paul Giamatti playing Harvey Pekar, and then the camera pulls to a wide shot, and the real Harvey Pekar and Toby Radloff are there, and all four of us are interacting together. Before filming that, it was pretty nerve-wracking, because we were like… We're doing something new and something different, which is what I like to do, but we were also nervous about it, because it's either gonna work great, or it's gonna be a disaster. You either pull it off or you don't. It's one thing to be playing somebody in a biopic, a real person, but it's another thing to have the real person right next to you in the movie. But that movie was a lot of fun to do, and hanging out and working with Paul Giamatti was great. We shared a trailer on it and had a lot of fun.
AVC: Did you spend a lot of time with the real Toby Radloff to prepare for the role?
JF: Yeah, I keep in touch with Toby. He's actually in my Top Friends group on my MySpace page. Me and Toby, about once a year—you know, I do a lot of stand-up comedy, that's been my main thing for years, and I usually go to Cleveland about once a year. I always invite Toby, and he comes out to the shows and we hang out. So yeah, keeping in touch with Toby is a lot of fun, he's a great guy. Doing that movie was a lot of preparation. That's probably the most research and preparation I ever had to do for a part.
AVC: Have you played real people in other movies?
JF: Yeah, kind of. I mean, whether they're official or not. The role I play on 30 Rock is loosely based on a couple former Saturday Night Live writers, but I kind of made it my own as well.
AVC: Anybody in particular?
JF: I don't know if I'm supposed to say. Maybe we shouldn't bring that up.
Chapter 27 (2007)—"Paul"
JF: That was at Sundance last year. It's a heavy drama. The Mark David Chapman movie. I play a photographer who takes an infamous photo of John Lennon signing an autograph for Mark David Chapman.
AVC: Hours before—
JF: Right, so I play that photographer. That was a real person too. I still haven't seen that movie. I don't know about a release date yet.
AVC: Do you have any scenes with Lindsay Lohan in that one?
JF: Yeah, I have scenes with her and Jared Leto, though mostly it was Jared Leto.
The Darwin Awards (2006)—"Simon"
JF: That was one of the most fun parts I've shot. I play a guy who gets killed trying to sneak into a Metallica concert. I don't know if you saw the movie—it's split up into a bunch of vignettes of different Darwin Awards cases. Most of the scenes of the movie are based on true stories. However, the one I'm in is based on an urban myth. It actually never happened. That was a lot of fun. The director's a good guy, Finn Taylor. It basically was just me and Lukas Haas hanging out for a week or so. Didn't get to meet Metallica until the première party at Sundance.
AVC: Through the magic of editing, you were joined together!
JF: Same with Winona Ryder. Didn't get to meet her until the party, too. In the movie, there's one scene where the character I play, his body's in the morgue and he's covered up in a body bag, you just see his foot sticking out. And Winona Ryder and Joseph Fiennes are having a scene with my character's foot sticking out. But it's not my foot.
AVC: You had a foot double?
JF: Yeah. And it wasn't even my choice, 'cause I was like, "Cool, I wanna do a scene with Winona Ryder. Even though I'm playing a guy who's already dead and it's just my foot in the scene, I really wanna do it, I'm a big Winona Ryder fan." And when I got there, they were like, "We filmed that a couple weeks ago." I'm like, "Oh man. There goes my chance to work with Winona Ryder." When you see that movie, that's not my foot. That's one thing you learn in movies, especially Hollywood movies—almost any time you do not see an actor's face, it's not the actor.
AVC: The wonderful world of body doubles.
JF: So that was one of my most fun characters to do. It's a little hard for me to judge my acting work in that. Some movies, I can watch my acting and I can judge whether I did a really good job, or not a really good job. And then some, I have no clue, and that one, I'm not really sure.
AVC: What are some films where you're very secure in feeling that you did a really good job?
JF: Well, American Splendor. I think I did a very good job in that. And Live Free Or Die.
Live Free Or Die (2006)—"Hesh"
JF: I have a very small role in that, but I think it's one of the best scenes I've done. I only worked one or two days on it, and the dialogue was so well-written, and I got to work with one of my favorite character actors, named Kevin Dunn—if you look him up, he's been in a hundred movies at this point. Actually, he's Nora Dunn's brother.
AVC: They've been in a lot of movies together.
JF: They're both in The Darwin Awards. In different scenes, but they're both in it. I got to play a real scumbag in that, a real angry scumbag. I like playing a wide variety of characters, and that one, I really got to play a guy who was quite different. I liked the dialogue, that it gets slowly revealed that this guy was a scumbag, you don't realize he's a scumbag right away, and it just keeps building and building. So that was one of my favorite scenes. It was all done in one long shot, just me and Kevin Dunn talking. I think that scene came out great.
Wonder Showzen (2006)—"Crickey"
JF: Dude, I had so much fun doing that. That was one of those rare things where I got to do something that is very stylized and very well-written. 'Cause so often, I'm in projects and I like doing 'em, but they bring me in and say, "Well, we'll bring you in because we know you can make it funny." And Wonder Showzen, like 30 Rock, is one of those shows where it's already funny in the way it was written, so you almost feel like you're cheating. Especially since I come from a stand-up background, I'm used to having to bring it all myself, but then you do something like 30 Rock or Wonder Showzen, and the funny's right there. You've just gotta perform it the best you can.
Duane Hopwood (2005)—"Anthony"
JF: That's one of my favorite pieces of work that I've done. I would say probably that, and even though it's a small role, Live Free Or Die.
AVC: It seems like Duane Hopwood was much more dramatic than the stuff you usually do.
JF: I was brought in to do some comic relief.
AVC: What character do you play?
JF: This guy Anthony, blue-collar guy from South Jersey, and I work the graveyard shift, fixing slot machines at Caesar's casino. David Schwimmer plays the pit boss on the graveyard shift, and he's battling alcoholism in the middle of losing custody of his kids, with his ex-wife, played by Janeane Garofalo. I kind of befriend him and become his roommate. I have a big part in that movie. Schwimmer's the lead, obviously; I'm third-billed. It's a minor festival, but the BendFilm festival, I won Best Supporting Actor for that. And it's a real mix of heavy drama and comedy also, and a much different role. Friends of mine see it, and they don't realize it's me until they watch the credits. I look and act much different in that movie. That one and American Splendor are probably my two favorites.
[pagebreak]
Meet The Parents (2000)—"Pharmacy Clerk"
JF: There was a phase there where I had a fair amount of roles in Ben Stiller movies. I did a dramatic guest-star role years ago on a short-lived TV show called The Beat. It was a cop show directed and produced by Barry Levinson. And the casting director for that was casting Meet The Parents. Anyway, Meet The Parents was the first movie I ever did, basically. They had a big cattle call for that part, and I went in there—I was in there for only about half a day. We shot my scene in a real drug store, which was actually open while we were filming the scene. So I play a guy who works at the cash register, and as Ben Stiller and I are acting, right next to me, shoved into the corner, were about four cashiers who worked at the store. The director would say "Action!" and they would smoosh against the wall in the corner. Me and Ben would do our scene, the director would yell "Cut," me and Ben would step to the side. The cashiers would go to the registers and ring up customers who were waiting. And then they'd be like, "Okay, action," and the clerks would run to the side again. It was pretty hilarious. Usually on these big-budget movies, they'd just rent out a place for the whole day, but in this case, they actually kept the store open the entire day.
AVC: What was the thinking behind that?
JF: People need to get their medicine, so I think they had—maybe it was a legal thing where they had to keep the pharmacy open.
AVC: You didn't want Grandma to not get her diabetes medication because Ben Stiller was making a movie.
JF: It was the last scene of the day, and we're trying to get things done, and the store's still open, and they're still ringing people up. It made it pretty chaotic. But that scene was a lot of fun, because it was mostly improvised, and that's my favorite thing to do, is making stuff up on the spot. As far as acting goes. I remember we ran through it once, it was real short, and then Ben Stiller goes to the director and says, "Hey, could we maybe just run with it?" Director's like, "Yeah, cool." Goes to me, "Is that okay with you?" I'm like, "Great." 'Cause I'd just met him for the first time, like, 10 seconds earlier. Then we did it a bunch of times, and that line I say, "You can get a whole bunch of mums," that's a line I completely made up, that was not in the script. So anyway, I did Meet The Parents. Then Zoolander came about.
Zoolander (2001)—Scrappy Zoolander
That was weird, kind of a long, long fucking story. Basically, I didn't even know about that movie. I'm hanging at the Comedy Cellar one night, I did a show, and a buddy of mine, Godfrey, had just done a spot, and I see him reading a script called Zoolander. And I said, "What's that?" And he said, "This new Ben Stiller movie, I got my callback tomorrow. He's writing and directing it, too." I'm like, "Really?" I'd known him from Meet The Parents, and I was like, "I should try to get in on that, I've never even heard about it."
I kinda knew Ben's sensibility from working with him, so I told my friend Godfrey what to do at the audition. Well, Godfrey goes to the audition, does great, and then when he's done, he's like, "Yo, man, you should get Judah in this movie." And Ben's like "Oh yeah, Judah, oh wow, yeah, he would be good in this." And I made some phone calls and basically got myself a meeting with Ben, and the casting director was the same casting director from Meet The Parents. I said "Look, I'd love to do anything in the movie," and the part of Scrappy Zoolander opened up, and I got the part. And then my friend Godfrey got a part too—he's a black guy, and there's a scene where Owen Wilson and Ben Stiller go into disguise, so they put on some makeup and come out, and Owen Wilson looks like a man from India, and Ben Stiller looks like a black guy. My friend Godfrey is the black guy doing Ben Stiller.
So one day, I'm hanging out on the set, because I had to do a fitting. You know, I wore a wig in Zoolander, we all had that same Zoolander-hair wig. And my friend Godfrey was in that day, so we're hanging out. Ben gets a break, so he comes over and says "Hi. So what are you guys, roommates or something?" And we're like, "No, we're just friends, we work at the comedy clubs in New York all the time, we're always hanging out." He walks off, goes back to directing, he's got a million things on his mind, starring in a movie and directing it. But cut to a year later, I'm at home watching the DVD, listening to the commentary track—Godfrey's scene comes on and they talk about him, and they say, "Who's this guy?" And Ben Stiller goes, "Oh, this is Godfrey. He's Judah Friedlander's roommate. They're comedy partners." So it's like, he asked if we're roommates, we both said no, and then it just never stuck in his head. Anyway, that's just a weird side story.
Along Came Polly (2004)—"Dustin"
JF: Along Came Polly came about because of John Hamburg. He was a writer on Meet The Parents and Zoolander. So he knew me from both those movies, and he wrote and directed Along Came Polly, so he basically offered me that part.
Starsky & Hutch (2004)—"The Ice Cream Man"
JF: The L.A. casting directors were the casting directors from Zoolander. I get a call one day from the casting office for Starsky & Hutch and they go, "Hey, we've got this really small part and it shoots tomorrow, do you wanna do it?" And I'm like, "Sure." The casting directors knew me, and so did Todd Phillips, who did Old School and Road Trip—I auditioned for both those movies, and got real close on both, but did not get them. So I never asked, but I'm guessing it was a combination of that, maybe. I think Ben Stiller was kind of shocked when I showed up on set, thought maybe I was stalking him. He's like, "What are you doing here?" I said, "I got cast in it." But Ben was always a lot of fun to work with, I have a lot of respect for him, he's a super-hard-working guy, and really prolific. A lot of people think we're buddies, or we hang out together or something. But it was just a coincidence—you work with him once, and then they like working with you, and then you work with them a few other times.
"Everyday" Dave Matthews Band video (2001)—"Hugging Guy"
JF: I did this Dave Matthews video years ago where I walk around hugging people, and a lot of people think I'm buddies with the band. No, I just got an audition for it, and I got it. That was actually the same casting director, Kathleen Chopin, who cast me in Meet The Parents and Zoolander.
AVC: So in that video, you go around hugging people?
JF: Eighty percent of that's real, 20 percent is set up. Basically on the street, with hidden cameras, trying to get people to hug me for real. Two days in Virginia and about a day and a half in New York.
AVC: What are the auditions for that like? Do they test your hugging ability?
JF: It was very weird. They had two casting associates, basically—I would pretend to stand on a corner, and they would play different pedestrians walking by, and I would ask them for a hug. The director, I guess, liked how I was hugging people, and then after the audition, the director had me go out to the waiting room to ask the other actors waiting to go in if they would give me a hug. And he followed me. And when he did that, I had a pretty good idea that I was probably gonna get it, 'cause he wasn't asking that to everybody.
Feast (2005)—"Beer Guy"
JF: I had so much fun.
AVC: This is one of the Project Greenlight movies, right?
JF: That was the last Project Greenlight movie, and the only successful one. They're actually doing some sequels to it now. It's a horror comedy—I love horror movies, and obviously I love funny movies, so this was great. This was one of those roles where the style that we were going for, it was impossible to go too much over the top with it. Unlike some other movies, where you have to be very reserved and subtle, like American Splendor, this one, you just let it all hang out. So much fun. I'm covered in fake blood and monster puke the entire movie. I get my eye gouged out, my brains exploded. It was so much fun, man.
AVC: Was it strange doing a movie while this reality show was being filmed at the same time?
JF: Yes, that made it very difficult. The reality part. It made it much harder to make the movie.
AVC: How so?
JF: Well, you know how making a movie's hard? When you're trying to get everything done, you're working on a set, it's a cramped space, you got 30 crewmembers. Well, imagine another 20 crewmembers there with six cameras in your face, all the time. Just physically moving around, it was hard not to be constantly bumping into people. And then they would try to get different people to talk shit about each other, and nobody wanted to do that, we just wanted to do a good job. But more than that, it was just the physical part of having too many people on a set.
AVC: And it being a relatively low-budget production as well, it's not like—
JF: That's what I'm saying. The low-budget shoots are harder than the high-budget ones, because you have a third of the time to make a movie of the same length. But with an extra 10, 20 people with cameras in your face the whole time, it just slows up the process. But I had so much fun making that movie.
How High (2001)—"Student"
JF: Back in New York, I had done some TV commercials that Jesse Dylan, the director of How High, had directed, and I think he remembered me from that. I think I knew he was doing How High, and I think I just submitted myself and wound up getting the part.
AVC: Do you remember what the atmosphere was on that set?
JF: I remember Method Man riding around on a Big Wheel or some kind of bike. I think he thought I was the director. So he might have been a little high that day. It's just sort of funny filming a scene from Harvard at UCLA.
Wet Hot American Summer (2001)—"Ron"
JF: That movie has a big cult following. Wet, Hot was a lot of fun. Working with Molly Shannon was great—one of the sweetest, nicest people I have ever met. And not just a hilarious lady, but also a great actress. That was a hell of a lot of fun doing that. On Zoolander, the most fun on that was Jon Voight playing my dad. He's very Method, and we basically hung out for a week. He took me out. Since we were playing father and son, he wanted to get to know me some, and we really worked on our characters and our relationship. I was playing a mentally slow guy—Scrappy Zoolander—and I remember he took me to some fancy restaurant, one of those hotel restaurants on Central Park South, and he's playing the overbearing father, and I'm playing the mentally retarded son. So I remember him just yelling at me. He asked me to pass him the salt, I would pass him the pepper, he'd yell at me, I'd say "Sorry, sorry." We had so much fun hanging out all day, riffing around in character, and out of character, talking about our parts. Even though there were hardly any lines, we figured out the dynamics of it. That was awesome. I learned so much from him—he's one of the most generous people I ever met or worked with.
AVC: That sounds surreal.
JF: Yeah. Great guy.