Here's what's up in the world of television for April 8. All times are Eastern
TOP PICK
Justified (FX, 10 p.m.): The end of a Justified season is typically cause for celebration, with all its promise for fireworks (figurative and literal) and witty little twists and turns. (Even season three's "Slaughterhouse," surely the end of the show's weakest season to date, featured that inspired "Piggy bank!" moment.) Yet What's On Tonight can't foresee living the next few months with the usual sense of Justified loss—probably because season five has been so much Justified to deal with, a messy-and-busy season expertly dissected by Todd VanDerWerff here. Alasdair Wilkins watches Raylan Givens ride off into the sunset once more, hoping that the show's next (and last) season delivers something a little more streamlined.

---
ALSO NOTED
Marvel's Agents Of S.H.I.E.L.D. (ABC, 8 p.m.): There's a traitor among our favorite S.H.I.E.L.D. operatives. Could it be the traitor who's been among them for the series' entire run? Shh! Oliver Sava isn't telling.

Glee (Fox, 8 p.m.): Turns out New York City isn't the paradise Glee has always made it out to be, as apparently it's home to hateful, intolerant people just like Lima. But, on the bright side, Lima was never the setting of an all-Stephen Sondheim episode! Brandon Nowalk takes the bad with the "Goodbye For Now."
Trophy Wife (ABC, 9:31 p.m.): Kate and Diane stage an homage to Scandal, which probably sounded a lot more enticing before that show plunged into the B6-13 deep end. With all this thematic messiness, Brandon Nowalk is glad at least one of his shows in on screener tonight. 

G/O Media may get a commission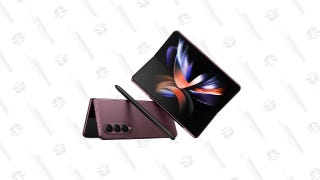 Save Up to $300
Galaxy Z Fold4
---
REGULAR COVERAGE
The Mindy Project (Fox, 9 p.m.)
Inside Amy Schumer (Comedy Central, 10:30 p.m.)
---
TV CLUB CLASSIC
The Office (Classic): Dwight has a new dentist, named… Crentist. Sounds totally credible to Erik Adams, who puts his eyes in the care of an ophthalmologist named Shmophthalmologist.
---
WHAT ELSE IS ON

Flip Or Flop (HGTV, 9 p.m.): First impressions to the contrary, HGTV has not responded to David Letterman's retirement announcement by greenlighting a "Will It Float?" riff in which homes are torn from the foundations and violently upended to see if they'll flip or flop.

Secret Lives Of Stepford Wives (ID, 10 p.m.): The secret is they're all robots! Every last one of them!
The Internship (Cinemax, 8 p.m.): Don't let Silicon Valley persuade you otherwise: The tech life is great and fun and totally chill, as depicted in this Vince Vaughn-Owen Wilson vehicle about how everybody wants to work for that great and fun and totally chill monolith of the world wide web, Google.
The Catered Affair (TCM, 8 p.m.): A year after Ernest Borgnine helped Paddy Chayefsky translate Marty from TV to film, the pair teamed up for another adaptation of an old Chayefsky script from Philco Television Playhouse. This team up has the distinction of pairing Borgnine with an even-more-unlikely love interest than Marty's Betsy Blair: Bette Davis.
NCAA Women's Basketball Championship: Connecticut vs. Notre Dame (ESPN, 8:30 p.m.): It was the year of no surprises in both the men's and women's tournaments, as the 2014 Division I basketball championships came down to perennial powerhouses in both instances. Cinderellas are for fair tales and long-delayed live-action fairy-tale re-imaginings, apparently.
---
ELSEWHERE IN TV CLUB
Today, TV Club looks upon our past: In Brandon Nowalk's For Our Consideration essay about the current fate of the TV rerun, as well as Genevieve Valentine's pre-air review of the evolutionary-science documentary Your Inner Fish. The star of Your Inner Fish, the Tiktaalik, is having a bit of a rerun moment itself—it's the "fish with hands" that crawled out of the water during one of the opening hours of the new Cosmos.
---
NEW ON HOME VIDEO

Unable to put together enough scratch to buy that operational KITT replica from David Hasselhoff? At least you can buy several thousand images of the car that talks like Mr. Feeny, flashing across your TV screen so quickly that they create the illusion of a real computer car in motion. In other words: Seasons two, three, and four of Knight Rider are now available for you to purchase and enjoy on your non-Firebird-mounted view screen, Michael.
---
IN CASE YOU MISSED IT
RuPaul's Drag Race: Oliver Sava watched two full hours of fishy realness (plus the requisite hour of Untucked) last night, so the least you can do is give his review a read. (Not the Drag Race definition of "read," of course—that'd be just plain mean!)