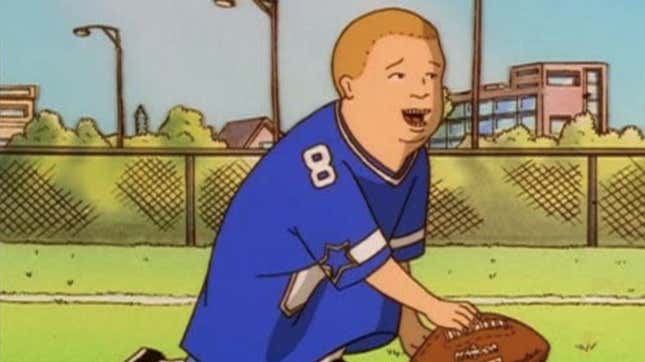 "Wichita Falls is the greatest place I've ever been in my life."
A naïve Bobby Hill utters this statement during a visit to Wichita Falls, Texas, after a Dairy Queen server throws in an extra move before handing the young man his Blizzard. While King Of The Hill is a fictionalized amalgamation of a lot of small towns across the South and Southwest, including the Dallas suburb of Richardson, the show itself visits many real places throughout the state: Houston, Dallas, Corpus Christi, and, most consequently for yours truly, my podunk hometown of Wichita Falls.
With the long-running comedy officially returning to Hulu, there's certainly no shortage of political ideologies that the writers can examine and satirize all these years later, not to mention plenty more of Texas to explore. Mike Judge and Greg Daniels' series excels at offering insights into the people and issues of small-town living, with an exclusively North Texas feel. Honestly, any of the characters presented on King Of The Hill could be plucked from my hometown, and the show's visit to the small city feels like a true acknowledgment of not only its existence but its place in Texas history.

For current and former residents of Wichita Falls, the episode "Hank's Cowboy Movie," which first aired in April 1999, feels like a time capsule that can be visited again and again. And with the municipality hardly showing up as a blip on the cultural radar, representation of the small city is hard to come by, much less one as meaty as this King Of The Hill installment.
What led Hank and Bobby Hill to my neck of the woods in 1999 was the Dallas Cowboys' training camp, which was hosted by Wichita Falls for three unfruitful years after the populace dazzled team owner Jerry Jones with its submission tape. In "Hank's Cowboy Movie," the father and son take a trip to see the Cowboys do their thing in-person, checking out the local digs and fast-food joints along the way.

Not to be confused with Wichita, Kansas, Wichita Falls is a city of around 100,000 people that's a 15-minute drive from the Oklahoma border. It's known for its former status as an oil boomtown, building the World's Littlest Skyscraper (long story short: we were scammed), originating a beverage called the red draw, and hosting the annual Hotter'n Hell Hundred. The eponymous falls are manmade, with the red clay soil coloring the water an unseemly brown. Quite literally, one of the city's biggest attractions is a giant pile of dirt.
In a 1978 article published by Texas Monthly, being a "full-time resident of Wichita Falls" was named amongst the worst jobs in the state, alongside highway button layer, blast furnace tender, and chicken sexer. It's a town where little happens, forcing teenagers to pass the time wandering around Walmart or hanging out in parking lots. This local's in-depth tour sums it up pretty well (unfortunately, his references to the city's widespread drug problem are not understated).
So yes, in my experience, Wichita Falls ranks pretty low when it comes to the greatest places in the world, even of the ones I've visited. However, when Hank and Bobby get in the truck with the city on their mind, hometown pride is impossible to suppress.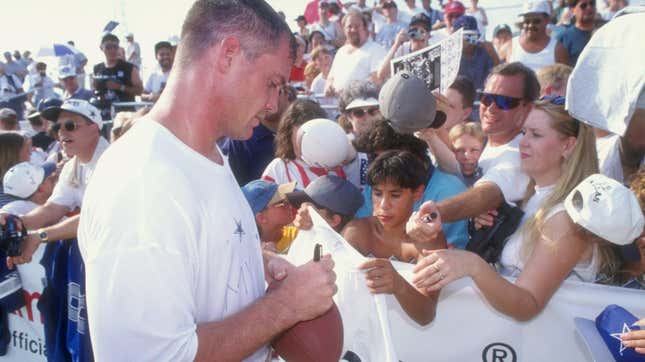 When the Cowboys' training camp announced its relocation to Midwestern State University (notable alumni include Dr. Phil, my mom, and my older sister) in 1998, Wichita Falls native Skip Hollandsworth decried the move, citing the sinister summer weather. It's a place previously called "a poster child for meteorological misfortune," something Jerry Jones allegedly thought would work in the team's favor. 

Of course, King Of The Hill makes no mention of the city's less-than-appealing temperatures or the lack of good food and entertainment. The show also doesn't detail "Scissorgate," referring to an alleged altercation between Michael Irvin and Everett McIver in one of the MSU dormitories that occurred within the first two weeks of the team's move to Wichita Falls.
The story goes that Irvin called seniority over McIver in an argument concerning a seat that resulted in the wide receiver allegedly stabbing McIver in the neck with a pair of scissors. At the time, Coach Chan Gailey described the incident as "horseplay," with the New York Times reporting that Jones ordered all players and surrounding staff to take a vow of silence as he mediated a six-figure settlement between the two players. Although Irvin's name is mentioned in "Hank's Cowboy Movie," this ruckus is understandably left out of the script.
What is included is a rosy look at the city, courtesy of Bobby, who basks in the little delights of Wichita Falls with a childlike wonder—just as I did as a kid. When you're young, living in a place like Wichita Falls is not a grim reality; it's home, fit with a Braum's ice cream parlor, a duck pond, and a minor league hockey team. When Bobby rewatches the submission tape, Wichitans can relish the mention of the now-closed Dillard's, which only recently became a victim of the city's economic downfall.
Additionally, when taking in "Hank's Cowboy Movie" all these years later, it's just too funny to think of Hank simmering with jealousy over the Cowboys setting up home there, especially when looking at how those three years played out for the team. However, when he frustratedly calls the town a part of southern Oklahoma, he simply goes too far. Don't you dare rope us in with those Okies.
Now that I've moved my life beyond the bounds of Texas, King Of The Hill and "Hank's Cowboy Movie" gives me the chance to settle down and watch something familiar, something close to home. Ultimately, to know this place is to love it, yet never wish it upon your worst enemy to live there. But sure, 106.3 The Buzz, maybe Bobby Hill very well should reside in Wichita Falls in the reboot.