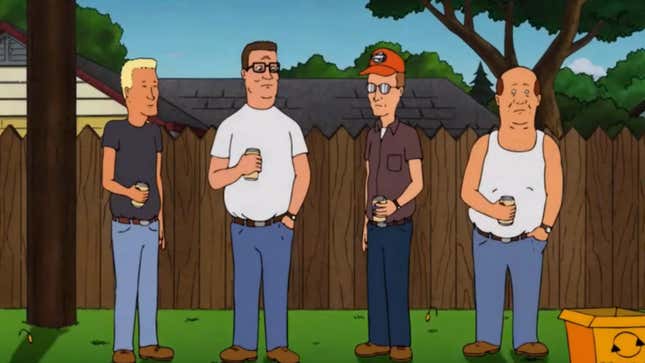 Crack open a cold one because, yup, yep, yeah, mmhmm, King Of The Hill is returning to television. New episodes from creators Mike Judge and Greg Daniels are coming to Hulu, with original cast members Kathy Najimy, Stephen Root, Pamela Adlon, Johnny Hardwick, and Lauren Tom in tow. Judge and Daniels will serve as executive producers, with The Wonder Years reboot's Saladin Patterson as showrunner.
George Clooney's Batman costume goes up for auction
"We are all so excited to welcome back Hank, Peggy, and Bobby, and to see what they have to say about the world we live in and continue the conversations we began years ago," said Craig Erwich, president of ABC Entertainment, Hulu and Disney Branded Television streaming originals. "This show has all of the perfect ingredients to meet this moment in animation at Hulu, and we're so thankful to be having those conversations alongside this talented group."
A King Of The Hill reunion has long been rumored since the show ended in 2010. The show ran for 13 seasons, but in 2017, Daniels, Judge, and the cast reunited at San Fransisco Sketchfest, and per The Hollywood Reporter, the revival has been in the works since then. In the meantime, Disney bought 20th Century Fox, which included 20th Television, the rights holders of King Of The Hill. Additionally, the Hollywood Reporter notes that adult-oriented shows like King Of The Hill, Family Guy, and the upcoming Futurama revival (another one?) go to Hulu instead of Disney+.
This marks the second of Judge's works to get the old reboot treatment. Last year, Paramount+ debuted a new season of Beavis And Butt-Head and a new movie, Beavis And Butt-Head Do The Universe. The latest season of Beavis And Butt-Head is worth the pain of subscribing to another streaming service if only to experience the harrowing "Old Beavis And Butt-Head" installments. Those guys really need to get it together.
There's no word on a premiere, but Marci Proietto, executive vice president at 20th Television Animation, did say that he couldn't "wait to share this new iteration through the lens of 2023 America," so we're hoping that means it's coming this year.